In the winter, in the mountains of the Upper Hunza, a carcass of a Himalayan ibex was found in the snow. A snow leopard had hunted it and it had been there for several days. This is a summary of the wild animals of the Karakoram that were captured by camera traps for 5 days there.
Who came on Carcass of Ibex?

Wildlife that was spotted: Snow Leopard, Yellow-billed Chough, Red-billed Chough (not shown in the video), Red Fox, Raven and Bearded Vulture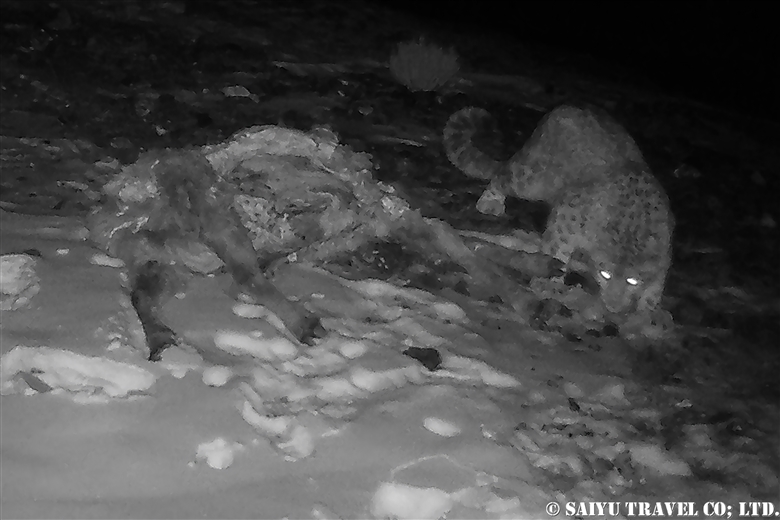 The ibex was said to have been hunted a few days before (maybe a week earlier), and there was still a little meat left on the ibex's carcass. It seemed that it had fallen into the river while being hunted, and then pulled out of the water, so the carcass was frozen solid (the temperature is minus 20 degrees). In the video, there is a snow leopard that checks around the ibex but not eating it. It is possible that this might be a different snow leopard than the one which caught it.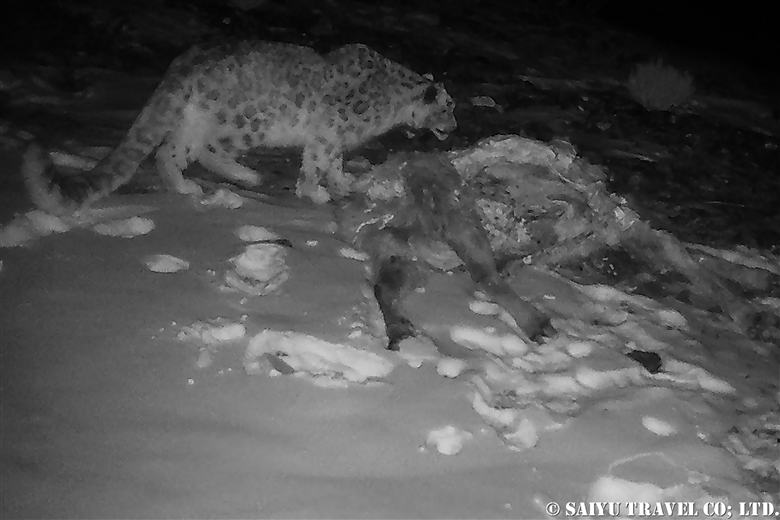 Luckily, the camera trap was set up at just the right angle to be able to capture the entire body of the snow leopard, including its long tail. The time is 6:08 pm and it showed up shortly after dark.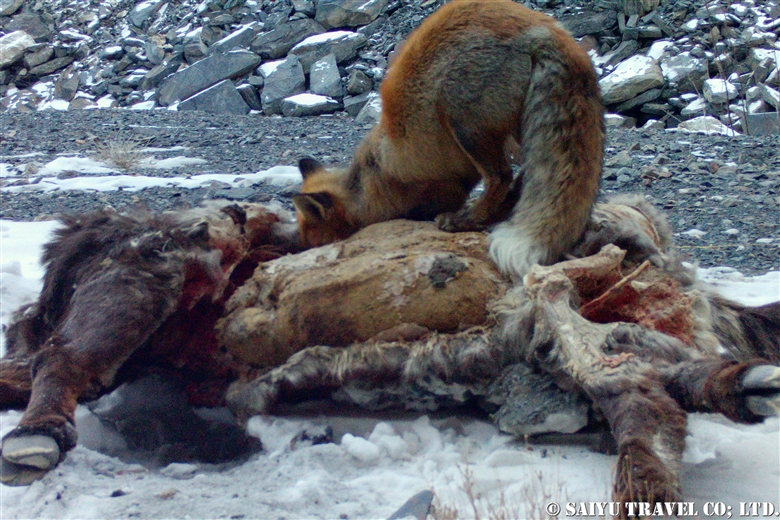 There were some red foxes that came in the night and also during the day. According to the difference in their fur, it seemed like two different foxes had come to eat some of the leftovers.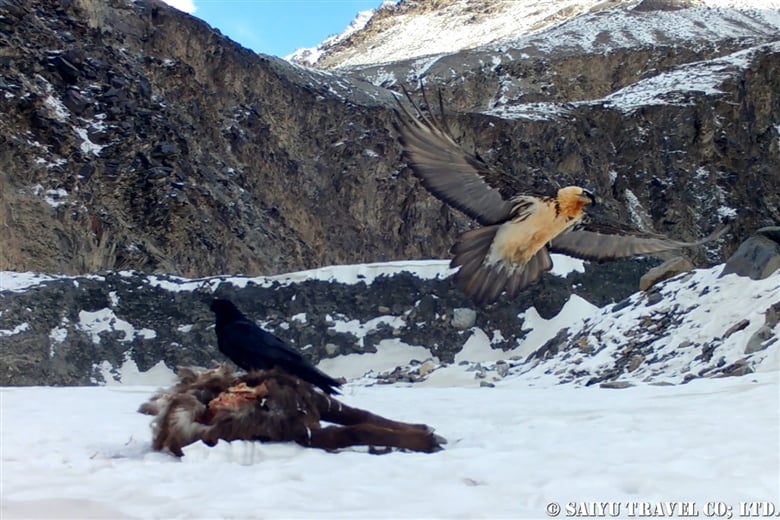 We were also very excited to see a bearded vulture which was caught on camera as well! It was seen alongside with a common raven, and immediately flew away.
Even though it is just a single ibex, it becomes an important food source for a lot of different animals. Nature is really amazing.
Image & text: Mariko SAWADA
Observation: Jan 2023, Gojar, Gilgit-Baltistan
*Contact us, Indus Caravan for more information or to make arrangements for observing wildlife of Pakistan.
*Youtube    Facebook   Instagram  << Please check our update activity !
Category :
- Snow Leopard
>
= Video Clip Gilgit-Baltistan
>
◆ Video Breathtaking Views of Pakistan
>
◆ Gilgit-Baltistan
>
- Gojar
>
◇ Birds of Pakistan
>
◇ Wildlife of Pakistan
Tag :
Indus Caravan
,
Wildlife Photography Pakistan
,
Wildlife Tour Pakistan
,
Khunjerab National Park
,
Saiyu Travel Pakistan
,
Snow Leopard Expedition
,
Pakistan Blog
,
Pakistan Travel Blog
,
Snow Leopard Conservation
,
Snow Leopard
,
Snow Leopard Pakistan
,
Travel Pakistan Blog
,
Pakistan Travel company
,
Wildlife of Pakistan
,
Pakistan tour operator
,
Pakistan Photography Tour