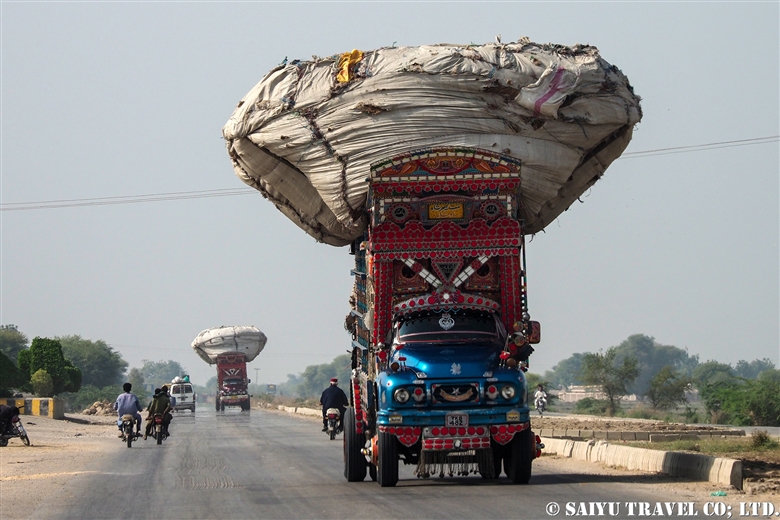 First of all, I would like to express my heartfelt sympathy to those who have been affected by the flood disaster caused by the torrential rain from June to August 2022. Restoration work is progressing in some areas, and travel arrangements to Sindh and Balochistan regions were made, though we could see different sights than before, such as flooded fields.
The National Highway 55 (N-55), commonly known as Indus Highway, which goes north from Hyderabad, is a lifeline of West Sindh running through the west bank of the Indus River. During the fall harvest season, many trucks travel the road loaded with grain and chaff.
This year, due to the summer disaster, both sides of the road were still flooded, and there were many places waiting for the water to recede, unable to harvest the fields.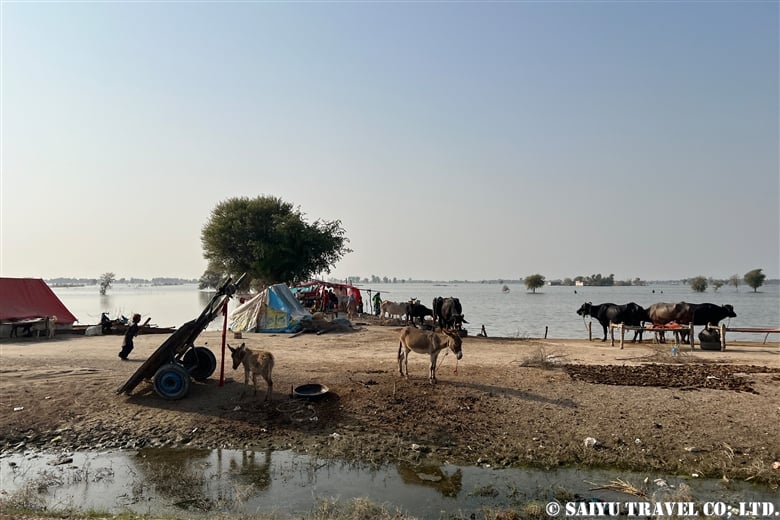 In some places, the fields were so water-logged they looked like lakes. I was sad to see so many people who had lost their homes and living in camps.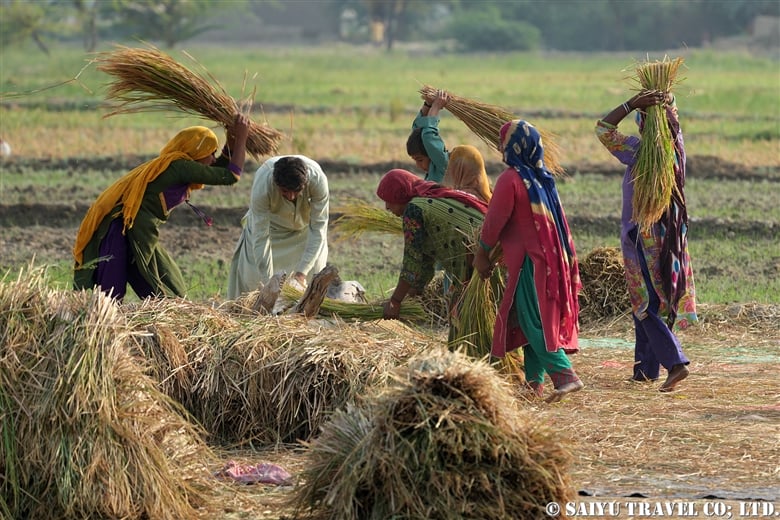 While some fields were water-logged, there were others that were being harvested. November is the season for harvesting rice.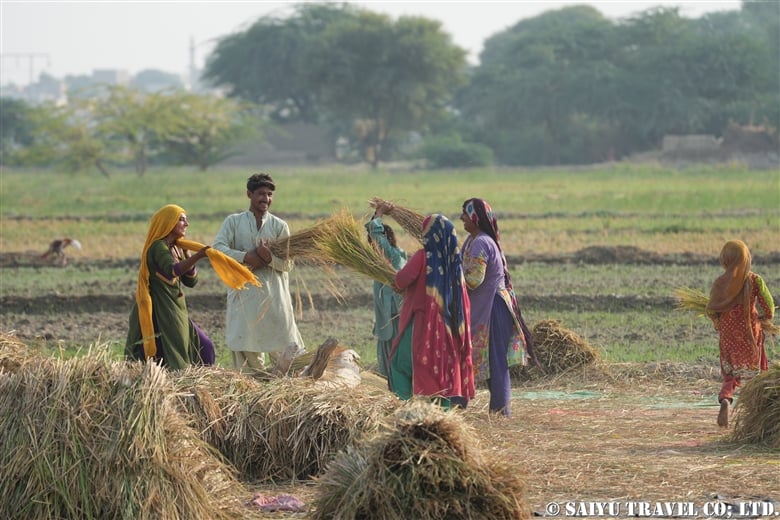 I was really grateful to see this beautiful sight, which in any other time, would have been totally normal.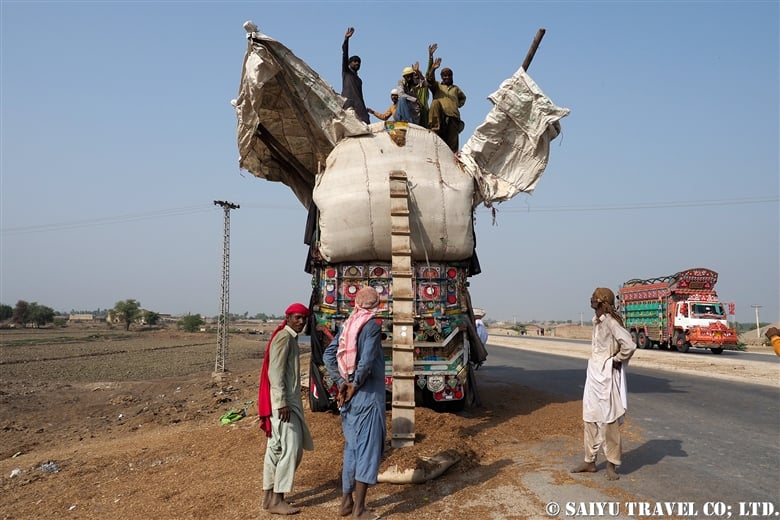 They were working on transferring the roadside piled up rice husks onto the trucks. Using wooden sticks to support it, they used sticks to create giant balloon-like cargo structures on the tops of the trucks.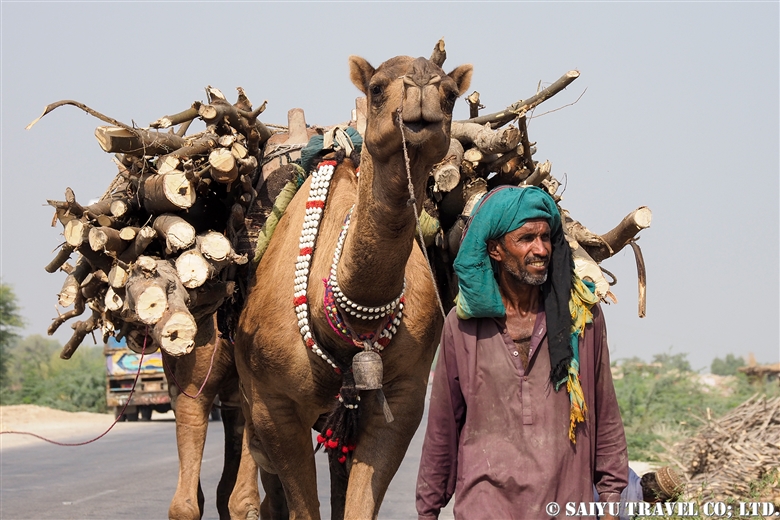 A camel carrying firewood came our way. It is brought from the villages to the collection areas along the Indus Highway.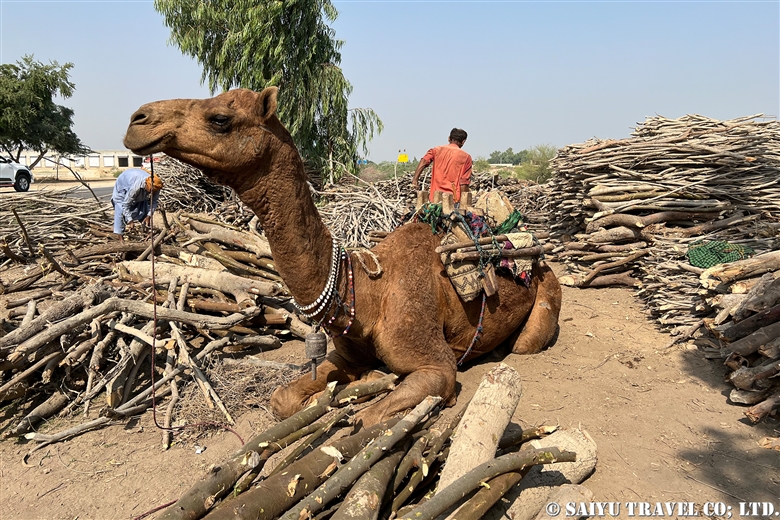 This firewood is an important fuel in the villages.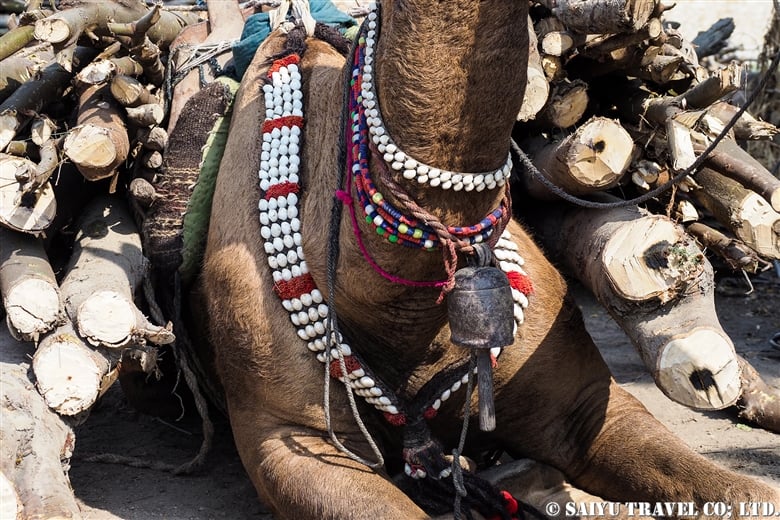 A handmade bell was decorated with cowry shells. A very traditional decoration, this is a camel very cherished by the owner.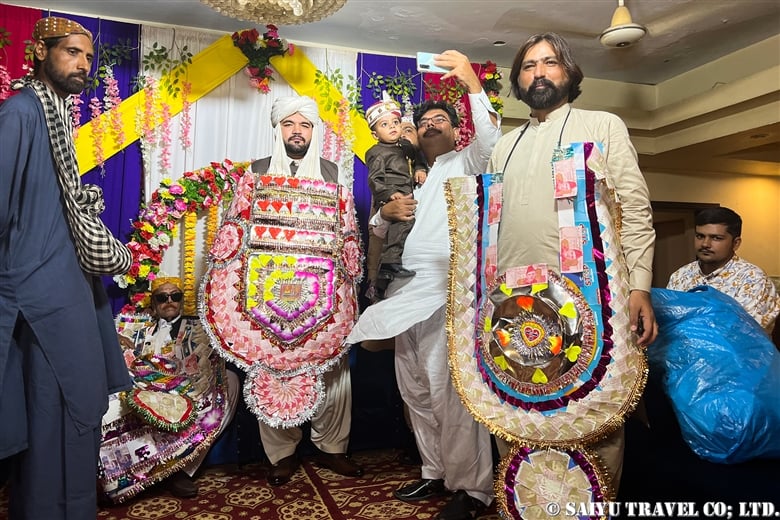 I was having lunch at a restaurant along the Indus Highway when I was invited to a wedding in the hall next door. "Wedding Gifts" decorated with bank notes were hung around the groom's neck one after another.
Travelling on the Indus Highway with a different scenery than usual, we will soon enter the east road and reach Mohenjodaro. There were many submerged fields on the way to Mohenjodaro. I pray that the water will recede soon.
Photo & text: Mariko SAWADA
Visit: Nov 2022, Indus Highway, Sindh
*Please contact us for your own personalized itinerary.
*Please follow us on Youtube, Instagram & Facebook !
Category :
- National & Indus Highway
>
◆ Sindh
Tag :
Pakistan Blog
,
NationalHighway
,
Sindh
,
IndusHighway
,
Indus Caravan
,
IndusCaravan
,
Saiyu Travel
,
Pakistan Travel company
,
Saiyu Travel Pakistan
,
Pakistan tour operator
,
Pakistan Photography Tour
,
Pakistan truck
,
PakistanBlog
,
Truck
,
TravellingPakistan
,
Decorated Truck Pakistan
,
PakistanTravelBlog
,
Sindh flood
,
PakistanTourCompany