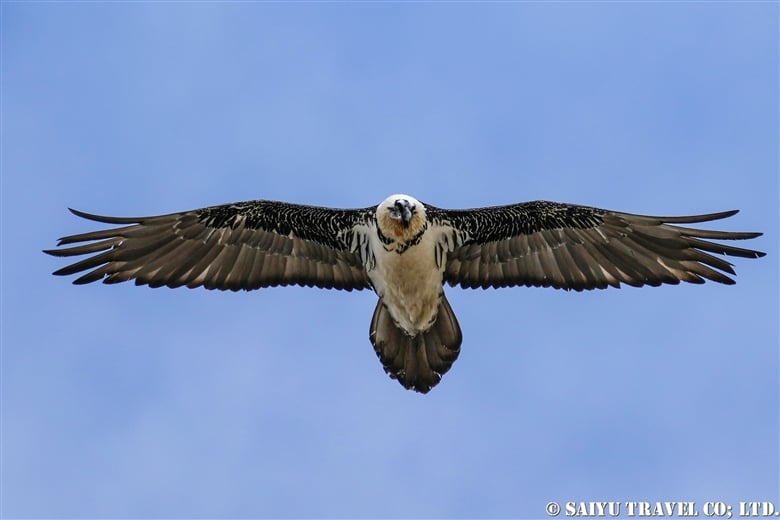 This is the Bearded Vulture in Khunjerab National Park. Just as its name suggests, it looks like a vulture with a beard.
The Gypaetus barbatus is also known as the lammergeier, which are a large bird of prey that makes up the only one in its' genus Gypaetus and is most closely related to the Egyptian vulture(Neophron percnopterus), and with the Palm-nut vulture(Gypohierax angolensis) they form a subphyla of the vulture subfamily. The tail is a rare diamond-shaped one, uncommon among raptors.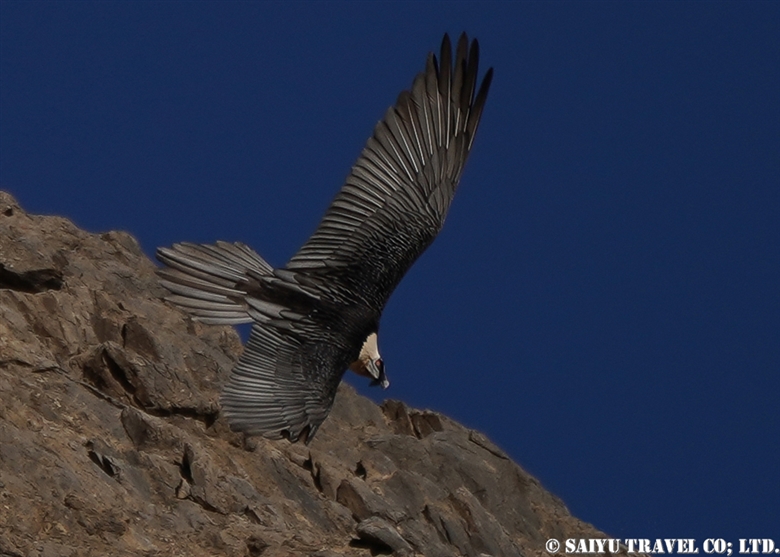 These bearded vultures feed on carrion, mainly bone and marrow. Small bones are swallowed whole, and digested by strong gastric juices. Larger bones that have lots of marrow are dropped from the sky, to break them apart and make them easier to consume.
This time, I saw a bearded vulture dropping a bone at Khunjerab Pass (around 4,600m). It may be hard to see because it's quite far away, but I got a video of its behavior.
The Lammergeier dropping a bone from high above: Bone crasher!
The bearded vulture is a large bird with a total length of 115 cm and a wingspan of nearly 3 meters. Sometimes I am so overwhelmed by its size when it flies right overhead.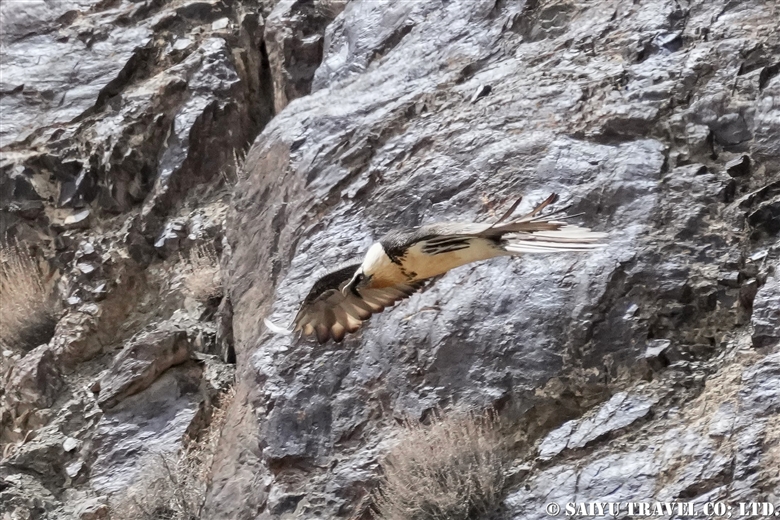 The bearded vulture as it descends along the cliffs of the Khunjerab River.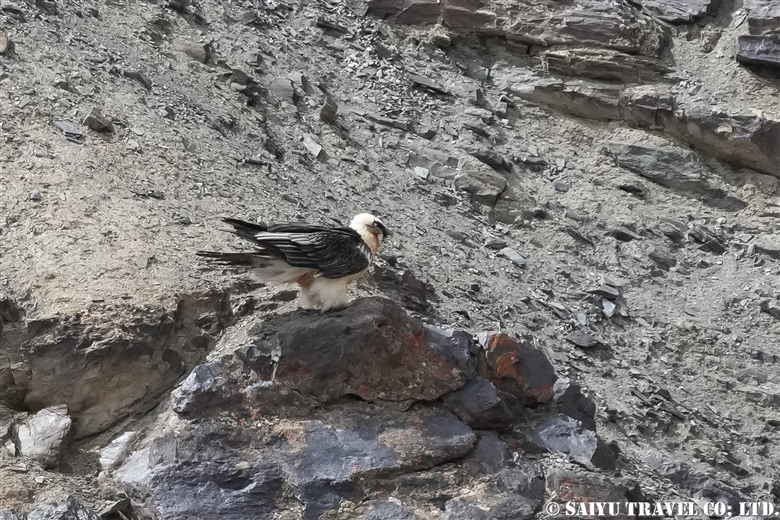 The Lammergeier found a carcass of an ibex on the banks of the river and perched on a rock nearby. It must have been frustrated that it couldn't get into the narrow riverbed, since its wings might not fit into the space.
Photo & text : Mariko SAWADA
Observation :Spring 2022, Khunjerab National Park
For observation, photography of wildlife, birds of Pakistan, please contact us, Indus Caravan.
Youtube Channel – Indus Caravan  
Category :
= Video Clip Gilgit-Baltistan
>
- the Karakoram Highway
>
◆ Gilgit-Baltistan
>
◇ Birds of Pakistan
>
- Khunjerab National Park
Tag :
Birds of Pakistan
,
Pakistan Wildlife Tour
,
Khunjerab National Park
,
Wildlife of Pakistan
,
Bearded Vulture
,
Indus Caravan
,
Wildlife Photography Pakistan
,
vlog
,
Lammergeier
,
Birds Photography Tour
,
PakistanTravelBlog
,
Pakistan tour operator
,
Birds Photography Pakistan