The great excavation of the Mohenjodaro mainly took place between 1922 – 1931. Many of Pakistan's national treasures that were excavated before Pakistan's independence in 1947, are stored in museums in Britain and India, but there are some valuable pieces still located in Pakistan.
One of the masterpieces that is housed at the National Museum of Pakistan is the "Priest King" of Mohenjodaro.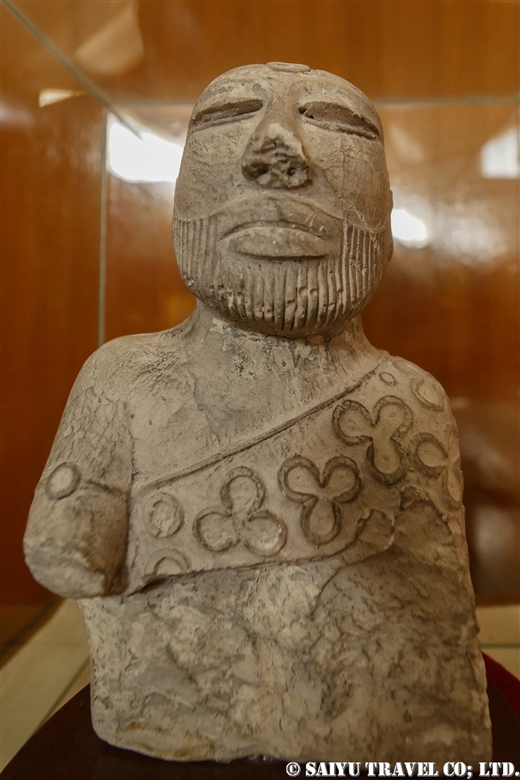 Mohenjodaro is the largest city of central Pakistan's Indus Valley Civilization, which flourished between 2500 BC to 1800 BC. This Indus Valley Civilization was the oldest found in South Asia that eventually developed into the northwestern Indian subcontinent around the Indus River Basin. Archeologists from around the world are slowly revealing the significance of the life of the Indus Valley, but many mysteries remain unrevealed.
Despite the three other languages of ancient civilizations (Egyptian hieroglyphs, Mesopotamian and Chinese texts) already having been deciphered, the characters of the Indus language have not been deciphered yet. It shrouds the origins of their religion and history in mystery, but perhaps the biggest riddle is what caused their decline.
This statue of the Priest, housed in the National Museum of Pakistan in Karachi, is said to be a key in revealing the past relationship of the Indus Valley Civilization's connection with Mesopotamia, based on the shape of the statue.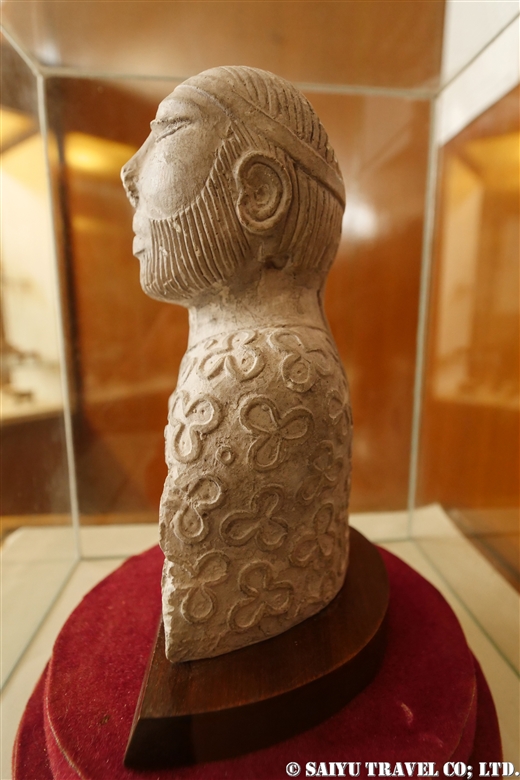 "Priest King" – Mohenjodaro :   Made from white soapstone, the modest size measures 17.5 cm high and 11 cm wide. During the excavation in 1927, it was unearthed from what was probably a noble's house, a large building from the DK area.
The statue is adorned with a headband with a three-leaf pattern and was given the auspicious name of "Priest King."
In fact, it is unclear if that is on display at Karachi's National Museum is real or a replica. According to one theory, the real one is stored in a special vault for preservation, but when you ask the museum guard, they will tell you it is the original 'real' thing. So even this is wrapped in the mystery of the Indus Valley Civilization.
Photo & text: Mariko SAWADA
Visit: Feb 2020, Karachi, Sindh
※Photography inside the Museum is generally restricted. Large bags are also not allowed to be brought inside.
※This article was originally published as part of an article in "Salaam Pakistan" uploaded in September 2015.
Category :
- Karachi
>
◆ Sindh
>
◇ Museum of Pakistan
Tag :
Pakistan National Museum
,
Mohenjodaro
,
King Priest
,
Indus Civilization
,
Statue of King Priest
,
Indus Ruin
,
Pakistan Photography Tour
,
Unesco World Heritage Pakistan
,
Pakistan Blog
,
Mohenjo-daro
,
Pakistan Travel Blog
,
Indus Caravan
,
Pakistan Travel company
,
Saiyu Travel
,
Pakistan tour operator
,
Saiyu Travel Pakistan
,
Karachi Museum
,
Moenjodaro