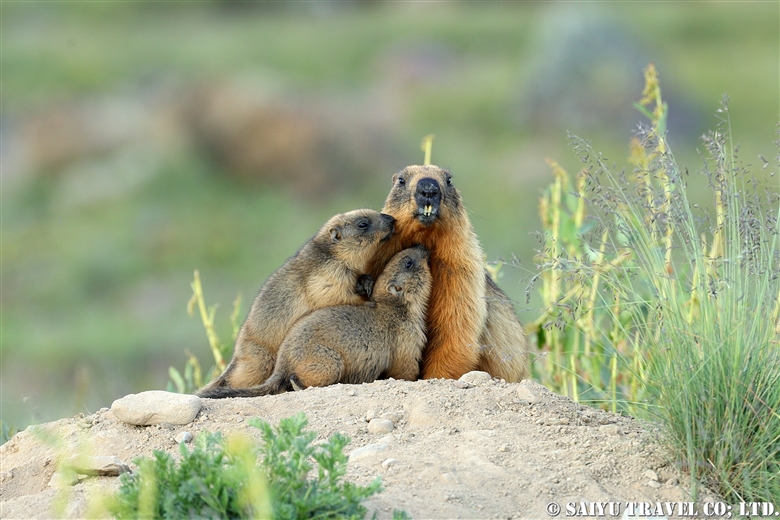 The Long-tailed Marmot observed on the Deosai National Plateau in the summertime. The Plateau, designated a National Park in 1993, has an average altitude of 4,100 m (about 14,450 ft high) near the boarder of India and northern Pakistan.
In the last few years, the number of Pakistani domestic tourists visiting the Park increased drastically, and despite being a National Park, the tourists having bad manners, became difficult to manage. There is a great concern about the impacts the tourism has on the natural environment.
At the campsite, there are parties and lots of tourists making noise, so for those who came to seek nature, its well known that the camping areas are a tough place to be. Besides that, there are the native wild animals who are trying to make the most of the short season of "Summer on the Deosai Plateau" as well.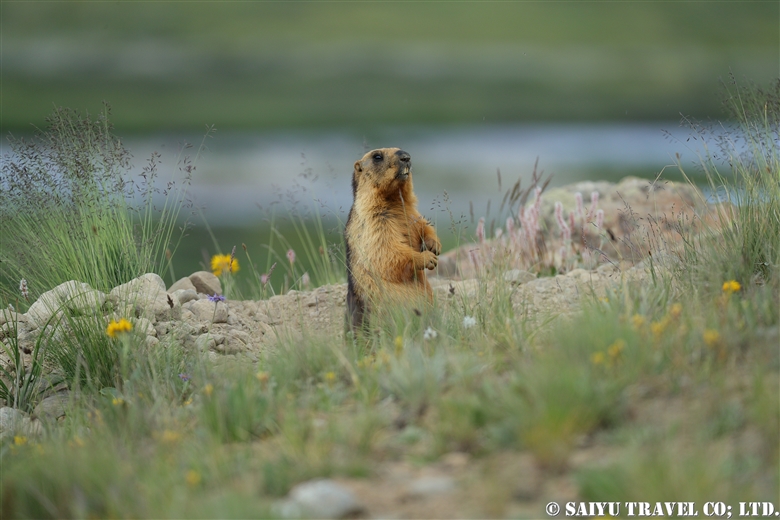 When you camp at the Deosai Plateau, you will get to see this marmot around. These are the same marmots that can be found on the Pamir Mountains of Central Asia, called the Long-tailed Marmot or Golden Marmot.
The marmots often check for danger, as they stand up on their back legs near their burrows and carefully monitor the situation; when needed they sound an alarm call "Kii-Kii!" Of course, they will make calls for people who venture too close, but they are mainly on the lookout for the foxes and birds of prey above who often target the marmots.
Ranging from altitudes of 3,200m to up to 5,000m, the marmots live in very large colonies, digging burrows into the alpine plain grasses and among the rocks. Being monogamous, it is said that the marmots are highly social animals with a complex society.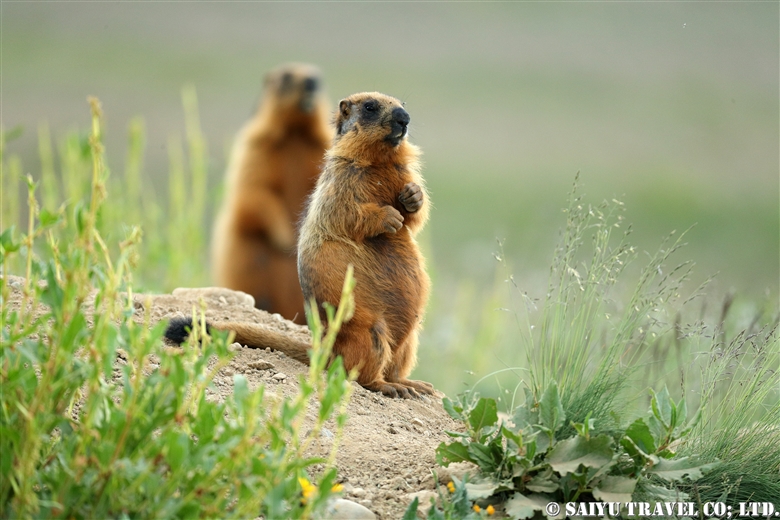 They often stand next to the opening, always ready to duck into their protective cavity. This burrow is used for hibernation.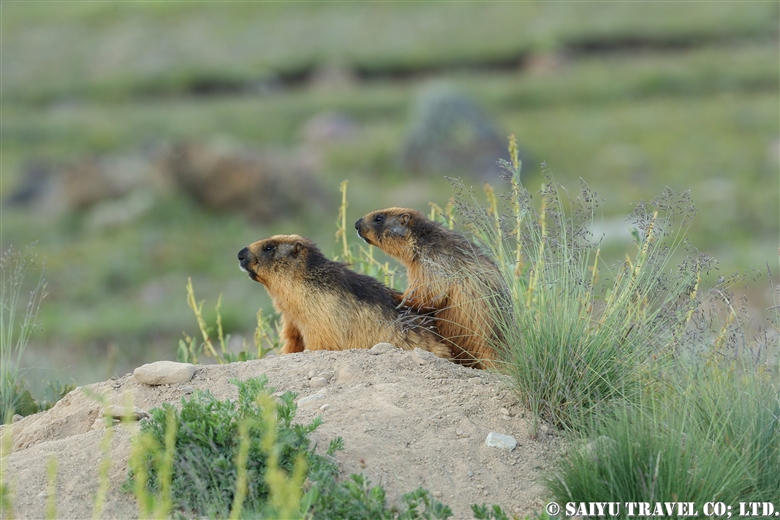 I stood watching the colony near the road for a very long time. Eventually, the marmot families relaxed a little and the babies began to come out.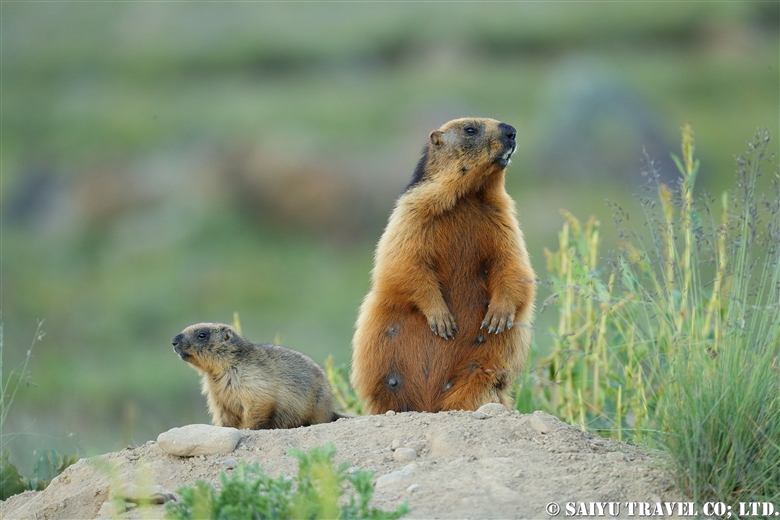 A mother and her pup came out of the burrow. The pups will spend the first 6 weeks of their life in the burrow and then start to venture out.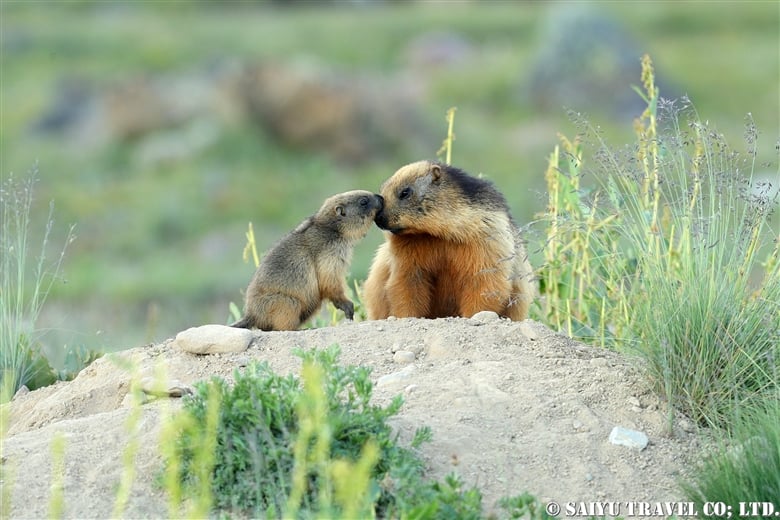 They are so, so cute.
The pup plays with the momma.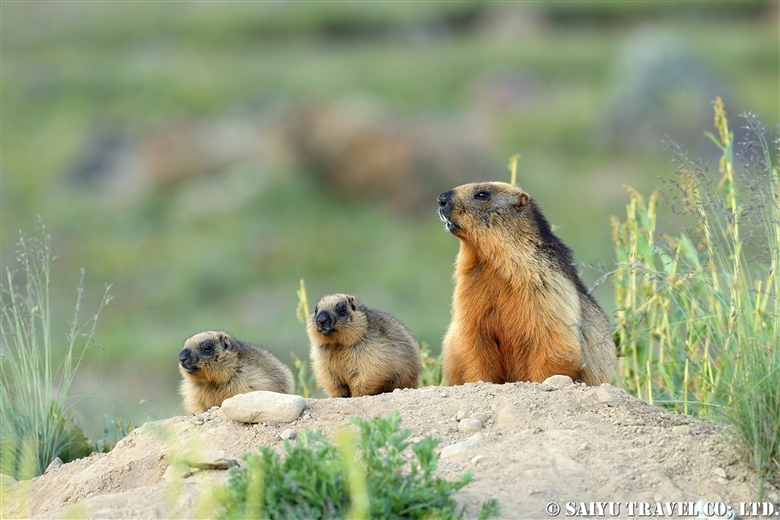 One more pup came out. Long-tailed Marmots will give birth to about 4 pups at a time, but only about half of them can survive the first summer, and many are lost during the first hibernation. While observing them, I could see the little heads of many pups in this colony.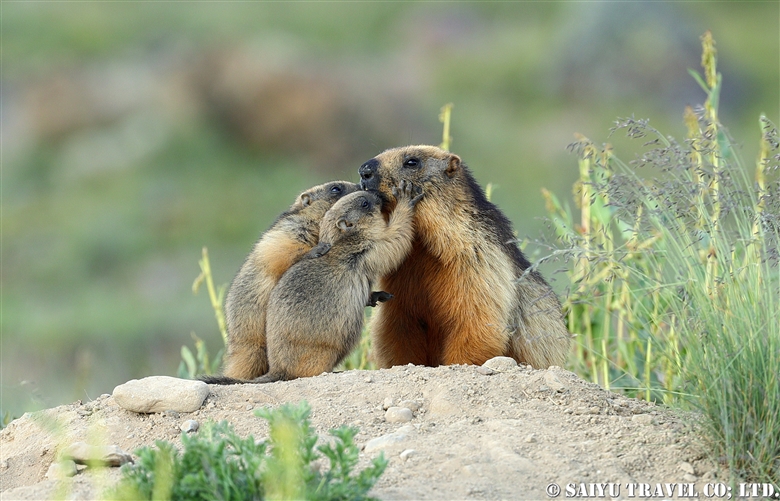 The snows begin in October on the Deosai Plateau. In previous visits to Deosai, I saw the marmots were still active in the first week of October. They will probably enter hibernation around November, and I hope these little guys make it through the winter!
Photo & Text : Mariko SAWADA
Observation : Jul 2017, Deosai National Park, Gilgit -Baltistan
Special Thanks  : The late Mr.Zahoor Salmi,  Deosai National Park
Category :
◆ Gilgit-Baltistan
>
- Deosai National Park
>
- Marmot
>
◇ Wildlife of Pakistan
Tag :
Saiyu Travel Pakistan
,
Gilgit-Baltistan
,
Pakistan Travel company
,
Pakistan Blog
,
Pakistan tour operator
,
Pakistan Travel Blog
,
Pakistan Photography Tour
,
Save wildlife in Pakistan
,
Wildlife Photography Pakistan
,
Travel Pakistan Blog
,
Wildlife Tour Pakistan
,
Wildlife of Pakistan
,
Long-tailed Marmot
,
Indus Caravan
,
Deosai National Park
,
Deosai Plateau