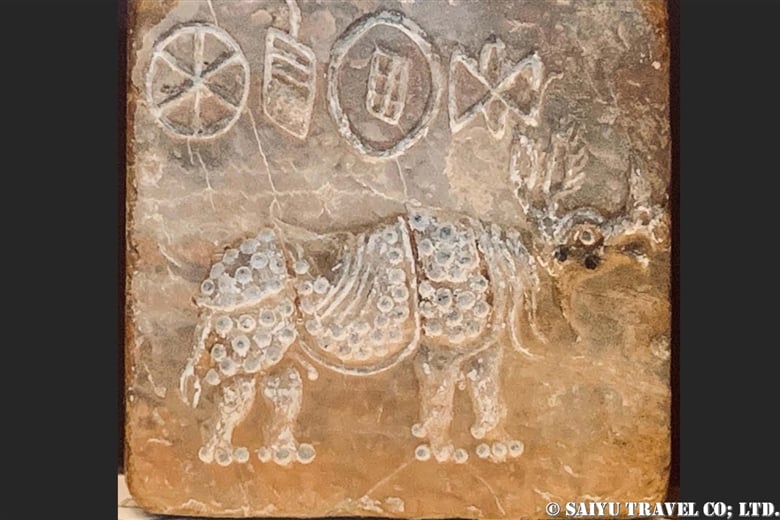 I'm sure there are many people who like this design of the Indus Seal. In fact, this is one of the sources of inspiration we used to make the Indus Caravan logo.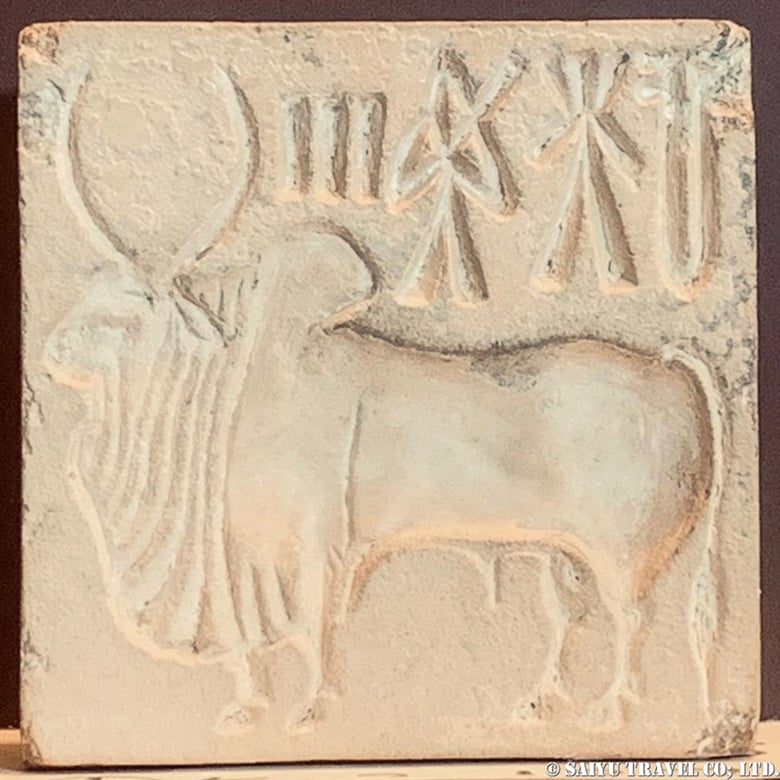 Often, a representative motif is this Zebu. It is often called the "Indus cow" and it is drawn with reverence as a god.
There are traces of ink on the seal, evidence that the seal was used as a stamp like a Japanese Hanko would be used. Seals have been found excavated in Mesopotamia and the Arabian Peninsula, with the motifs and lettering of Indus Seals. This proves that trade between Mesopotamia, the cities of the Gulf Coast, and the Indus Civilization which is of great interest to archeologists around the world.
Well, I love animals. So, I collected "creatures depicted on Indus Seals" that I found from the exhibits of the Mohenjodaro Museum.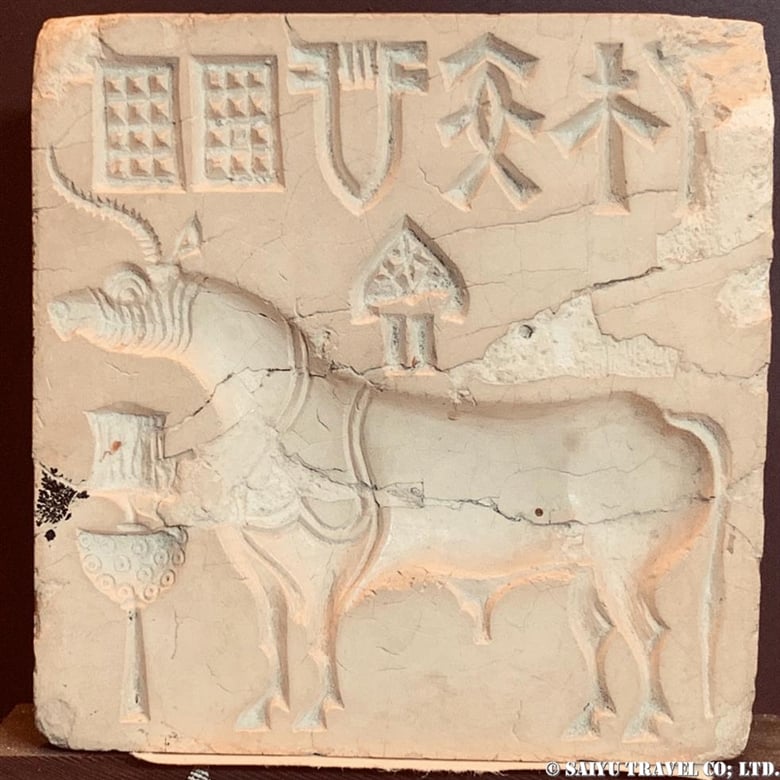 There are animals depicted that do not really exist. The unicorn seems to have been a popular motif. Perhaps that is an incense burner in front of the unicorn?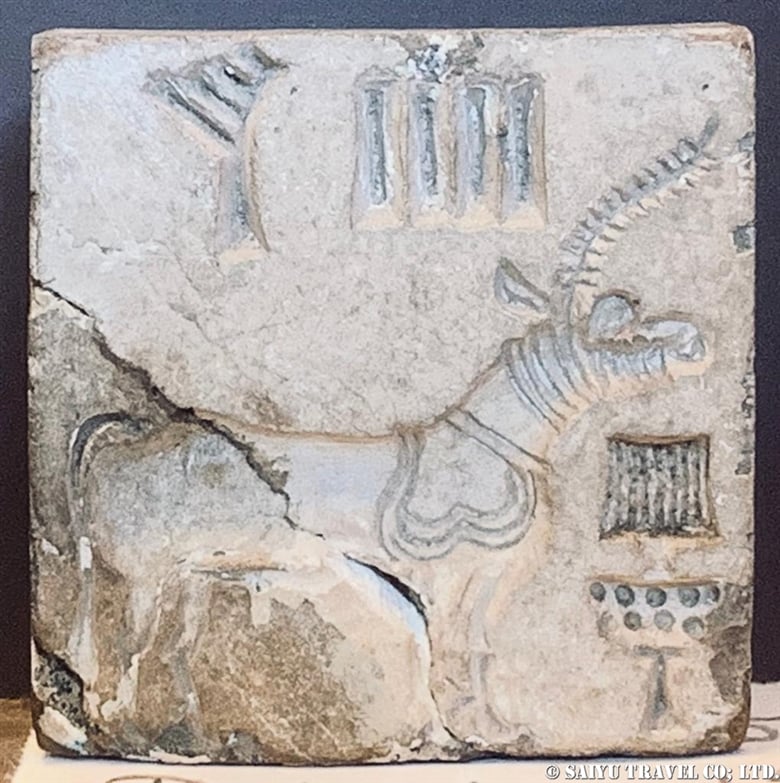 The seals often have 2 to 5 characters, which are still mysterious characters that have still not been deciphered yet.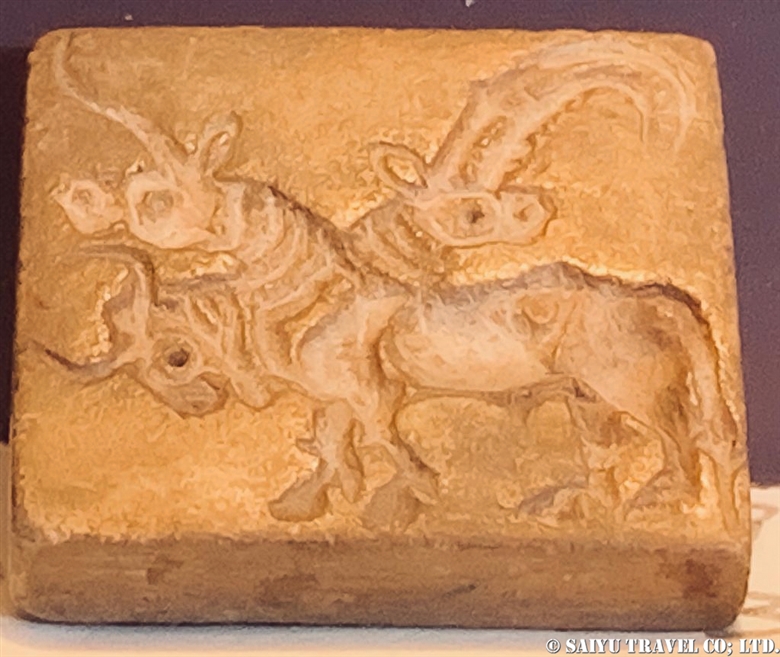 This creature has multiple heads, of either a unicorn, cow, gazelle or ibex. It is exciting, isn't it?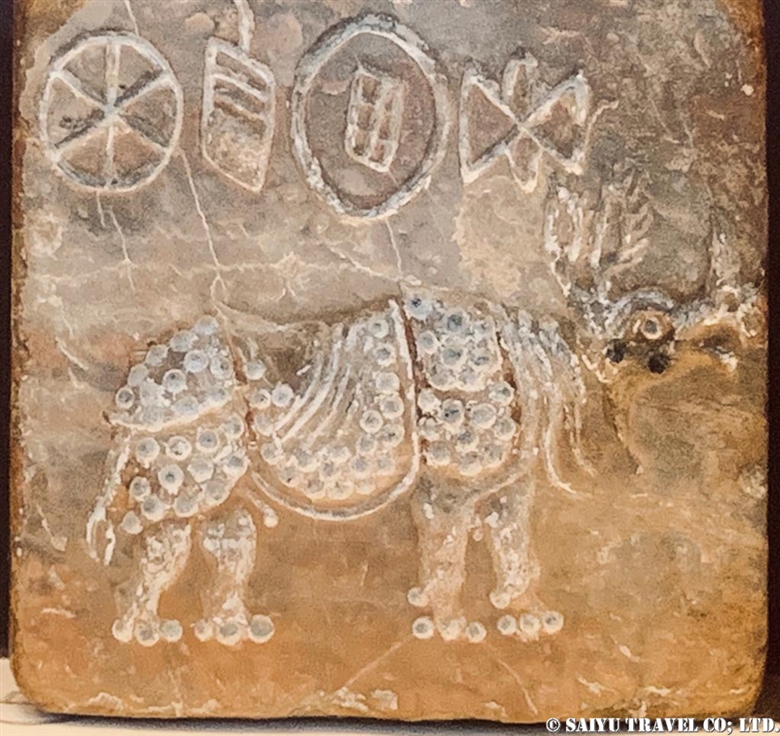 This creature with the armored body is a rhinoceros. Even though there are no rhinos in Pakistan today (extinct), it seems they used to live there long ago.
Today, in the entire Indian subcontinent, Rhinoceros (Indian Rhinoceros) live only in Kaziranga National Park, in northeast India and Chitwan National Park, in Nepal's Tarai Lowlands. It has gone extinct in the neighboring countries of Bhutan and Bangladesh as well.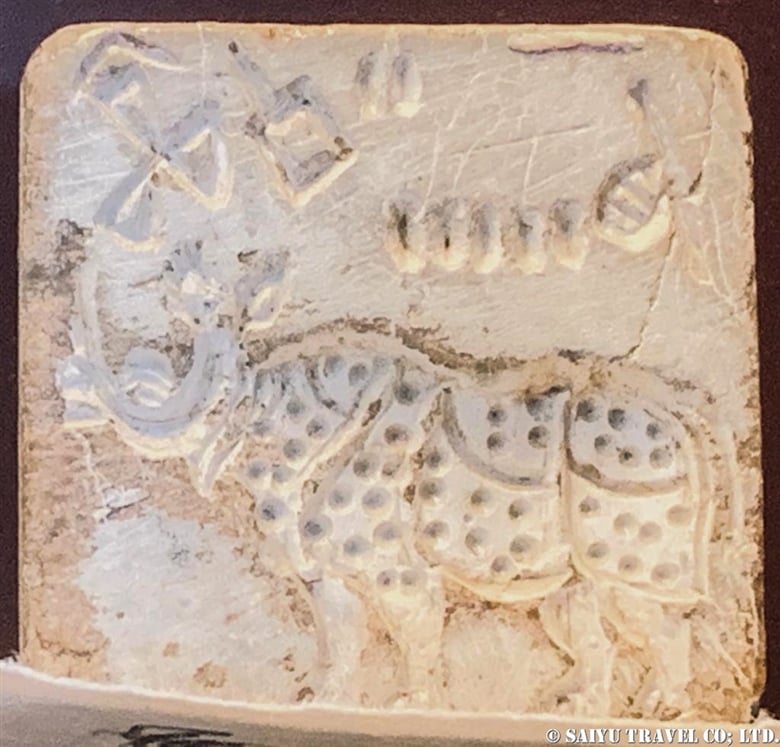 Indian Rhinoceros seal.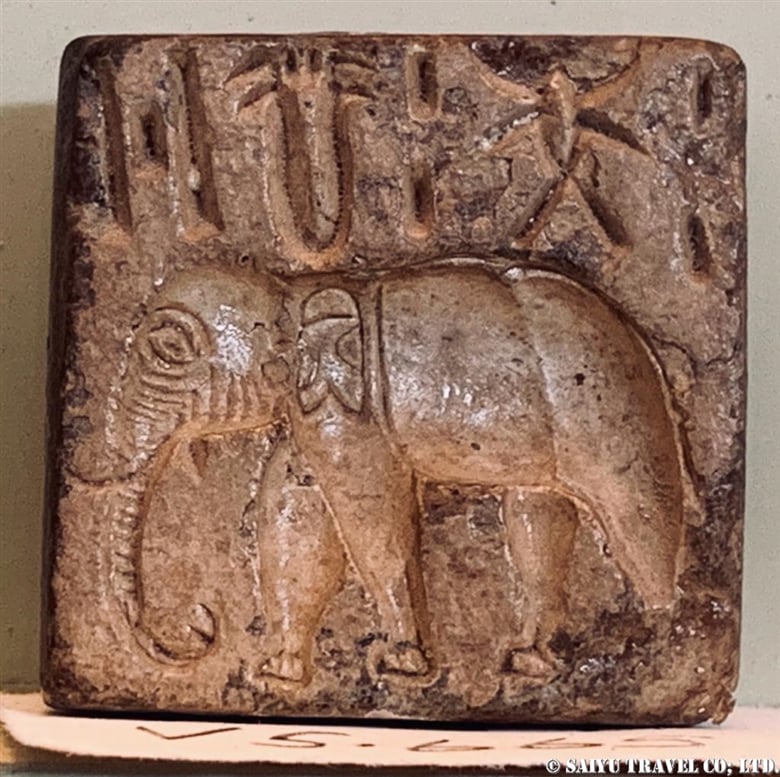 This seal depicts an engraving of an Elephant. The Asian elephant has become extinct in Pakistan, but it is said that they used to be distributed all the way to Western Asia.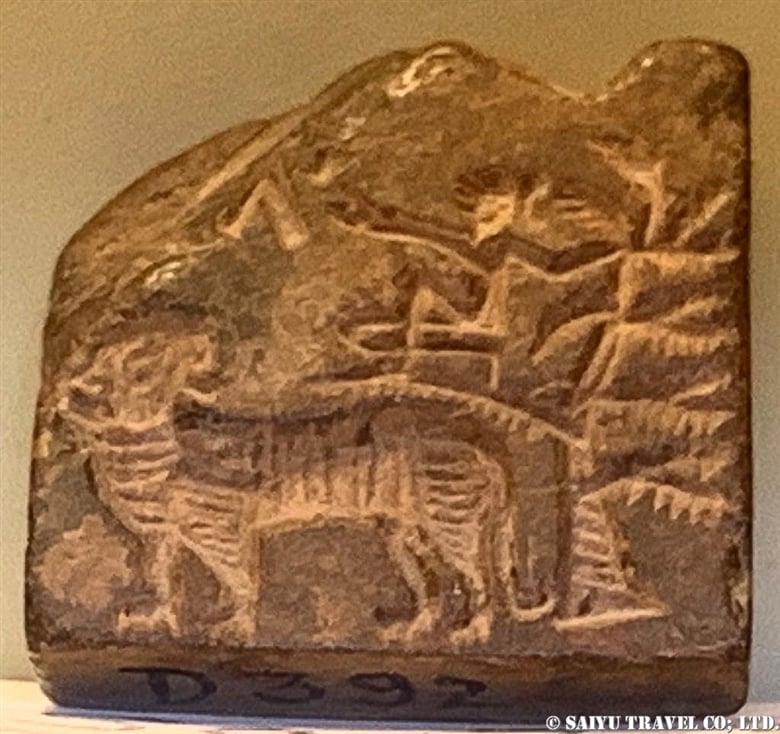 This image is probably a tiger. The Bengal Tiger also is no longer found in modern Pakistan, but once lived along the Indus Valley.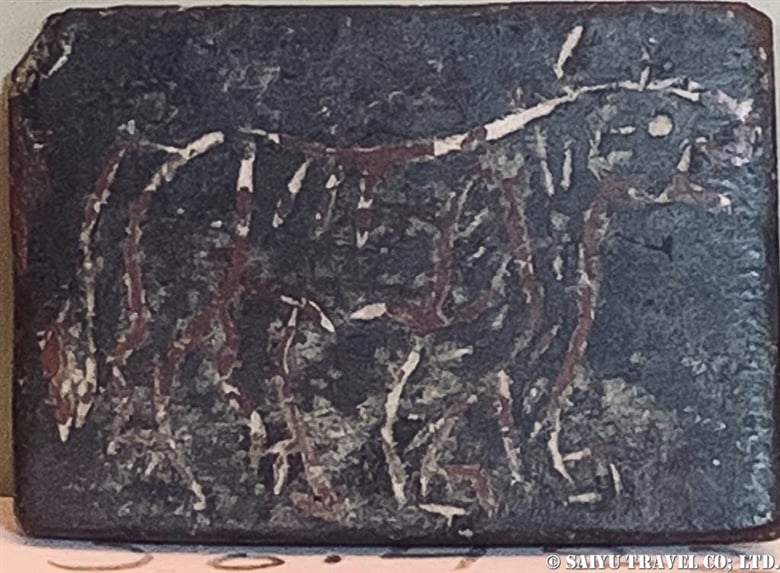 This too, must be a tiger image.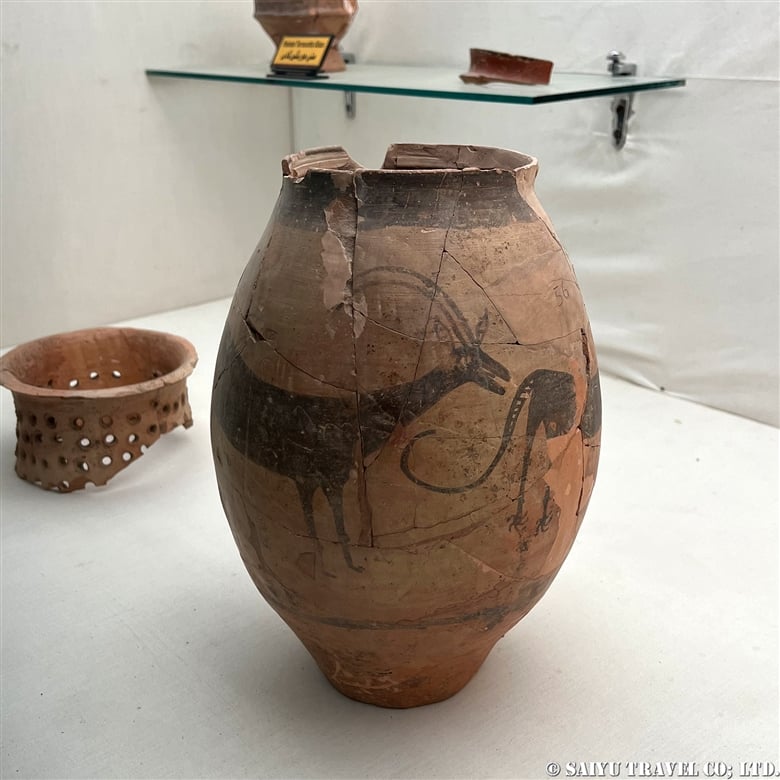 Besides the seals, I also found an ibex drawn on the pottery. It seems to depict a Sindh Ibex adorned with beautiful horns.
At the Mohenjodaro Muesum, I was fascinated by their exhibit on the Indus Seals.
Photos & text: Mariko SAWADA
*For inquiries and consultation, please go to Indus Caravan
*Please follow us on Youtube, Instagram & Facebook
Category :
- Indus Civilization
>
- Mohenjodaro
>
- Monument / Heritage of Sindh
>
◆ Sindh
>
◇ Heritage of Pakistan
>
◇ Museum of Pakistan
Tag :
Mohenjo-daro
,
Zebu cow
,
Indus Caravan
,
Pakistan Travel company
,
Mohenjodaro Museum
,
Saiyu Travel
,
Pakistan tour operator
,
Saiyu Travel Pakistan
,
Pakistan Photography Tour
,
Museum of Pakistan
,
Moenjodaro
,
Mohenjodaro
,
Indus Civilazation
,
Pakistan Blog
,
Indus Ruin
,
Indus Seal
,
Pakistan Travel Blog
,
Unesco World Heritage Pakistan
,
Unicorn
,
Sindh