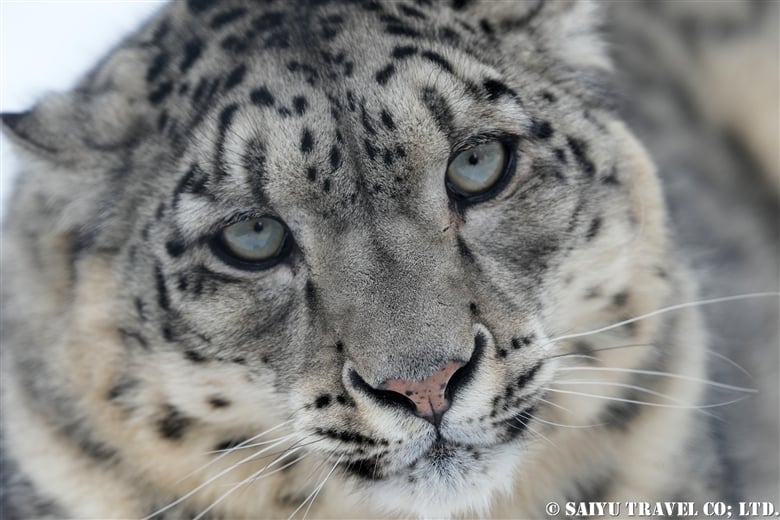 I visited "Lolly, the Snow Leopard" for the first time in a long time. The first time I saw her was in 2015, at the KVO check post in the border town of Sost, and at that time, she was 3 years old, being raised by people. Afterwards, Lolly was moved to Naltar Valley, where the Pakistan Army facilities are located.
So it must be that she is over 10 years old now?
Seeing Lolly through the bushes. She is so beautiful. But, she seems to be "a bit chubbier" than a wild snow leopard.
I waited for her to move away from the fence and go to a place where I could get some nature in the background of the photo. Here, Lolly was sitting in her favorite spot. On the day I visited, there was only one other local photographer there.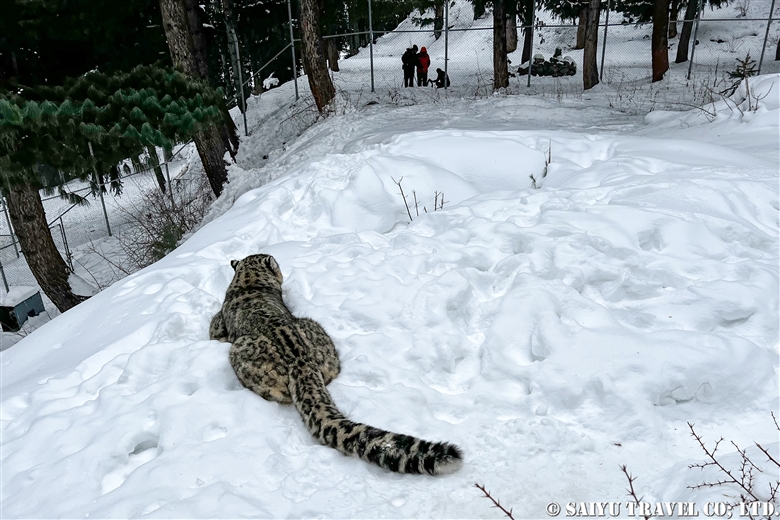 One of Lolly's favorite sitting spots.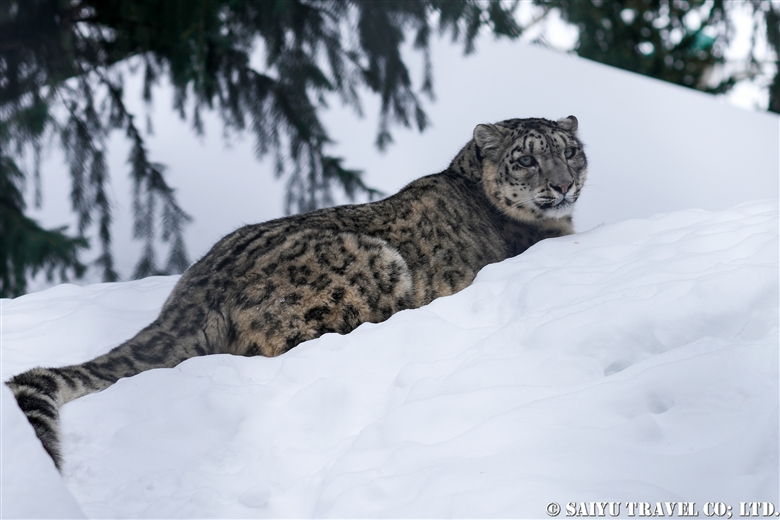 Oh, maybe she's gonna make a move?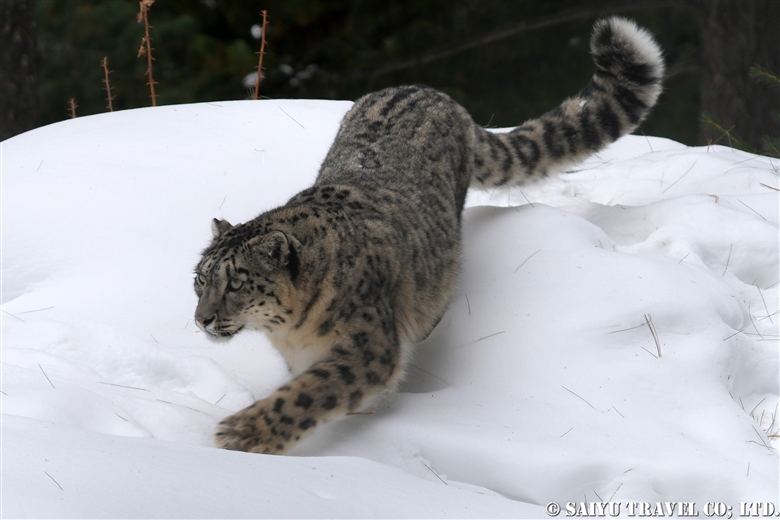 You can hear the rapid fire of camera shutters clicking in the moment she makes a move.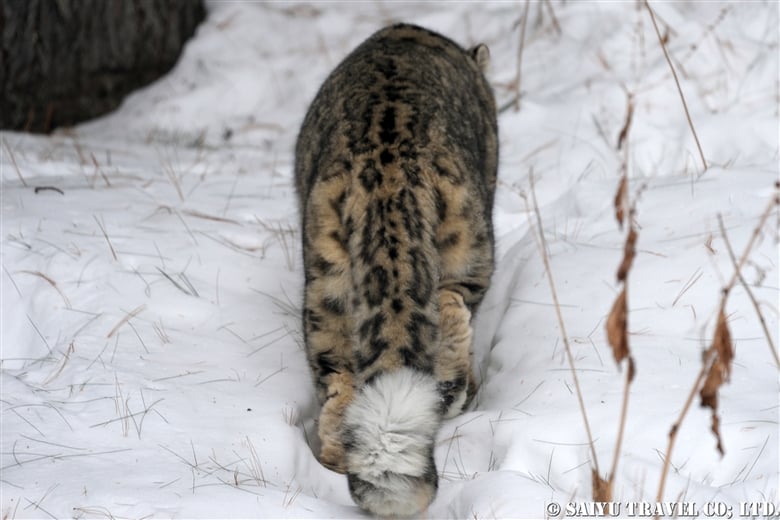 The thick tail of a snow leopard. This tail helps them balance when hunting on steep slopes and cliffs.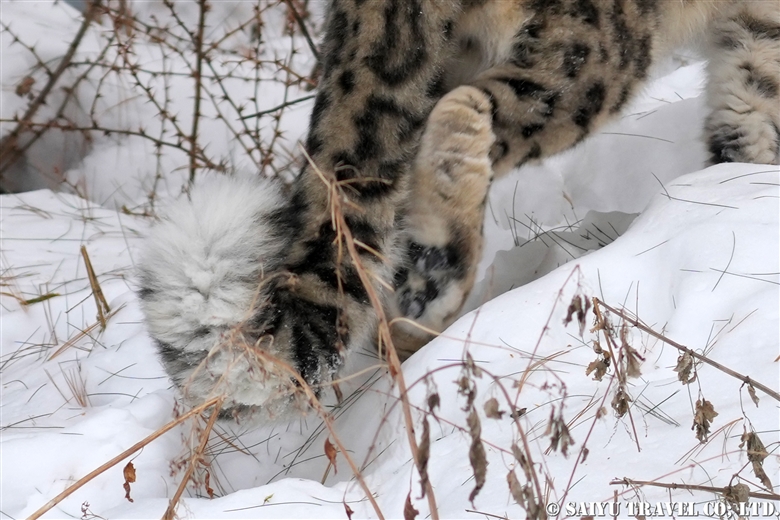 The bottom of her foot, covered with fur to protect it from the cold, and with a large ground surface area, making it easier to walk on snowy surfaces.
Pads on her feet…for the people who love them, we just can't get enough of these 'toe beans'!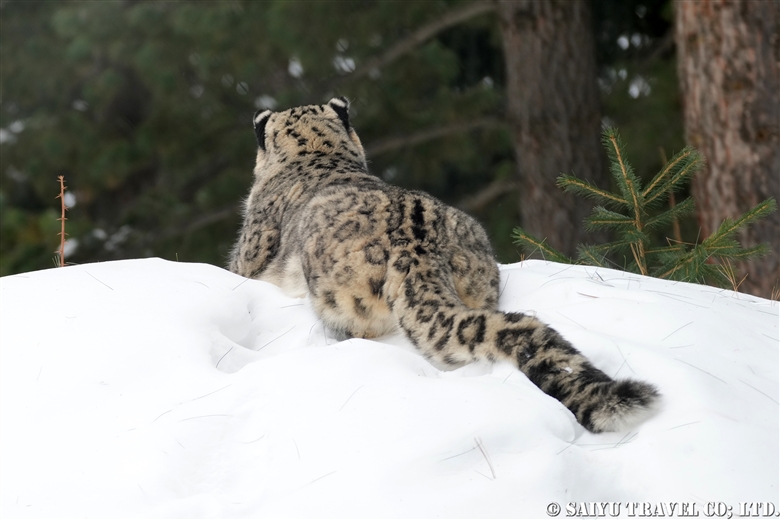 The back is also nice to see, her ears, the nape of the neck…If you are watching a wild snow leopard, you can hardly get a view of them from this angle. Lolly was very cooperative this day, and during our stay of about 2.5 hrs, we could see her move to her 'favorite spots' and finally settle down right beside me.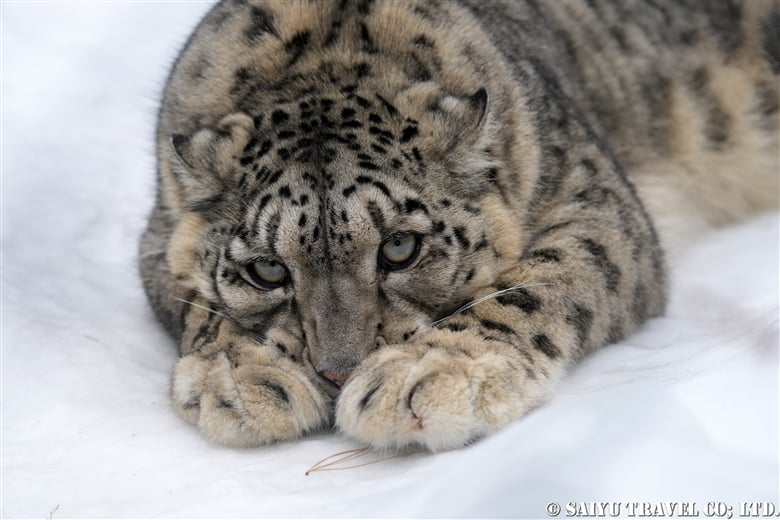 Lolly was a very close distance (I could have reached out and felt her fluffy fur). I could hear her making growling noises.
Even though she is raised in captivity, for people who love snow leopards, to be able to be at this proximity with one, this is an interesting place where you can observe her to your heart's content.
Photo & Text: Mariko SAWADA
Observation: Jan 2023, Naltar Valley, Gilgit-Baltistan
*Contact us, Indus Caravan for more information or to make arrangements for observing wildlife of Pakistan.
*Youtube    Facebook   Instagram  << Please check our update activity !
Category :
- Snow Leopard (captivity)
>
◆ Gilgit-Baltistan
>
◇ Wildlife of Pakistan
>
- Naltar Valley
Tag :
Wildlife of Pakistan
,
Indus Caravan
,
Lolly Snow Leopard
,
Naltar Valley
,
Saiyu Travel Pakistan
,
Pakistan Blog
,
Pakistan Travel Blog
,
Wildlife Photography Pakistan
,
Snow Leopard
,
Snow Leopard of Pakistan
,
Lolly the Snow Leopard
,
Snow Leopard Pakistan
,
Snow leopard photography
,
Travel Pakistan Blog
,
Wildlife Photography