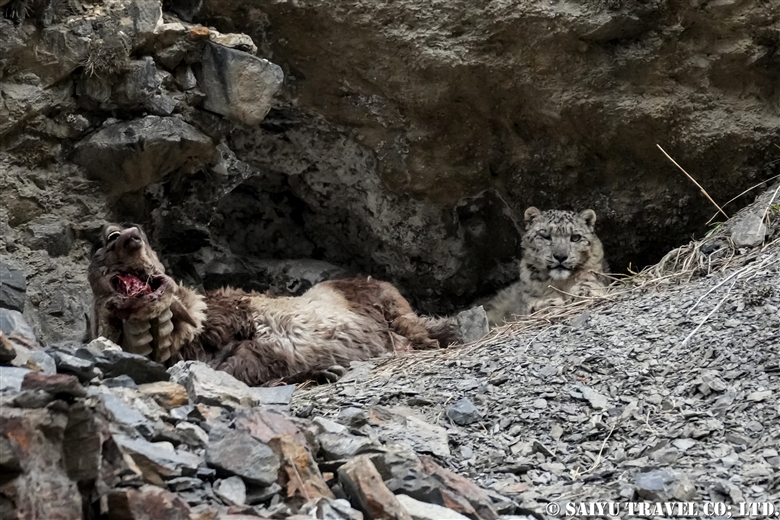 Abul was scanning the mountains for the snow leopard that he had just heard. He quickly came back and told us "Congratulations!" Through his binoculars, he could find the snow leopard, sitting with a freshly caught ibex (with its head cracked, at that!) and the snow leopard had a hurt eye. It was such an exciting moment!
Youtube "Snow Leopard after the hunt"
Article related "Snow Leopard"      Feature "Widlife of Pakistan"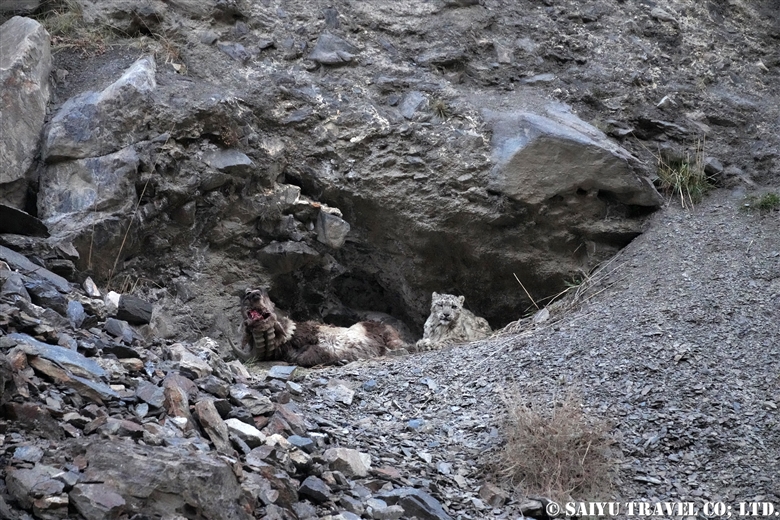 The two were just under a steep cliff dropoff, suggesting that they had both had a fall from a considerable height, which had been enough force to crack the head of the ibex open. There were signs of the ibex then being dragged to the hollow of this rock, were the snow leopard was now sitting.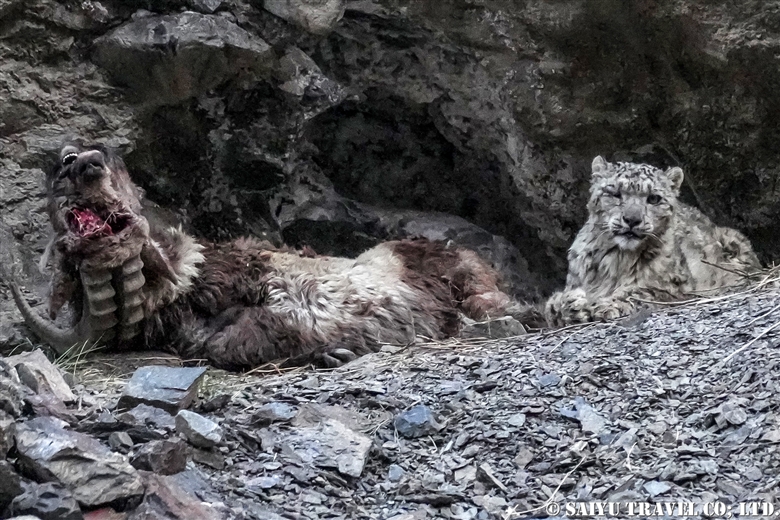 Sadly, one of the eyes of the snow leopard was quite swollen and seemed to be impaired now, showing that the ibex was not the only one who suffered terribly from this incident. Abul began to voice his concerns that perhaps it was a serious injury that might prevent the leopard from being able to hunt in the future, spelling out its death. Not only thinking about the pain it must be in, but also it was quite heartbreaking to think that it might not survive for very long after this…
This is the moment I realized we were witnessing just how harsh the reality is for a wild carnivore.
Having said that, the sleeping snow leopard, then just showed off their cat-like expressions.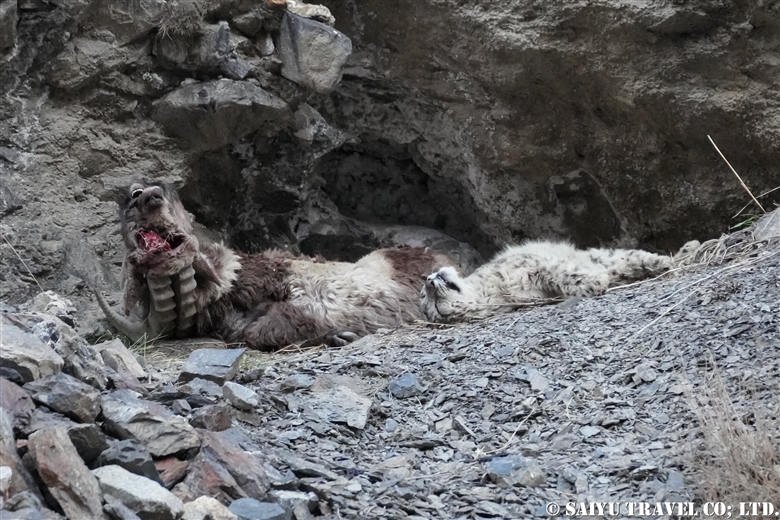 Tired from hunting + having a full tummy = a great sleep!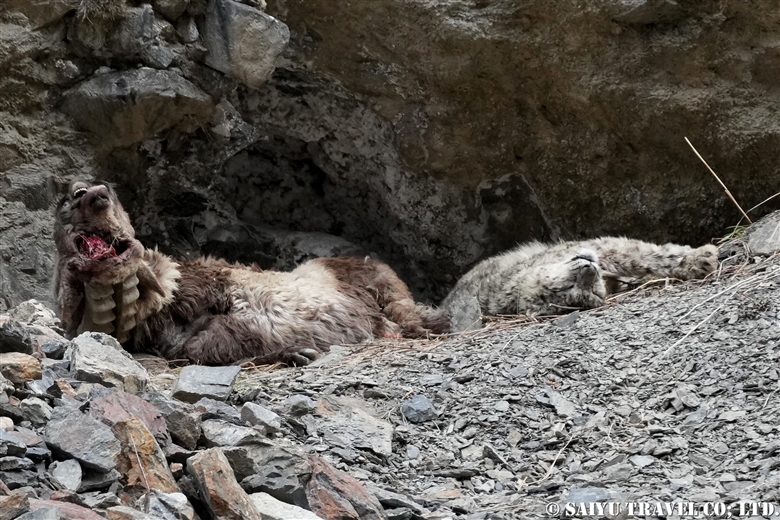 It seemed to have zero concerns that we were there watching it.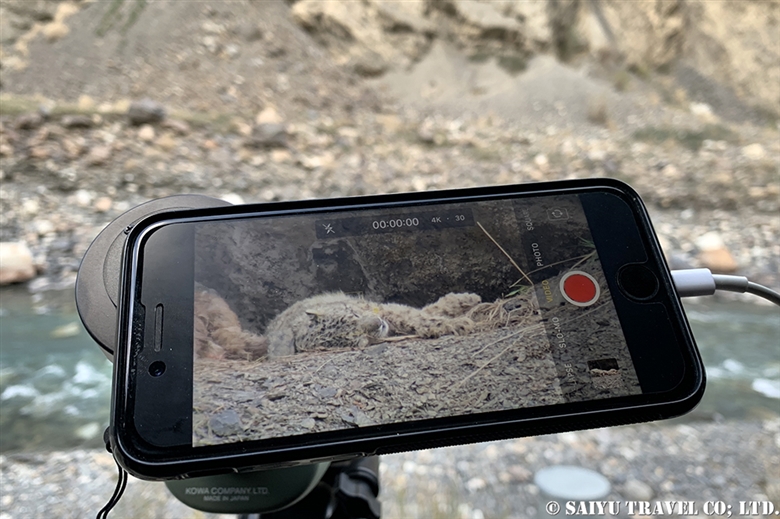 We were watching it through the spotting scope and getting photos/videos. I attached my iPhone to the Kowa scope (TSN-663) that I recently purchased this spring.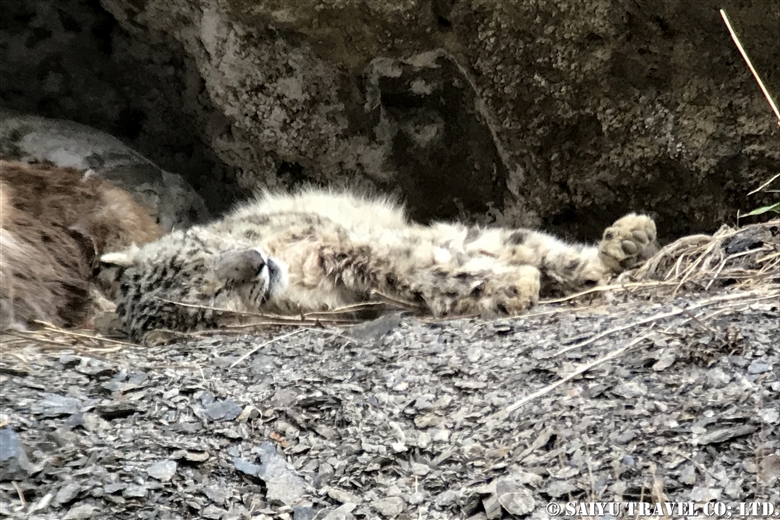 Those toe beans…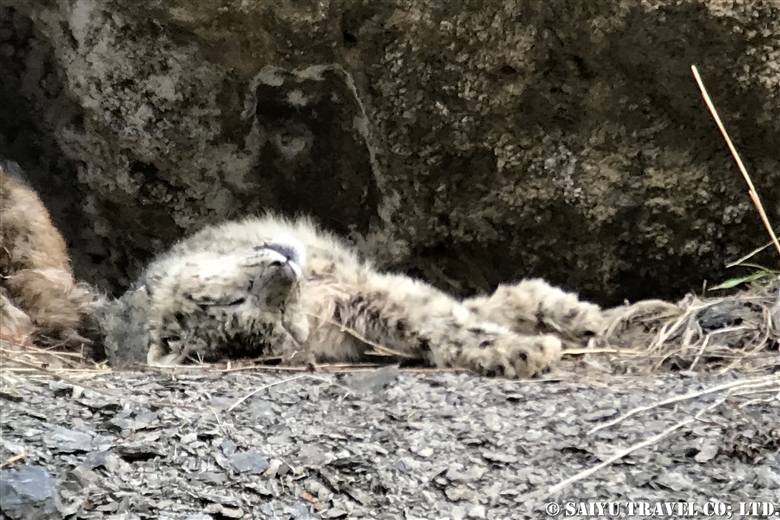 It was quite a large cat.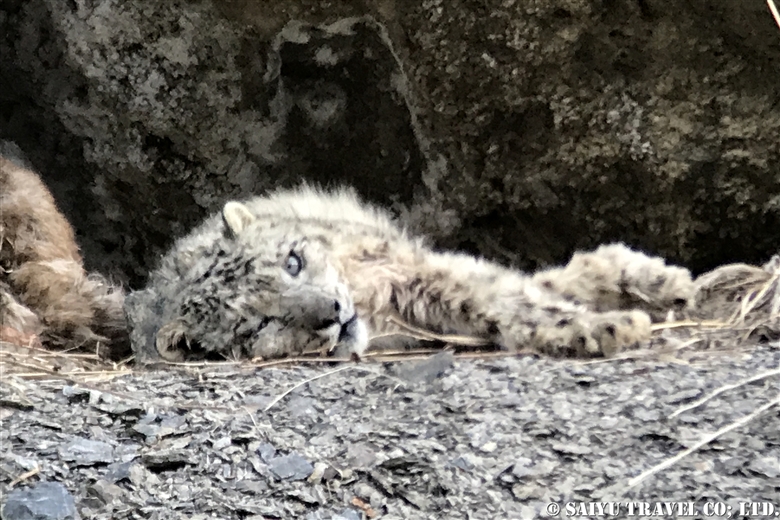 The snow leopard's grey eyes that opened with a start.
After this, the snow leopard got up and went towards the back of the rock hollow. It really broke my heart to see its appearance, apparently quite injured, as it could hardly walk.
Photo & text : Mariko SAWADA
Observation :Apr 2022, KVO conservation area, Gilgit-Baltistan, Pakistan
*Contact us, Indus Caravan for more information or to make arrangements for observing wildlife of Pakistan.
*Youtube    Facebook   Instagram  << Please check our update activity !
Category :
- Snow Leopard
>
- the Karakoram Highway
>
◆ Gilgit-Baltistan
>
- Gojar
Tag :
Khunjerab National Park
,
Snow Leopard Conservation
,
Pakistan Blog
,
Pakistan Travel company
,
Pakistan Travel Blog
,
Pakistan tour operator
,
Snow Leopard
,
Pakistan Photography Tour
,
Snow Leopard Pakistan
,
Travel Pakistan Blog
,
Wildlife of Pakistan
,
Wildlife Photography Pakistan
,
Indus Caravan
,
Wildlife Tour Pakistan
,
Snow Leopard Expedition
,
Saiyu Travel Pakistan