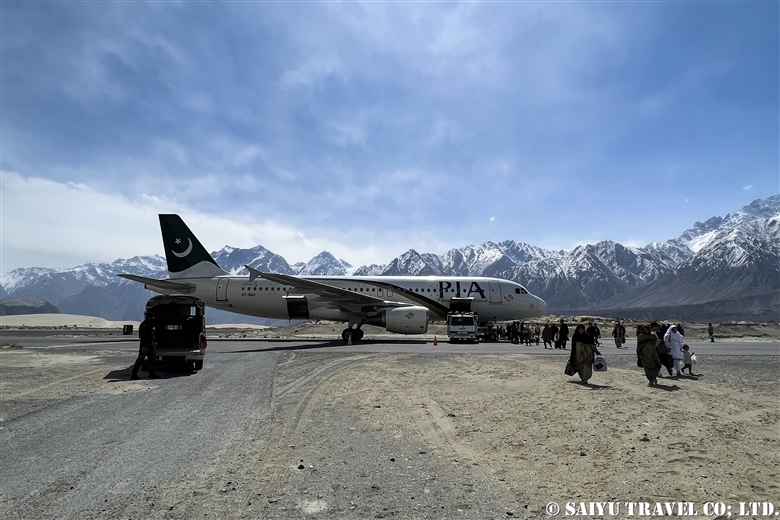 You will be amazed by the scenery as you arrive in Skardu on a domestic flight; almost all tourists take photos as soon as they arrive. The airport is on a desert plain, surrounded by snow-capped peaks, on the banks of the Indus River.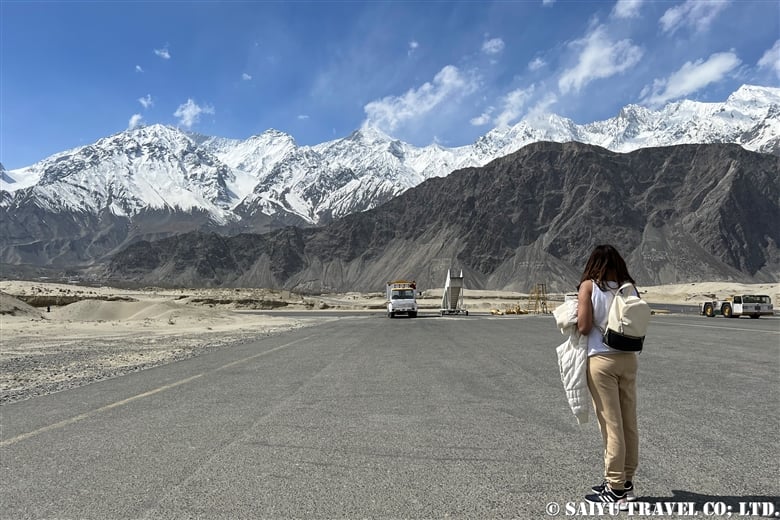 Skardu's airport is on an high-altitude desert of 2,230m. Last year, it was promoted to "International Airport." Recently, the operation rate of the Skardu route has improved, and it is now flying not only from Islamabad, but also from Karachi and Lahore in summer. However, in case of flight cancellation, there is no land route from Karachi. It is still safer for foreign tourists to choose flights from Islamabad instead.
Video of Islamabad – Skardu flight with the Nanga Parbat right at the front!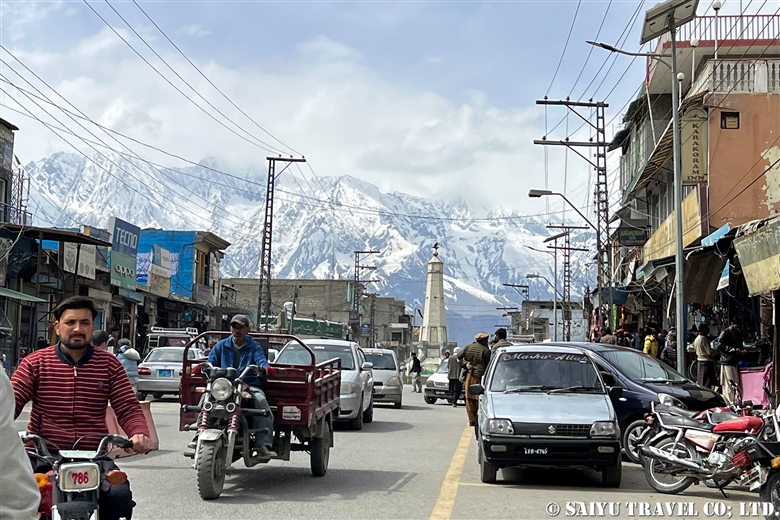 It takes about 20 minutes from the airport to the town of Skardu. Inhabited by the Balti people, Skardu means 'land between two high places' in the Balti language. It was once part of Tibet and was also a trading center to Kashmir. It later became Islamized, and after the independence of India and Pakistan in 1947, it went through three wars and in the end, it belonged to Pakistan.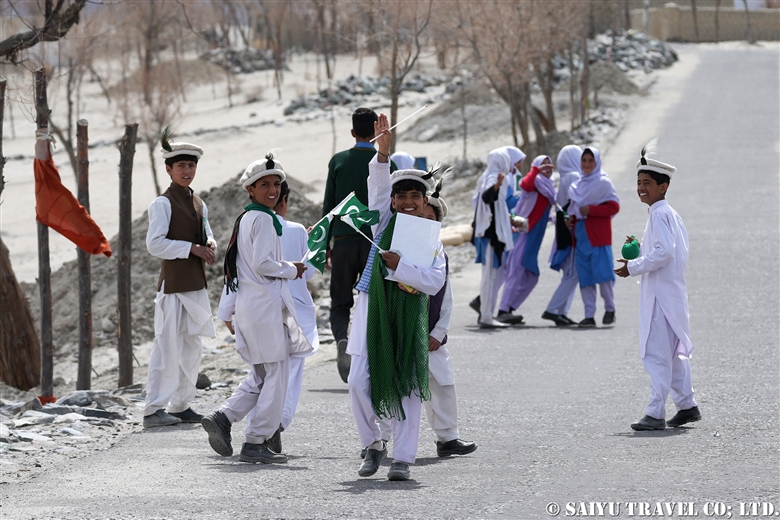 March 23rd, when I arrived, was Pakistan Day. On March 22, 1940, Muhammad Ali Jinnah proposed the founding of Pakistan at a meeting of the All-India Muslim League, and on the following day, on the 23rd, the founding of the country was unanimously resolved. It is an important Pakistani Memorial Day, just like Independence Day.
There must have been an event at school, as there were children walking down the street with national flags in their hands.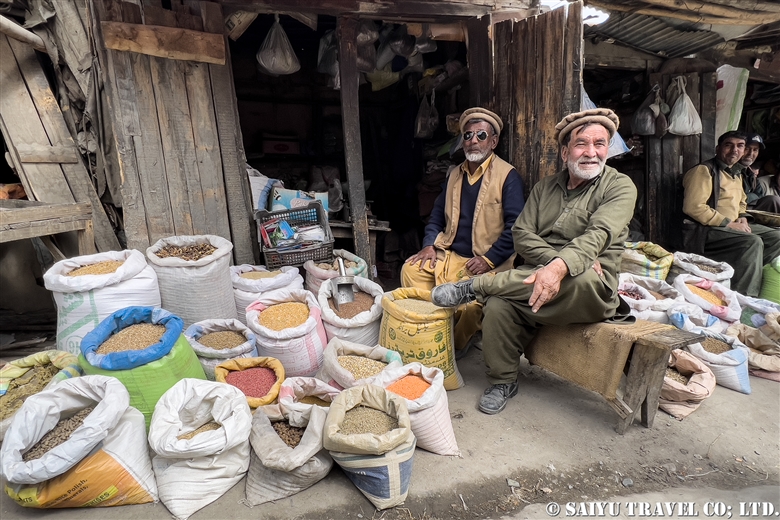 Skardu's Bazaar, a store that sells beans and grains.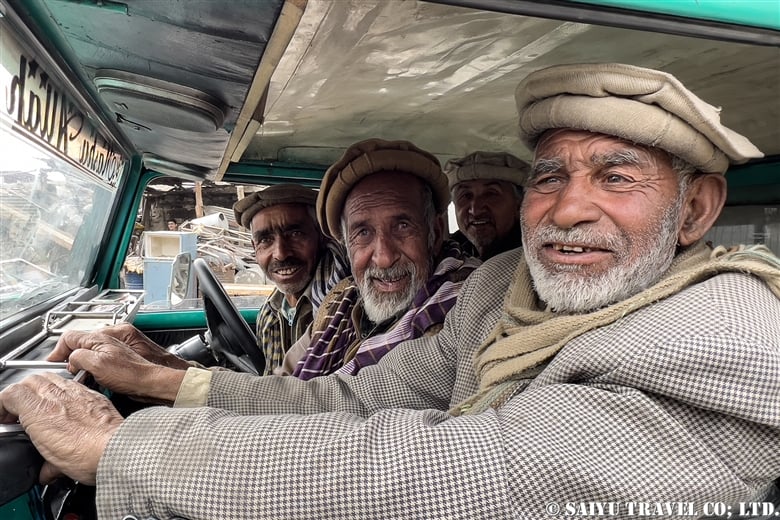 A villager who came to buy goods from Kowardo village in the suburbs of Skardu. Their face is a bit Tibetan, unlike the Hunza and Punjab regions.
Balti men are known to be strong and are active in the K2 base camp trek and climbing in the summer.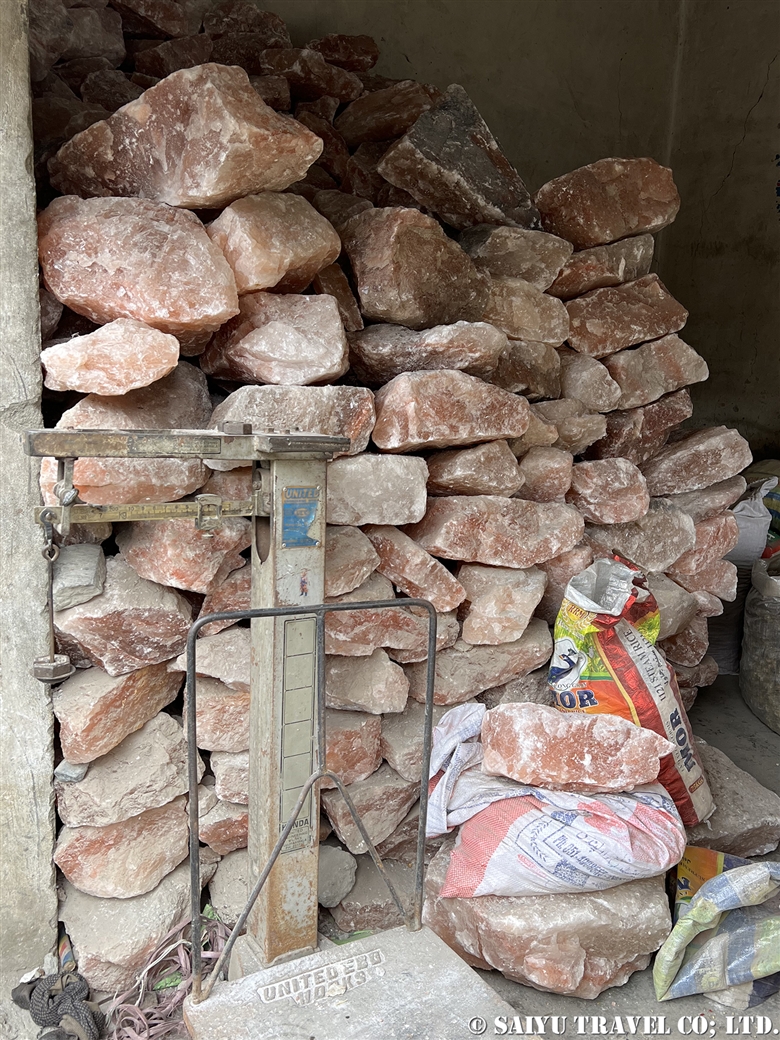 A shop in the bazaar also had pink rock salt that was mined in the "Salt Range" from the Punjab region. There are various uses for it like salt licks for livestock, and smaller blocks are used when drinking "namkheen chai" (salty chai).
About Himalayan Salt: The Salt Range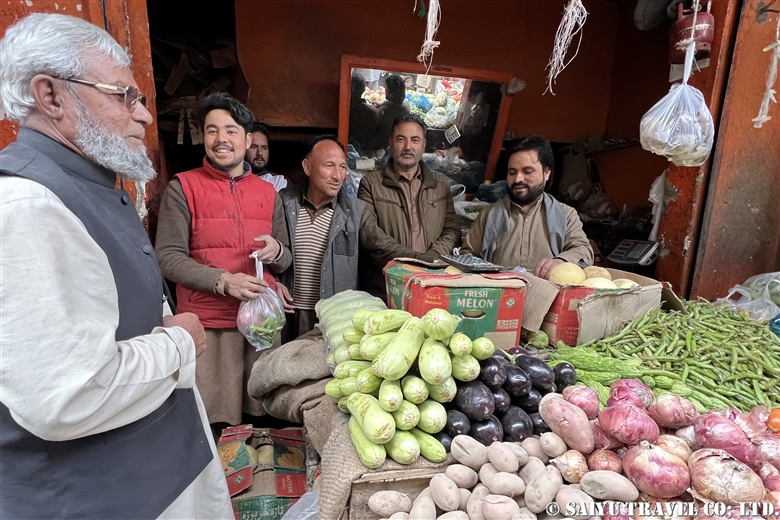 At the Skardu vegetable market, a shipment of vegetables and fruits from the Punjab region arrived.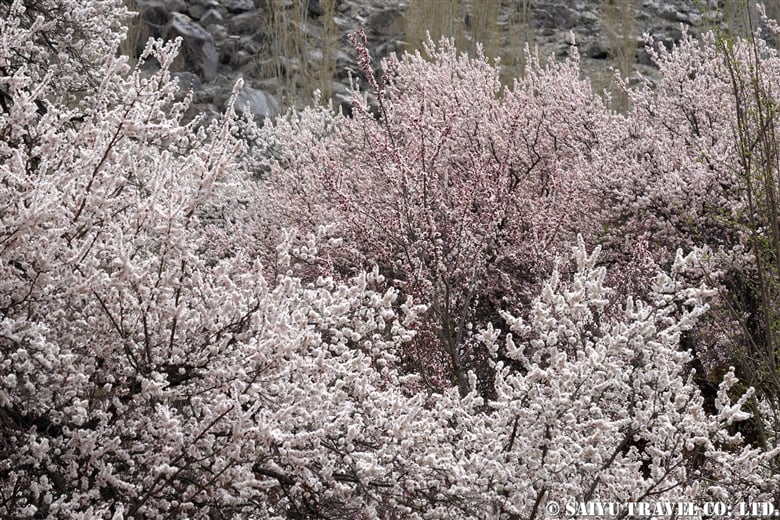 On this day, the apricots of Skardu were almost in full bloom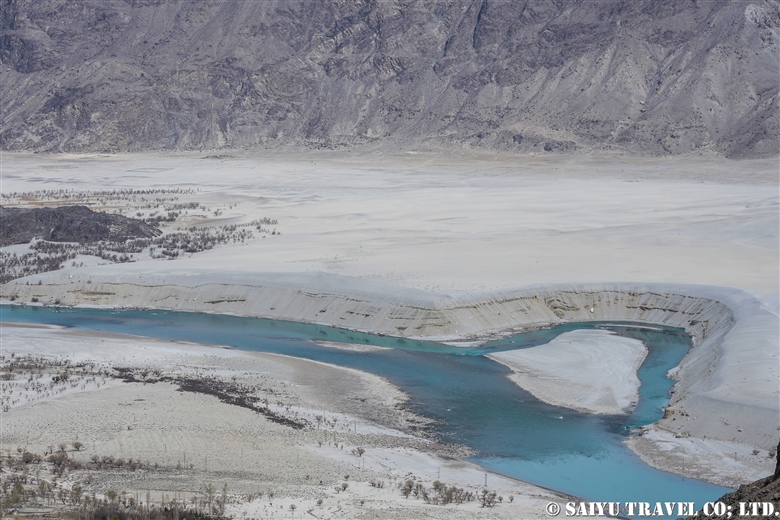 The Indus River seen from Hussain Abad Village in Skardu Valley. At this time of year, the Indus River is not mixed with melted glacier water and has a beautiful blue color.
The Indus River flows from Ladakh, India. 93% of the 3,180km (1,976 miles) long Indus River flows through Pakistan. After leaving the northern mountainous region, it flows across Pakistan into the Arabian Sea.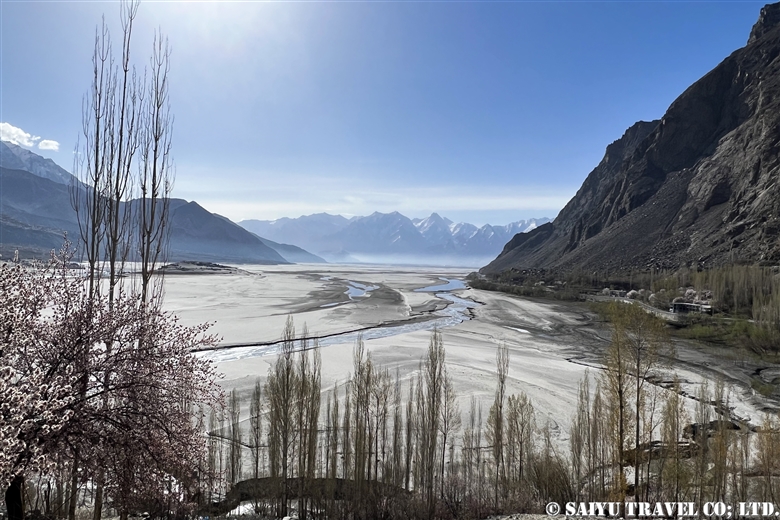 Skardu Valley looking back from the road from Skardu to Gilgit. This large canyon, 10 km wide and 40 km long (6.2 mi wide x 24.9 mi long), is said to have been formed by the glaciers of the Indus and Shigar Rivers between 3.2 million years ago and the Holocene period.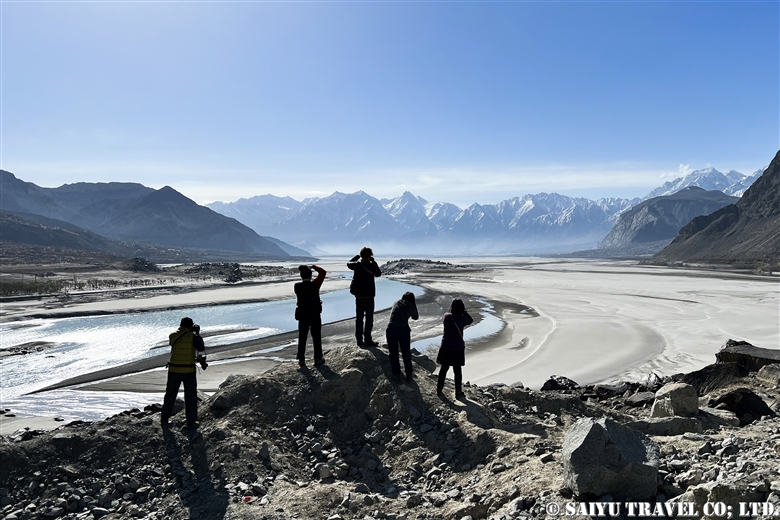 I took one last look before entering "Skardu Road," which connects Karakorum Highway and Skardu.
The valley of Skardu is a very beautiful place with apricot blossoms in the spring, greenery in the summer and golden poplars in autumn.
Photo & text : Mariko SAWADA
Visit : March 2023, Skardu, Gilgiti-Baltistan
*Contact us, Indus Caravan for more information or to make arrangements for visiting Skardu, Northern Pakistan.
*Please follow us on Youtube, Instagram & Facebook
Category :
◆ Gilgit-Baltistan
>
- Indus river bank
>
- Skardu Valley
Tag :
Pakistan Blog
,
Indus river
,
Pakistan Travel Blog
,
aerial photography
,
Travel Pakistan Blog
,
Sarfranga Desert
,
Indus Caravan
,
Shigar Valley
,
Shigar
,
Saiyu Travel Pakistan
,
Skardu Valley
,
Pakistan Travel company
,
Pakistan tour operator
,
Pakistan Photography Tour
,
Skardu
,
Northern Pakistan Travel