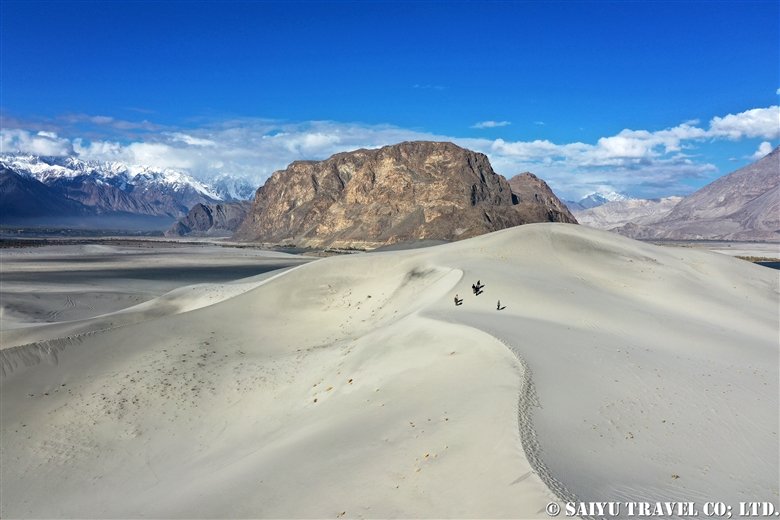 This is a photo of the Sarfranga Cold Desert, taken from the drone we sent up from the entrance of the Shigar Valley on the outskirts of Skardu.
Located along the Indus River in Skardu, the Sarfranga Cold Desert is a dry desert system surrounded by alpine mountains at an altitude of 2,500m (8,202 ft). The strikingly beautiful sand dunes along the banks of the Indus river, form part of the desert,
Sarfranga Cold Desert (Skardu)

It was a particularly beautiful morning, visiting these rare wonders of the world "sand dunes surrounded by snowy alpine peaks." Even for these well-traveled people, who had already seen various deserts around the world, this was a rare sight indeed.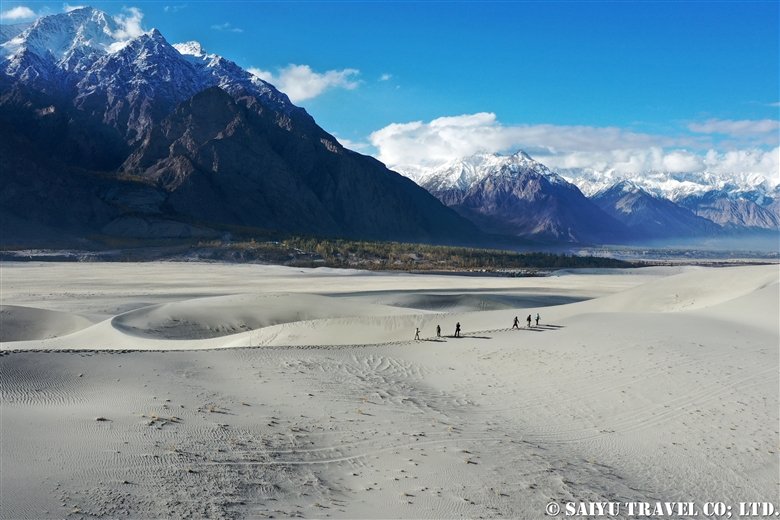 Off in the distance we could see Hussain Abad Village.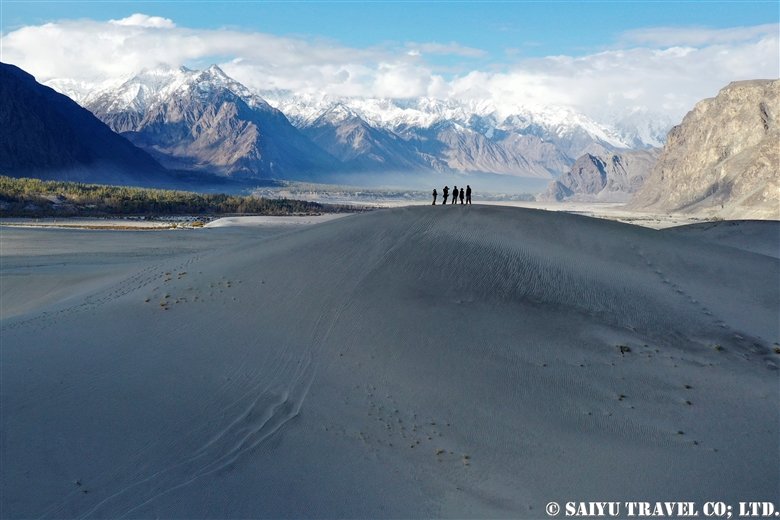 Climbing the highest dune, we could enjoy a 360°view of the high alpine peaks all around us.
Image & Text : Mariko SAWADA
Visit : Oct 2021, Sarfraga Cold Desert, Shigar-Skardu, Gilgit-Baltistan
* Contact Indus Caravan for more information or to make arrangements for your trip to Skardu !
Category :
= Video Clip Gilgit-Baltistan
>
◆ Video Breathtaking Views of Pakistan
>
◆ Gilgit-Baltistan
>
- Skardu Valley
>
- Shigar Valley
Tag :
Travel Pakistan Blog
,
Indus river
,
Indus Caravan
,
aerial photography
,
Pakistan Drone footage
,
Saiyu Travel Pakistan
,
Sarfranga Desert
,
Sarfranga Cold Desert
,
Shigar Valley
,
Pakistan Travel company
,
Shigar
,
Pakistan tour operator
,
Skardu Valley
,
Northern Pakistan Travel
,
Pakistan Photography Tour
,
Pakistan Blog
,
Skardu
,
Pakistan Travel Blog