The morning after it rained and snowed in Skardu. The valley all along the Indus River was bathed in fog.
Located on the banks of the Indus River in Skardu, is the Sarfranga Cold Desert. The name is based on it being at 2,500m (8,200 ft), as a high-altitude desert surrounded by high mountains. The sand along the river, forms beautiful dunes.
The sand dunes remind me of the scenery of the Sahara Desert or the Namib Desert, with the periphery of the sand dunes surrounded by peaks higher than 5,000m above sea level. Making it feel so mysterious.
Sarfranga cold desert emerging from the sea of clouds Skardu|スカルドゥ サルフランガ寒冷砂漠

This drone video was taken in the cold desert, while I was standing in the fog, operating the drone. Once the drone rose above the fog, you could see the landscape open up beautifully.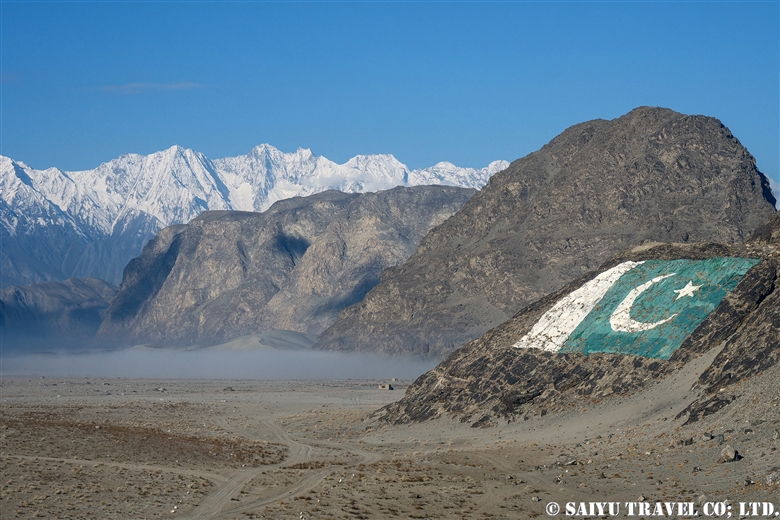 This is the scene of the fog settled over the Sarfranga dunes, as seen from the road to the Shigar Valley. The large Pakistani flag was drawn on the side of the rocky mountain.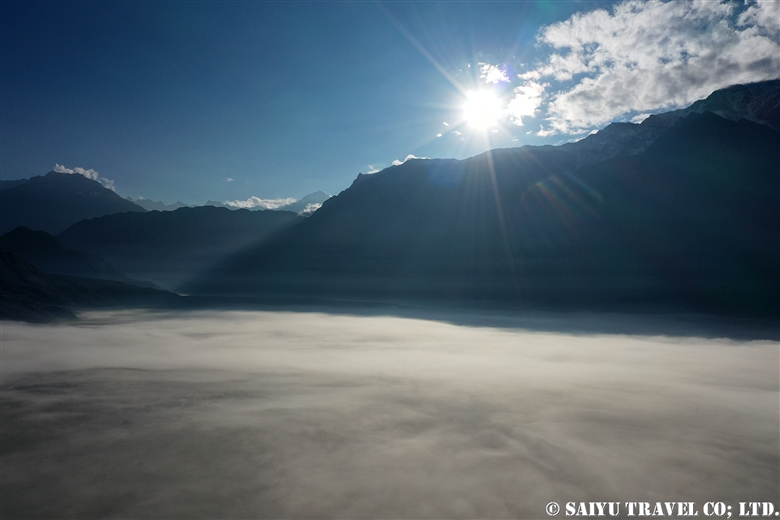 The valley of the Indus River which flows from the Indian boarder was covered in fog.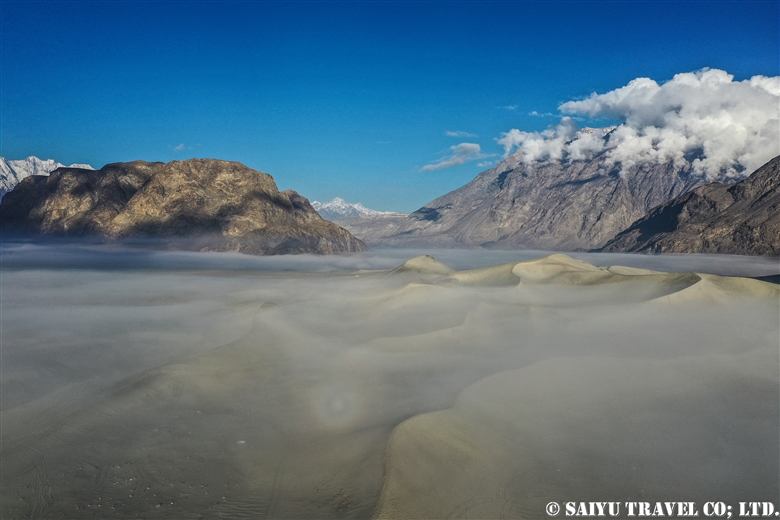 The tips of the dunes emerging from the fog was strikingly beautiful.
Image & text : Mariko SAWADA
Visit : Oct 2021, Sarfranga Desert, Skardu, Gilgit-Baltistan
Category :
= Video Clip Gilgit-Baltistan
>
◆ Video Breathtaking Views of Pakistan
>
◆ Gilgit-Baltistan
>
- Skardu Valley
>
- Shigar Valley
Tag :
Northern Pakistan Travel
,
Pakistan Photography Tour
,
Pakistan Blog
,
Skardu
,
Pakistan Travel Blog
,
Travel Pakistan Blog
,
Indus river
,
Indus Caravan
,
aerial photography
,
Pakistan Drone footage
,
Saiyu Travel Pakistan
,
Sarfranga Desert
,
Sarfranga Cold Desert
,
Shigar Valley
,
Pakistan Travel company
,
Shigar
,
Pakistan tour operator
,
Skardu Valley