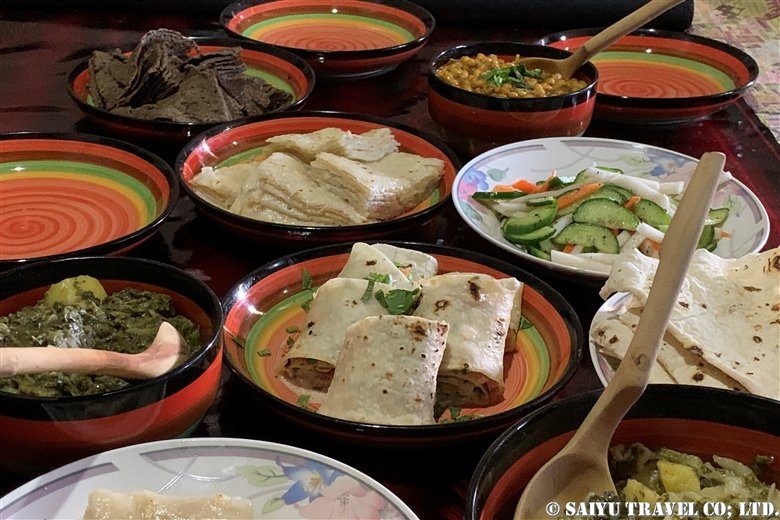 This is the introduction of the local food we enjoyed while I visited Hunza at a private homestay.
When you visit Hunza, one of the menu items you will definitely be served is a soup called 'Dowdo.' It contains thick handmade noodles, similar to udon, and is a little curry-like. It doesn't have a strong flavor and is popular among foreigners. More recently, in the Nagar district, there is a meaty pie called 'Chap Shoro' which is becoming very popular with the domestic Pakistani tourists.
The food in the Hunza region is healthy; and it is not flavored too spicy so foreigners find it easy to eat.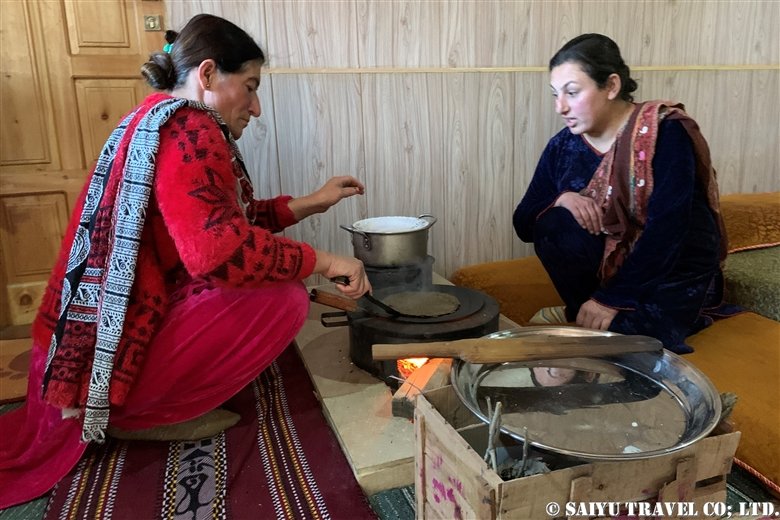 Our homestay host in Hunza, was Amin Ghazi Karim, who prepared the local dishes at their house. They have a modern kitchen, but during the meal, the stove comes in handy while you eat. In the cold Hunza, it is pretty essential to have the stove close by.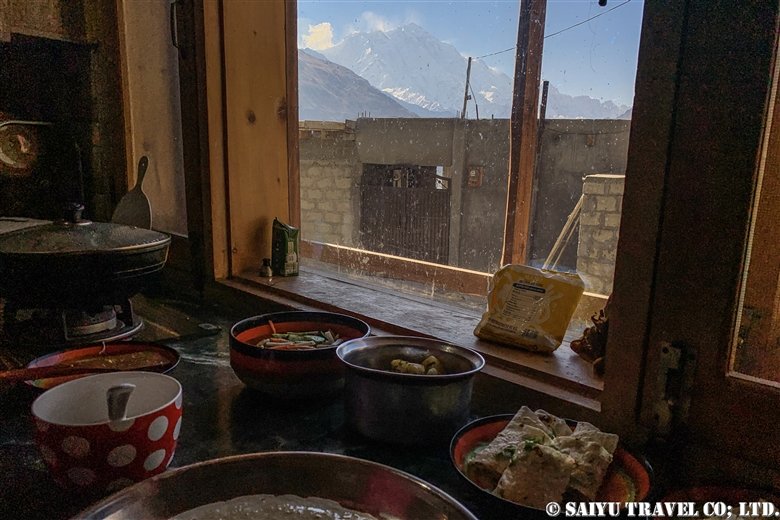 Rakaposhi (7,788m/ 25,551ft) can be seen from Amin's kitchen window.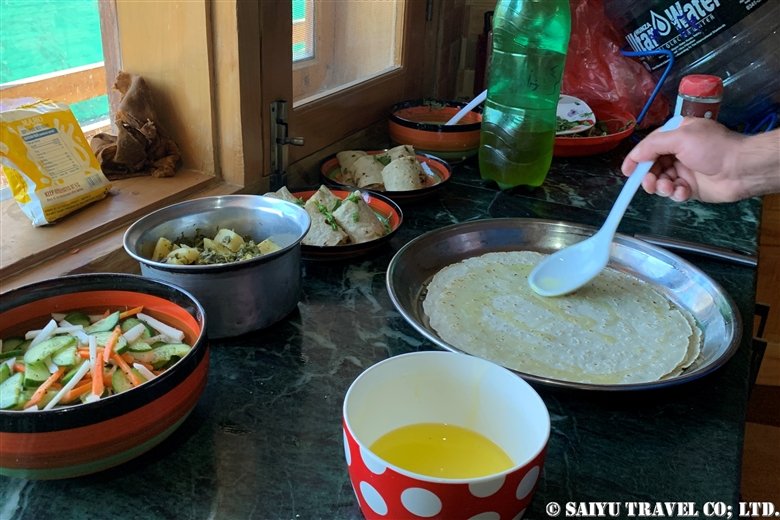 They made us a Butter Chapati (in the local Burushaki language called 'Martasxe tse Giyaling.') The flour chapati is topped with butter. Walnut oil and apricot oils are also used, instead of butter.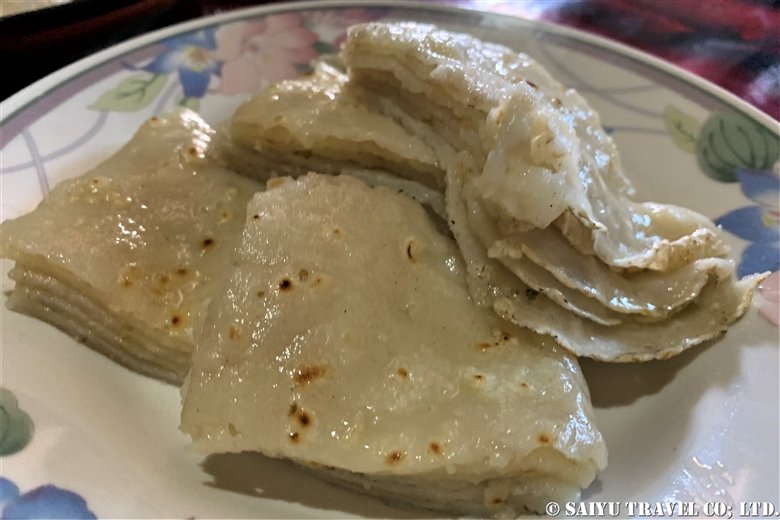 The 'Martasxe tse Giyaling' is ready. It has a light flavor but is heavy in the stomach.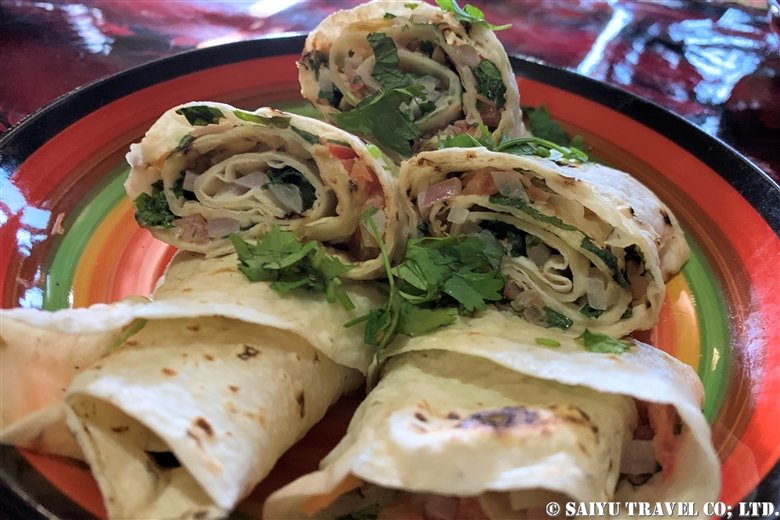 This is the Cheese Chapati (in Burushaki language called 'Burus Sapik.' It is my favorite, locally produced cheese, mint, tomatoes, leeks, onions, and fruit oil wrapped in a wheat chapati. This is really healthy, and recommended for the vegetarians who come to Pakistan and have a hard time with the food.
After the meal, we finish dinner with freshly harvested Hunza apples and tea.
Photos & text: Mariko SAWADA
Visit: Oct 2021, Baltit, Karimabad, Hunza, Gilgit-Baltistan
Special Thanks to all host family members of Amin Ghazi Karim
Category :
◆ Gilgit-Baltistan
>
- Hunza Valley
Tag :
Hunza cusine
,
PakistanBlog
,
Hunza food
,
Martasxe tse Giyaling
,
Travel Pakistan
,
Cheese Chapati
,
Hunza district
,
Burus Sapik
,
Idus Caravan
,
Dowdo
,
Gilgit-Baltistan
,
Karimabad
,
Chap Shoro
,
Pakistan Blog
,
Pakistan Travel company
,
Homestay in Hunza
,
Pakistan Travel Blog
,
Pakistan tour operator
,
Homestay at Hunza
,
Indus Caravan
,
Pakistan Photography Tour
,
Hunza dish
,
Saiyu Travel Pakistan