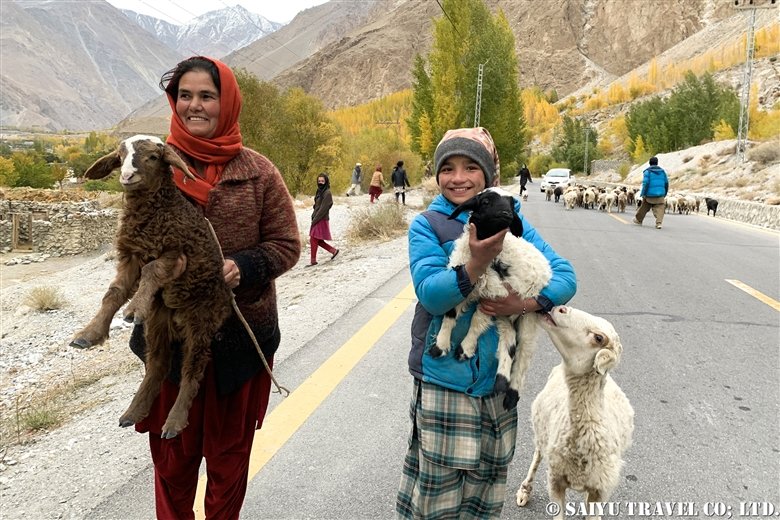 After a long days of summer spent grazing, in mid-October, the cattle are returned to the village. After that, one a daily schedule the goats and sheep from the village are gathered to go to the pastures for grazing. We arrived in the Upper Hunza's Ghalapan Village to await the arrival of the goats and sheep in the evening.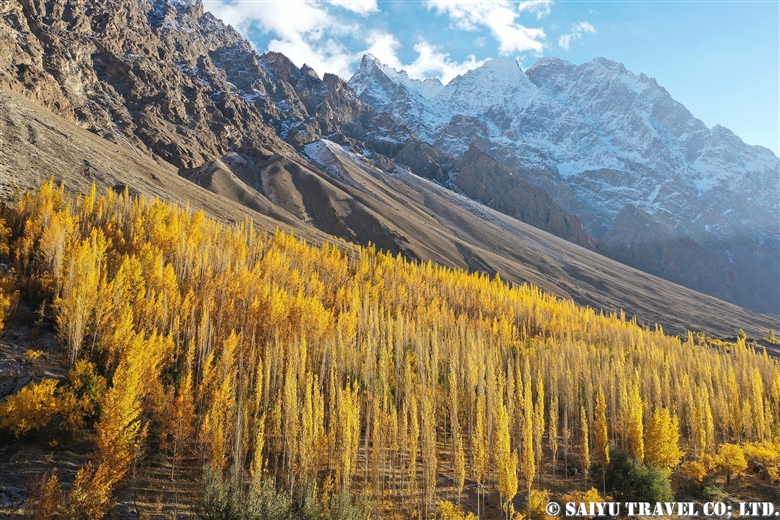 The Upper Hunza during this season is the most beautiful season, with the poplar trees changing colors. The time to catch their bright yellow leaves in the sunlight is limited because the poplar trees grow in the valleys, surrounded by high peaks all around them.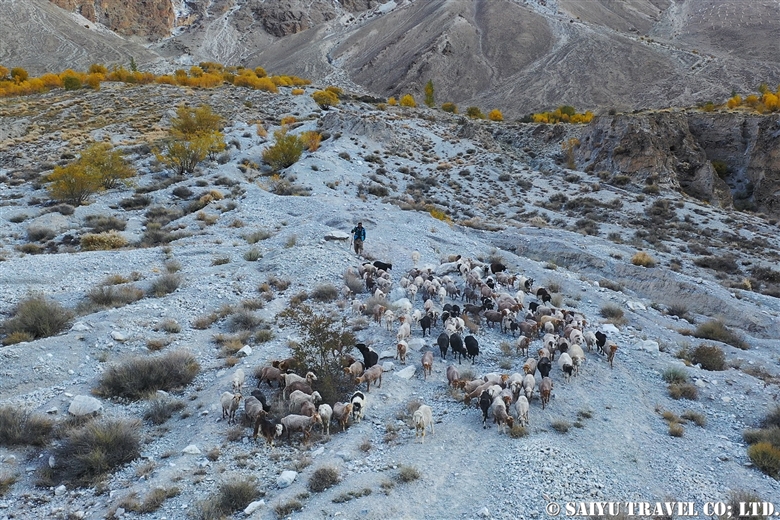 After grazing on the mountain slopes, the goats and sheep have started their decent to the village. Here they come!
↓↓ This is a video of the livestock heading back to the villages of Mokrhon and Ghalapan, after a day of grazing. The poplar trees were amazing as well, so that drone footage is included as well!
Morkhon & Ghalapan in Autumn|秋の上部フンザの村にて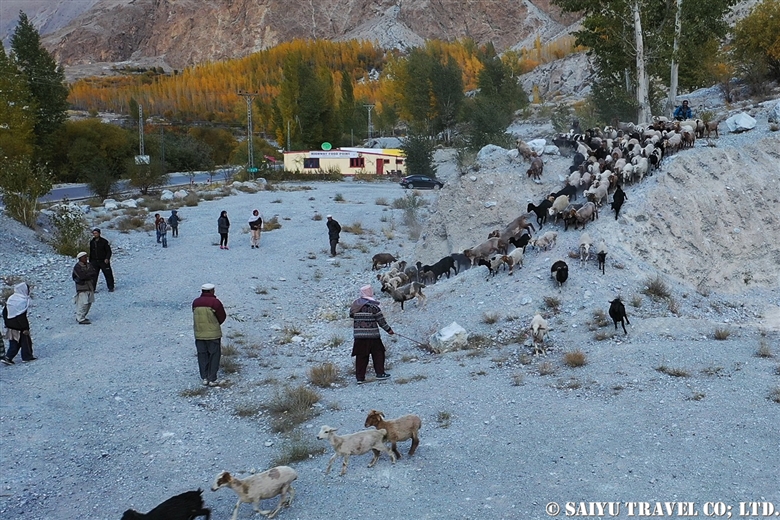 The villagers were waiting for the goats and sheep to come back to the village.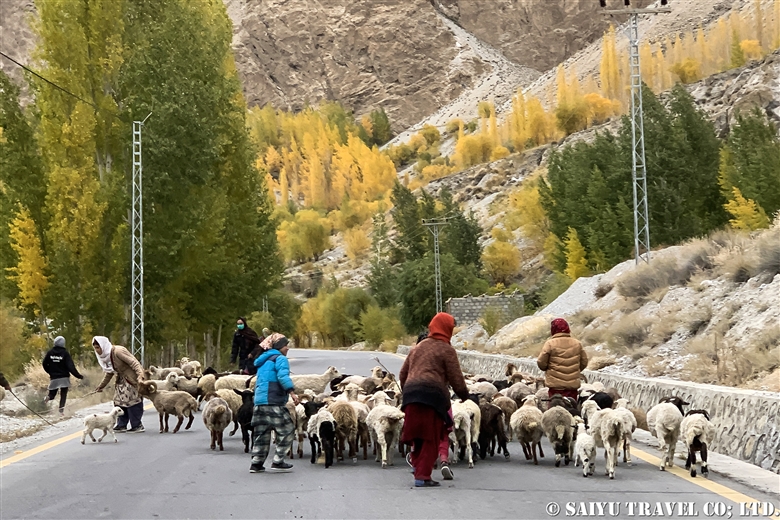 They quickly separate out their own livestock from the group. Some of the villagers carry dried apricots as a treat to get the sheep to follow them back to their homes.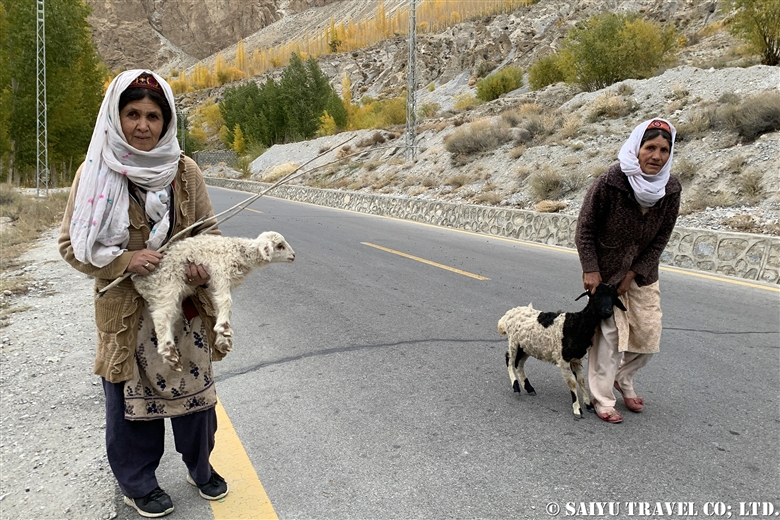 They have to know which one is their own livestock!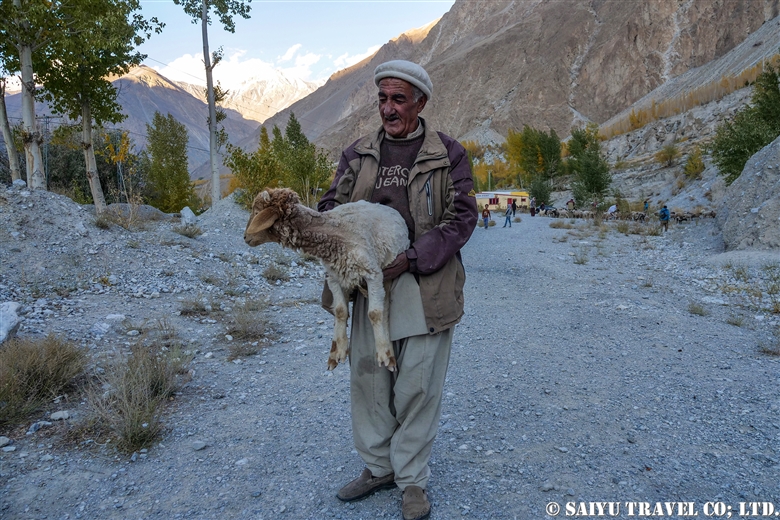 This sheep wandered off from the heard and had to be carried back.
Each owner brings back their own livestock to their respective shed for the evening. It all happened within a 15 minute window. But this little moment is just the daily life part of a wonderful village life in northern Pakistan.
Image : Mariko SAWADA
Visit : Oct 2021, Ghalapan village, Upper Hunza, Gilgit-Baltistan
Category :
= Video Clip Gilgit-Baltistan
>
◆ Video Breathtaking Views of Pakistan
>
◆ Gilgit-Baltistan
>
- Gojar
>
- Morkhun
>
◇Domestic animal of Pakistan
Tag :
Hunza district
,
Autumn Kuch
,
Pakistan Travel Blog
,
Idus Caravan
,
Morkhon
,
Indus Caravan
,
Morkhon village
,
Drone footage Pakistan
,
Ghalapan village
,
Saiyu Travel Pakistan
,
Pakistan Travel company
,
Ghalapan
,
Pakistan tour operator
,
PakistanBlog
,
Pakistan Photography Tour
,
Pakistan Dronography
,
Gojar
,
Gilgit-Baltistan
,
Travel Pakistan
,
Kuch
,
Upper Hunza
,
Autumn in Northern Pakistan
,
Pakistan Blog