This is a video taken in the Swat Valley of the sheep living there.
While traveling the Valley by car, one after another we saw groups of herders and their sheep. A typical scene in Pakistan.
Sheep in the Swat Valley (Pakistan)  The curious tailed sheep|

The tails are dyed with henna which I found so interesting.
The Pashtun people of Pakistan. It is a fashionable expression unique to them.
Sheep Tail Variations

This video features various sheep's tails: some long and some short tails.
The Dunba sheep has no tail and its hips make a heart shape. It is a type of sheep that accumulates fat in the buttocks, a Pakistani delicacy. Namak Mandy, a restaurant district in Peshawar, is famous for Dunba cuisine.
And then, finally the sheep after they have been shaved…
Without hair, the sheep look so odd.
These are such curious looking sheep with very unique looks.
This photo was taken in Kashgar, China, not Pakistan. It's a neighboring country across the border, but the Uyghur people also seem to like Dumba sheep as well.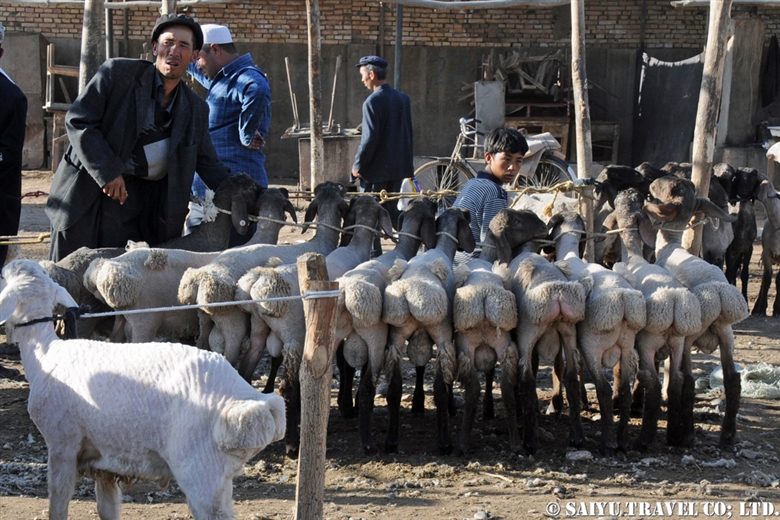 The Swat Valley has changed a lot. In the fall of 2019, a new road was extended into the Valley. I hope the sheep continue to march along the road as they did in the past.
Video/photo & Text: Mariko SAWADA
*The photos and videos were taken between 2008 and 2015 in Swat, Khyber Pakhtunkhwa
Category :
= Video Clip KPK
>
- Swat
>
◆ Video Breathtaking Views of Pakistan
>
◆Khyber Pakhtunkhwa
>
◇Domestic animal of Pakistan
Tag :
Pakistan Blog
,
Pakistan vlog
,
Pakistan Travel Blog
,
Indus Caravan
,
Dumba sheep Pakistan
,
Saiyu Travel
,
Dumba sheep
,
Saiyu Travel Pakistan
,
Swat
,
Swat valley
,
Pakistan Travel company
,
Pakistan Photography Tour
,
Vlog Pakistan