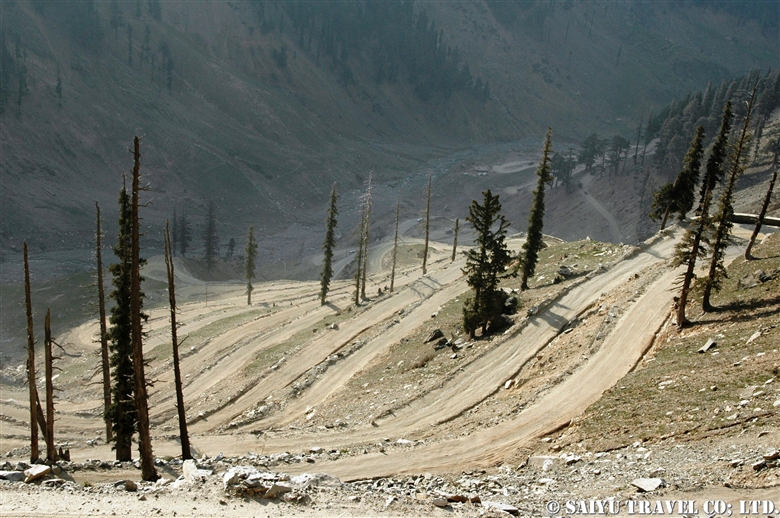 Lowari Pass is a trail that connects Peshawar / Dir and Chitral. Locate in the  Hindu Raj, a tributary coming from the Hindukush Mountain ranges is at an altitude of about 3100 meters. As far as passes go, it is not that high, but this is the lowest and easiest route to pass the mountainous areas.
The Pass is closed to vehicle traffic from November to May due to the snowfall, so people have no choice but to walk it in the snow. It is said that countless people have lost their lives along the way in avalanches.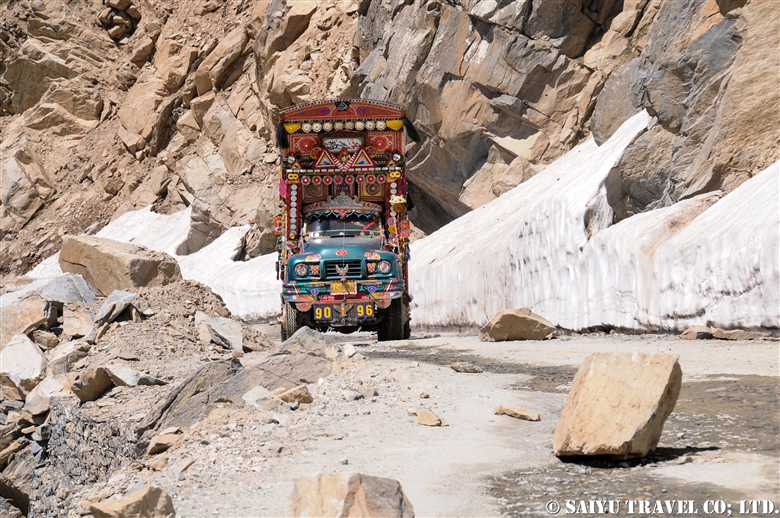 The truck that makes its way down the Lowari Pass. The road is muddy with snowmelt and rocks were constantly falling from above.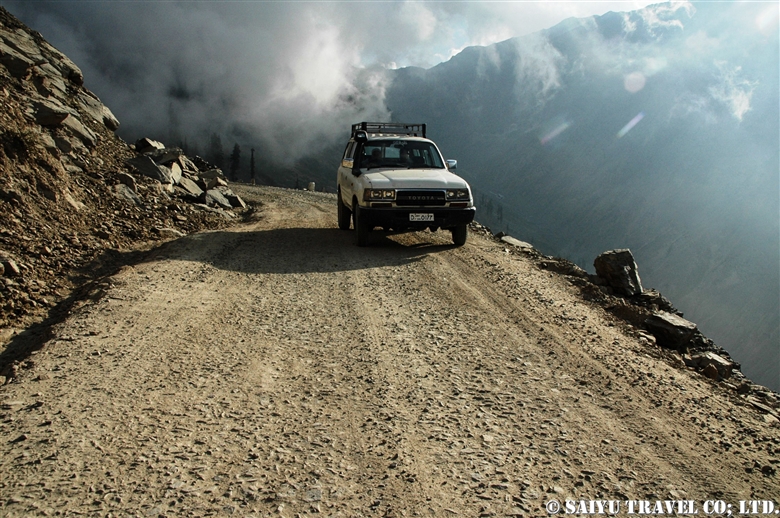 On the Chitral side of the Pass, it's hairpin turn one after another.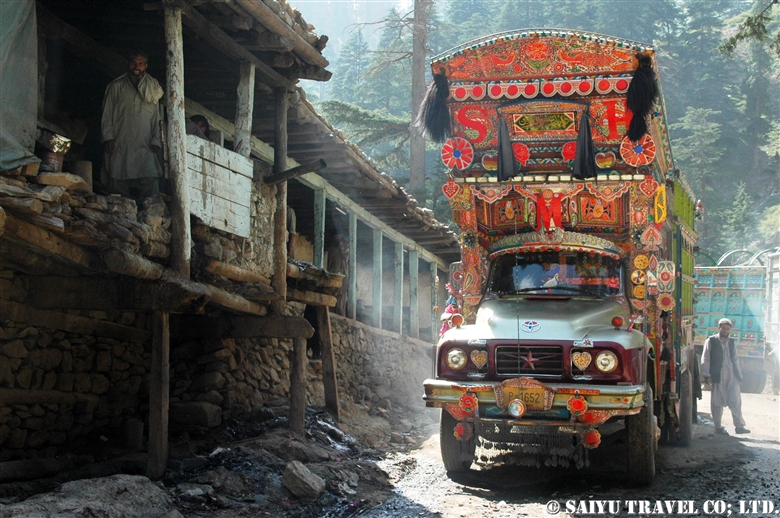 A truck at one of the rest stops at Chaikhana, which lies at the foot of the Lowari Pass. This small valley surrounded by coniferous trees, was a popular place to take a break after crossing the dangerous pass.
But this scene is now a thing of the past. The Lowari Tunnel opened in 2017, and from 2018 it was open to general traffic so vehicles can pass easier.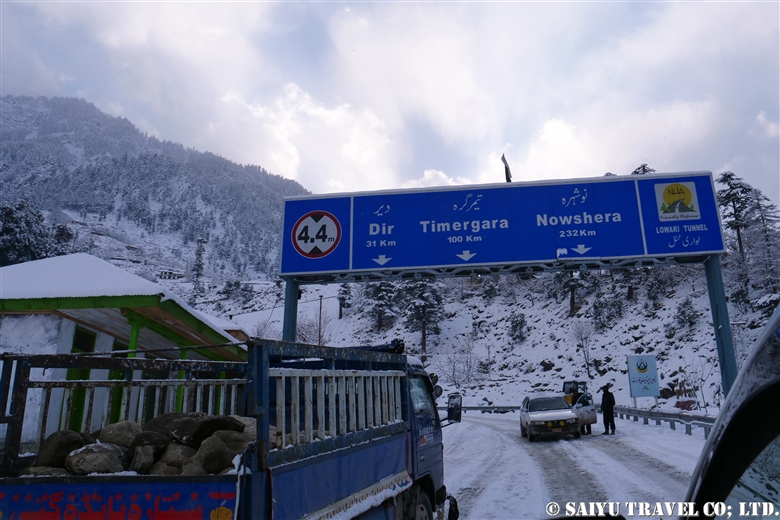 Building the tunnel on the Lowari Pass began with planning in 2005, and a Korean company was involved in the construction, but it was interrupted halfway in 2009. Construction then resumed in 2013 and it was finally opened in July 2017.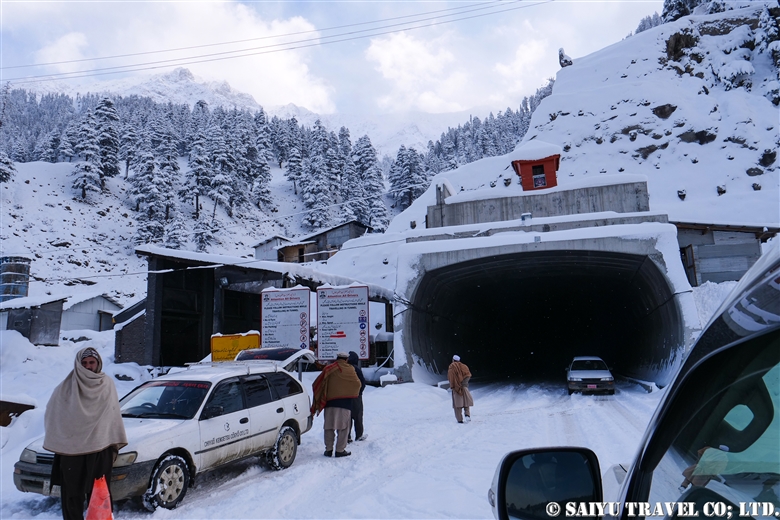 There are two tunnels a longer 8.5 km tunnel and a 1.9 km tunnel, totaling 10.4 km, making it the longest tunnel in Pakistan.
For safety reasons, the passage of vehicles from both directions is controlled and you may have to wait in a long line. But compared to the past, when it was a feeling of endless time and effort used to climb and descend the Lowari Pass; or instances where a truck would be stuck on the way and unable to move or go around it, is no longer as big a problem. The anxiety caused by not knowing when, if ever, you would get out of the pass was eliminated by the tunnel.
However, it is still Pakistan. There are still cases where locals walked dangerously through the tunnel with their livestock, and when once you get out of the tunnel, the road is too muddy and the truck might get stuck again.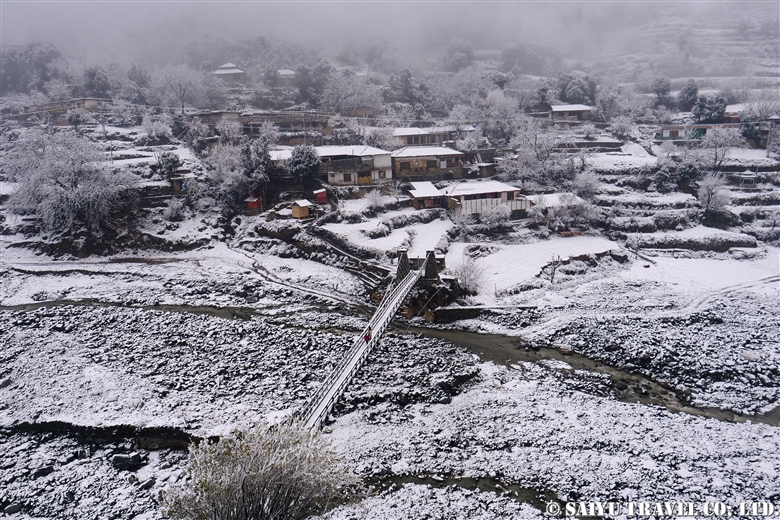 The snowy landscape of the village at the foot of Lowari Pass.
The only way to reach Chitral by land was from Gilgit-Baltistan, over the Shandul Pass, or from Peshawar, over the Lowari Pass. And all these passes were closed during the winter, due to the heavy snow.
The creation of the Lowari Tunnel will revolutionize the village of Chitral, which was once an "island of land" during the winter season.
Photo & Text: Mariko SAWADA
Visited Lowari Tunnel in December 2020, but the photos of Lowari Pass are from a previous visit before 2014.
Category :
◆Khyber Pakhtunkhwa
>
- Chitral
Tag :
Chitral
,
Khyber Pakhtunkhwa
,
Pakistan Blog
,
Pakistan Travel Blog
,
Indus Caravan
,
Saiyu Travel Pakistan
,
Pakistan Travel company
,
Pakistan tour operator
,
Pakistan Photography Tour
,
Lowari Tunnel
,
Lowari Pass
,
Dir