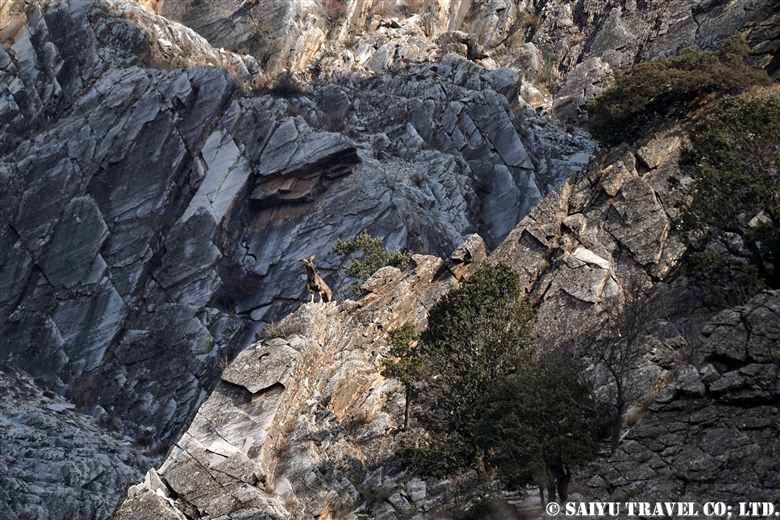 We visited the Gahirat (Gehret) Goleen Conservancy, just southeast of Chitral, to observe some Markhor.
Compared to the protected areas of national park where you can observe Markhor near Chitral, the valley here is narrower and the steep, rocky mountains are very impressive, making it a beautifully scenic valley. Like the Tooshi-Shasha Conservancy, it is under the control of the community of surrounding villages and only one Markhor per year can be taken for trophy hunting.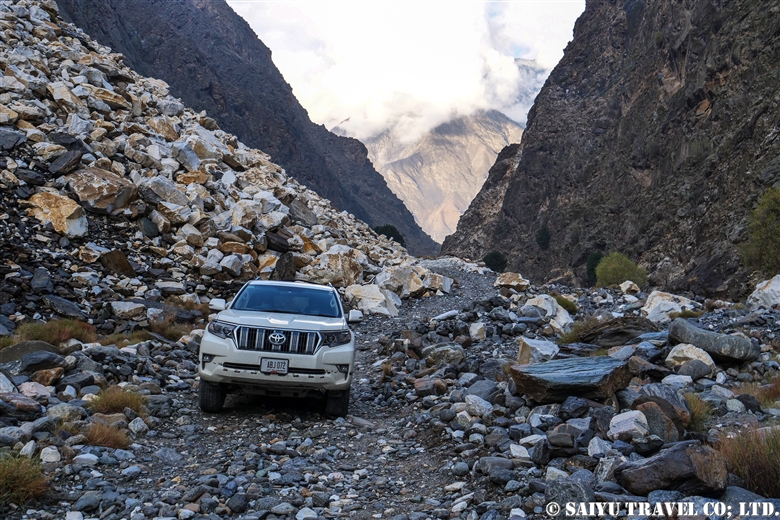 Moving away from the main road along the Chitral River and entering the conservancy, the condition of the road is horrible. Along the way, we passed through mountain of marbled rocks and crossed a small stream.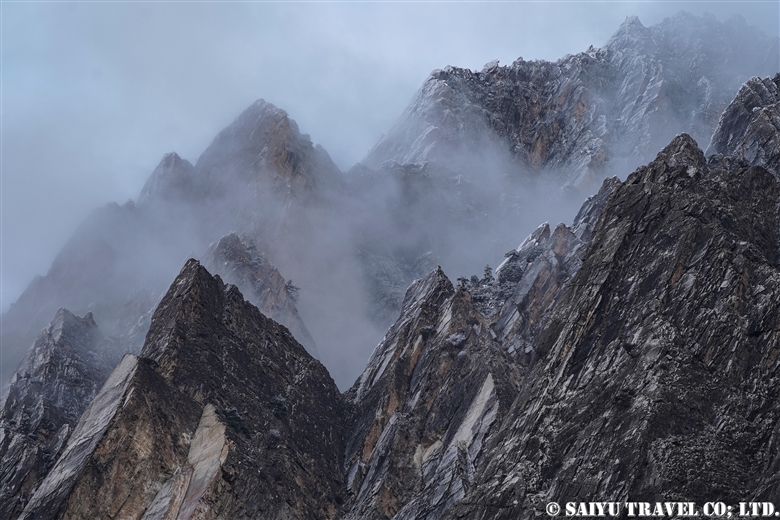 Last night's snow remains on the rock surface.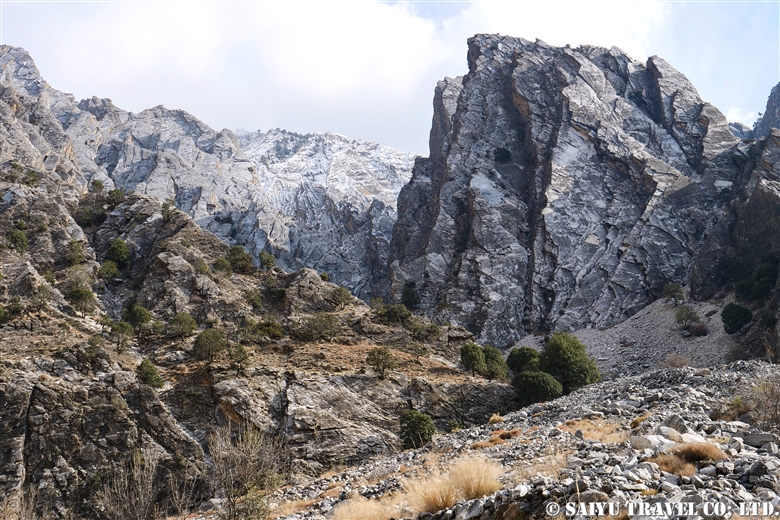 The Gehret Goleen Conservancy is a 95,000-hectare community reserve founded in 1998. Surrounded by steep, rocky mountains the sparse vegetation on the slopes include the holly oak (Quercus ilex), the Himalayan  cedar (Cidrus deodara), and the Chilgoza pine (Pinus gerardiana).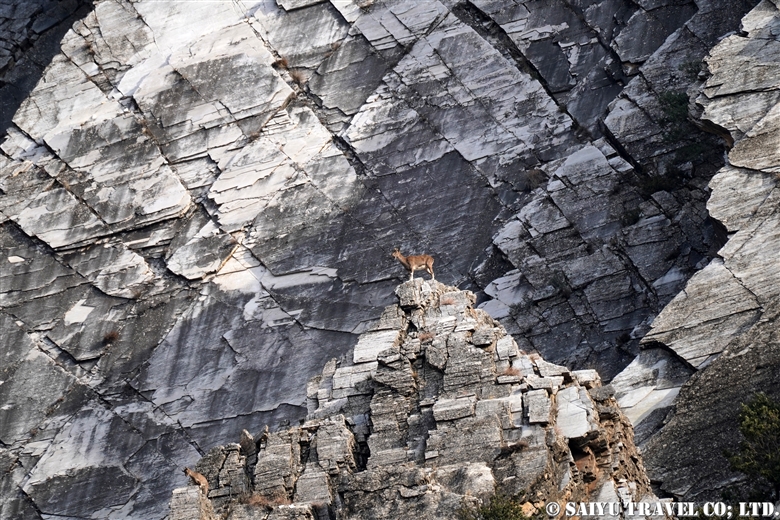 A female Markhor appeared against the backdrop of the rocky mountain. I caught myself thinking "Oh, if only this could be a male with big horns, that would have been nice!" … it is such a picturesque landscape.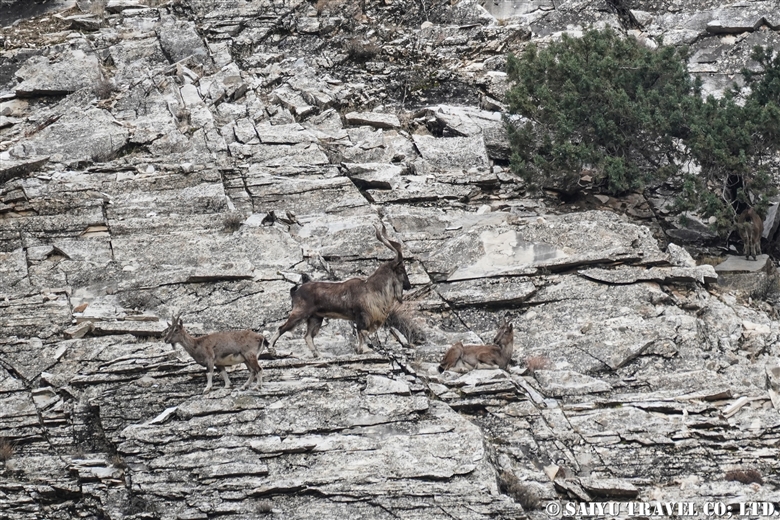 A male then appeared in search of females. Markhor males seen during this season continue to search for females in estrous.
The size of the Markhor herd in the Conservancy was as small as 10-21 head, compared to 25-57 individuals in the Tooshi Shasha Conservancy, which may be a sign of just how tough the rugged environment is here.
The young males also practice battling with their horns. This is an interesting season to see the sight of males chasing herds of females in heat.
Photo & Text: Mariko SAWADA
Observation: Dec 2020, Gahirat (Gehrait) Goleen Conservancy, Chitral, Khyber Pakhtunkhwa
Special Thanks: KPK Wildlife department, WWF Pakistan, Tomo AKIYAMA
Category :
◆Khyber Pakhtunkhwa
>
- Markhor
>
- Chitral
>
◇ Wildlife of Pakistan
Tag :
Chitral
,
Gahirat
,
Gahirat Community Game Reserve
,
Kashir Markhor
,
Khyber Pakhtunkhwa
,
Markhor
,
Pakistan Blog
,
Pakistan Travel Blog
,
Tooshi Game Reserve
,
Wildlife of Pakistan
,
Indus Caravan
,
Saiyu Travel Pakistan
,
Pakistan Travel company
,
Pakistan tour operator
,
Pakistan Photography Tour
,
Wildlife tour in Pakistan
,
Gahirat Conservancy
,
Gehret Goleen Conservancy
,
Gahirat Goleen Conservancy