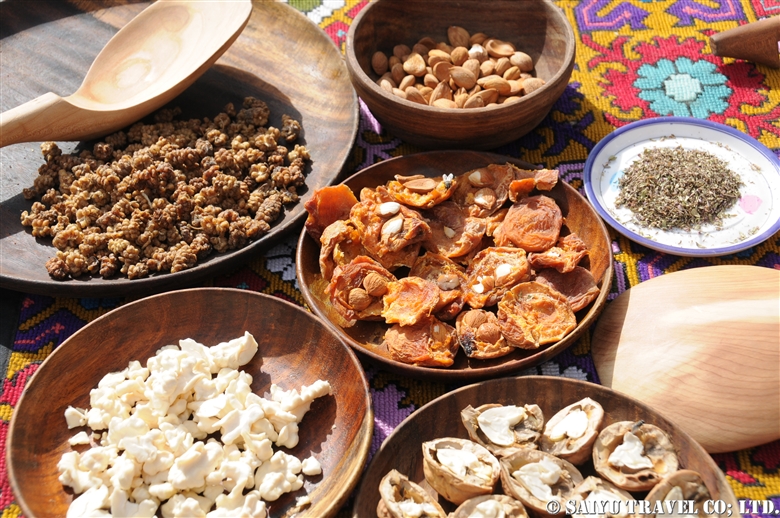 Surrounded by the 7,000m-class high peaks of Karakorum, this Hunza village is famous for the amazing pink apricot flowers that bloom all over the valley.
The main street of Karimabad, the center of Hunza, which is lined with stalls selling local products. It's not very big, but it's a place where you can go casually and enjoy a stroll while sightseeing.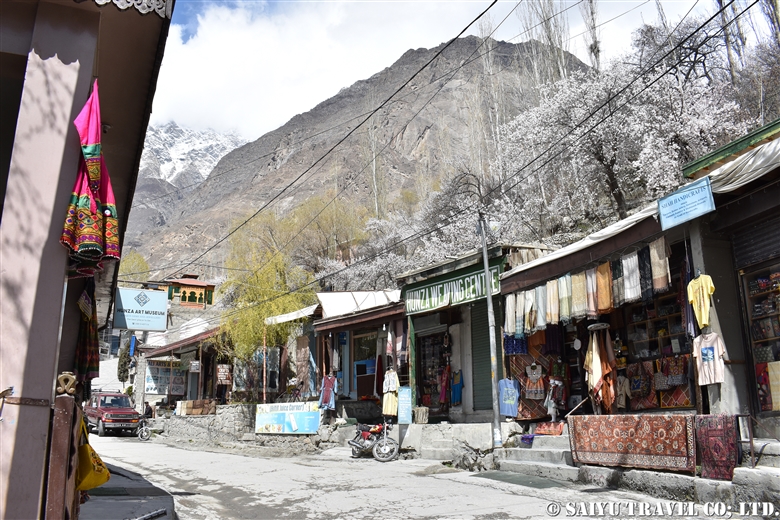 First of all, I will introduce dried fruits and nuts, which are the specialties of Hunza.
In Hunza, where apricots and other fruits thrive, the seeds are removed immediately after they are harvested. The fruits are then preserved by being dried in the sun, then sold in the market. The dried apricots are browner in color and have a firmer texture than common ones you might see in other places, but this is just proof that there are no additives in them. The more you chew the dried fruit, the more the gorgeous apricot flavor fills your mouth, and the taste becomes addictive.
The fresh nuts that are the most famous are walnuts, almonds, and apricot seeds. Apricot seeds look a lot like almonds at first glance. But you can enjoy that unique scent of the apricot that is familiar with almond tofu (the name is also confusing but it is because the two nuts are so similar). Although it has a slightly bitter taste, it is said to have the effect of boosting the immune system.
In addition, I also recommend you try the cherries, mulberries, and dried pears, as they are hard to find anywhere else.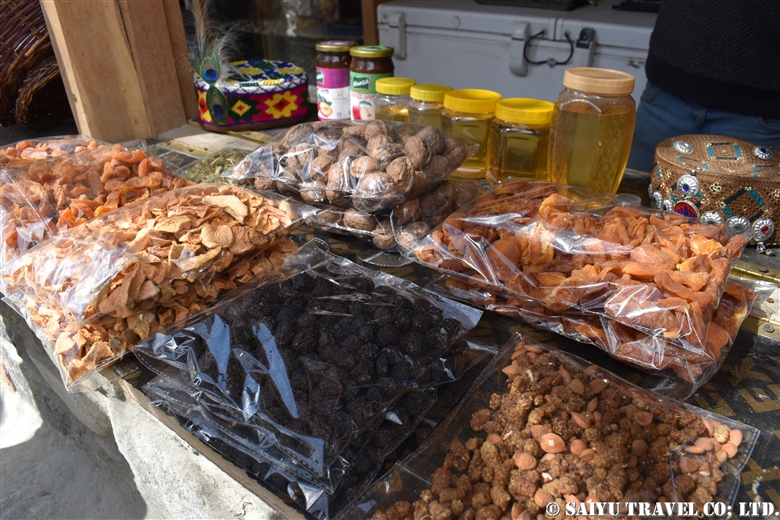 At the bazaar, souvenirs of wooden products are also conspicuous. Apricot trees and walnut trees are also suitable for woodwork, so there are ornaments, accessory cases, and tableware made from these woods.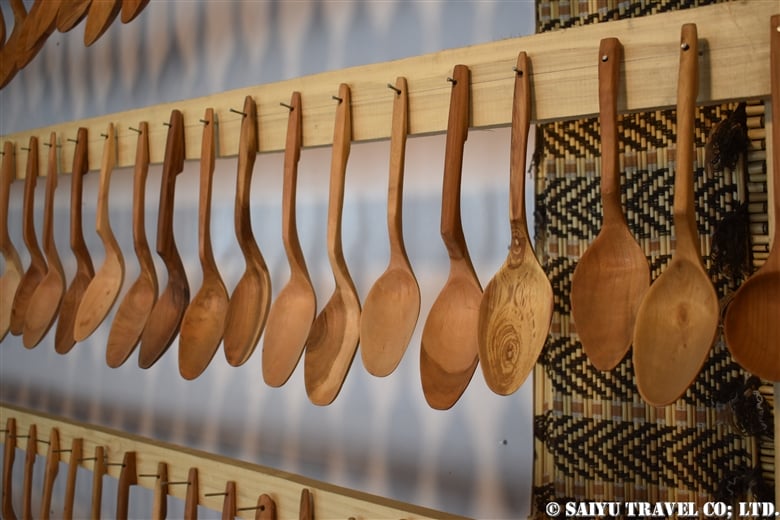 A spoon made of apricot and walnut wood. Each piece is handmade by an artist every day.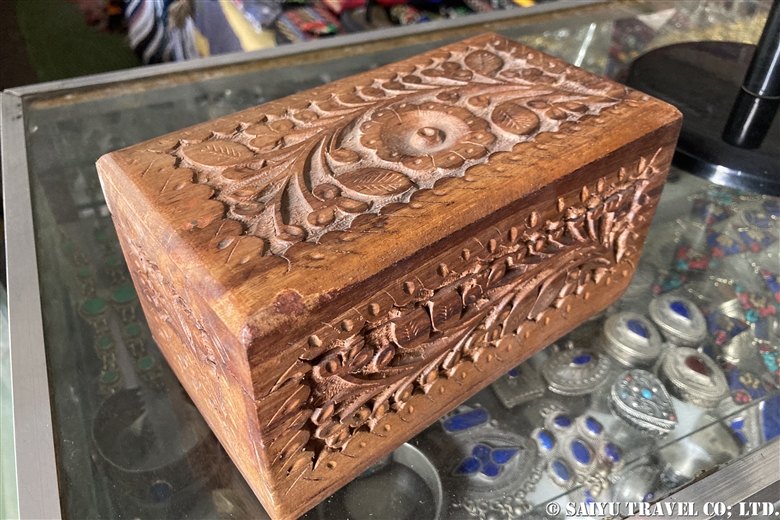 Handicrafts with traditional Hunza embroidery are also popular souvenirs. Bright embroidery is applied to wool bags, slippers and hats.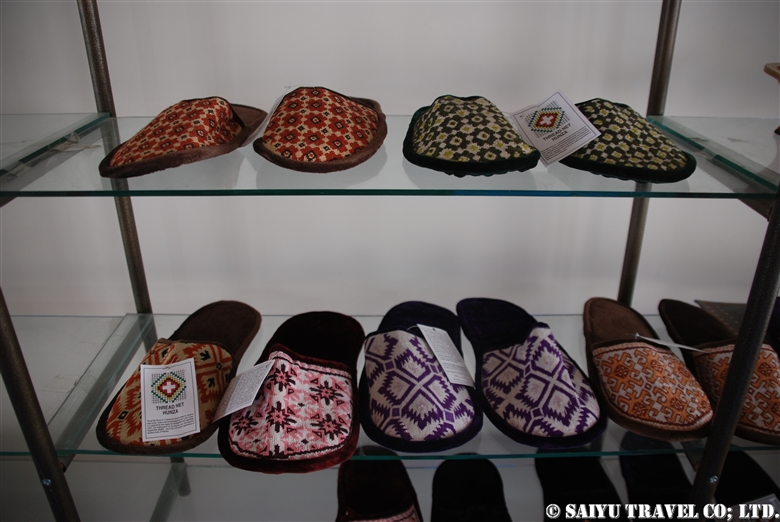 In addition, northern Pakistan around Hunza is the origin of many natural gemstones. Specialty stores sell colorful natural stones such as crystal, aquamarine, topaz, garnet and black tourmaline; and small rough stones can be obtained at relatively low prices.
Searching for your favorite stone or a birthstone will also make a special souvenir.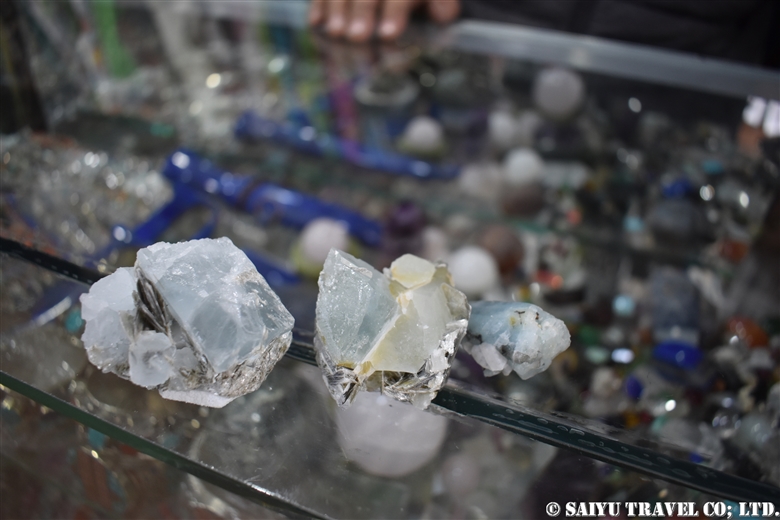 When you are wanting to take a quick break while exploring the bazaar, I recommend stopping by Cafe De Hunza.
Here, you can enjoy the famous walnut cake made with plenty of locally produced walnuts.
The cake goes very well with coffee. You can also take the cake home.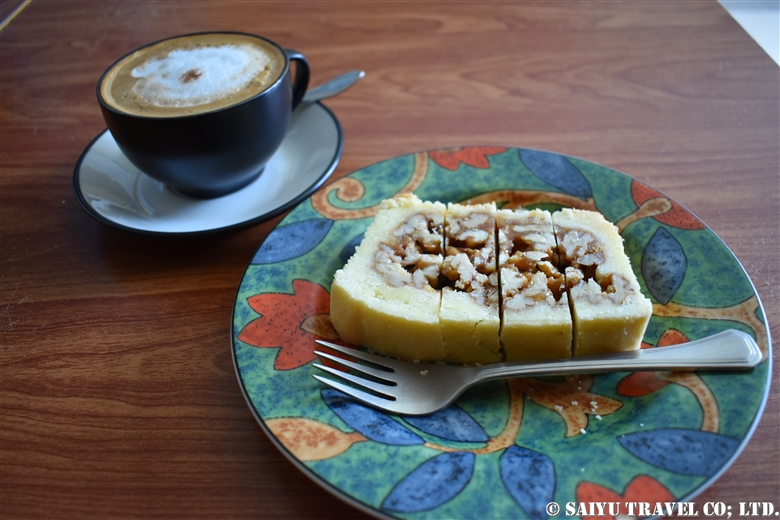 Cafe De Hunza also sold apricot oil for souvenirs.
It has a nourishing effect for sore throat, and it is a versatile oil that can also be used for skin care, as it has a very smooth application.
Dried fruits, woodwork, nuts, oil and apricots are used in everything by the locals. For the people of Hunza, apricots are essential and a very important part of their lives.
There are many things that I haven't introduced yet, but when you visit Hunza, why don't you take a walk around the bazaar and look for the Apricot Blossom Spring Valley souvenirs that are unique to this beautiful place?
Photo &Text : Madoka Nishioka
Visit : March 2023, Karimabad, Hunza, Gilgit-Baltistan
*Contact us, Indus Caravan for more information or to make arrangements for visiting Hunza, Northan Pakistan.
*Please follow us on Youtube, Instagram & Facebook
Category :
◆ Gilgit-Baltistan
>
- Hunza Valley
Tag :
Gilgit-Baltistan
,
Pakistan tour operator
,
Pakistan Blog
,
Pakistan Photography Tour
,
Pakistan Travel Blog
,
Hunza cusine
,
Indus Caravan
,
Hunza food
,
Chap Shoro
,
Saiyu Travel Pakistan
,
Homestay at Hunza
,
PakistanBlog
,
Souvenir Pakistan
,
Apricot
,
Travel Pakistan
,
Karimabad
,
Pakistan Travel company