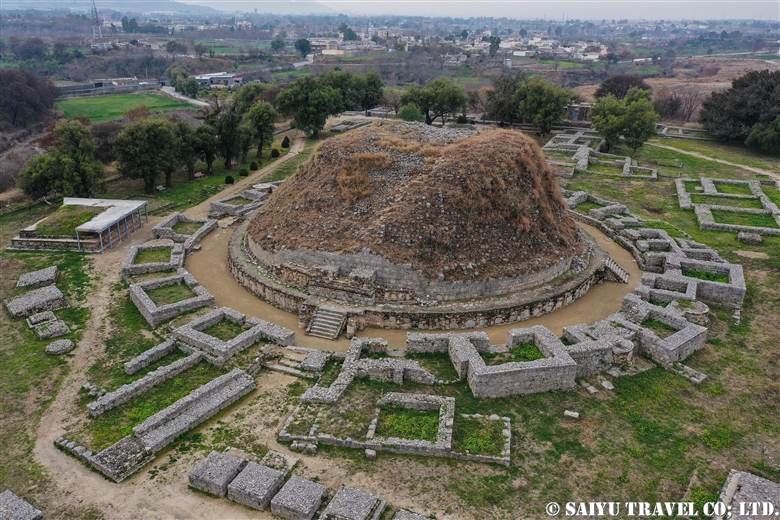 In the 3rd Century BC, there were 2 stupas built by the Mauryan Empire King Ashoka in the Ghandara region. One is the stupa at Butkara ruins in Swat, and the other is the Dharmarajika stupa in Taxila.
Today, the oldest stupa which overall retains its original shape is the one in Sanchi, India, but there are similar huge stupas in the Ghandara region, built in the same circular form. However, unlike Sanchi's stupas, they do not have column shields or trana. Instead there are shrines and smaller stupas around the main stupa.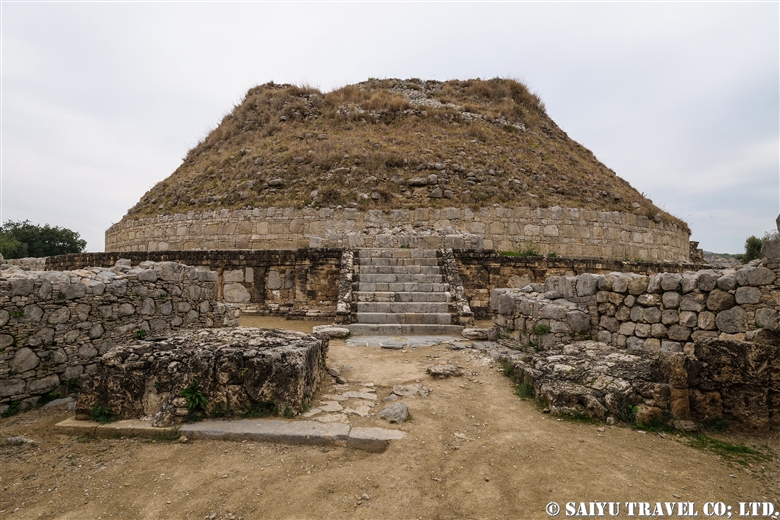 The main stupa stands at height of 15m and a diameter of 30m.
Around 500 BC, the Buddha entered Nirvana (passed away) around Kushinagar. Seven days later, he was cremated and the relics (sarira) were placed in a relic urn in eight tombs at the bottom of the center of the tomb. This was the first stupa, and the sarira and its urn were worshipped.
In 3rd century BC, the Mauryan King Ashoka collected the relics (sarira) and distributed them to place in newly built stupas. The Dharmarajika stupa enshrines the relics.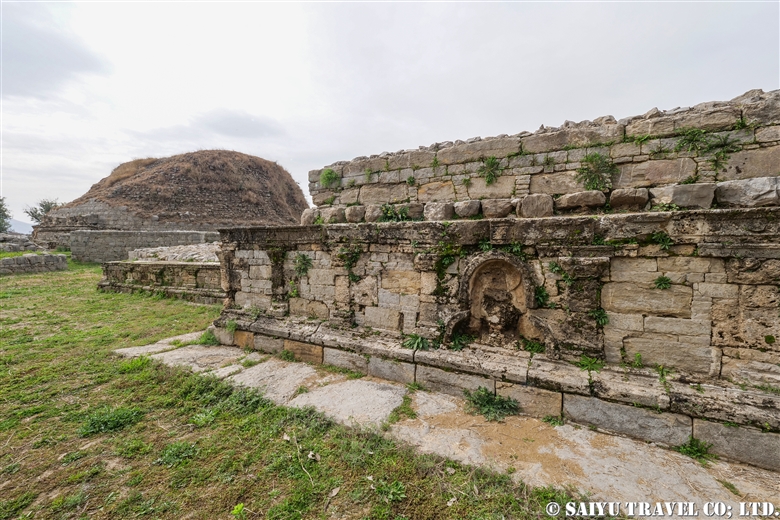 The Main Stupa has a path of circumambulation (a path around the temple for walking prayer) and around it, there is a group of shrines and smaller stupas that were built in the 1st century BC to 4th century AD by the Kushan Empire in Ghandara.
On the walls of the square-shaped platform, you can see the Ghandara style architecture with panels and wall tiles separated by the Corinthian columns.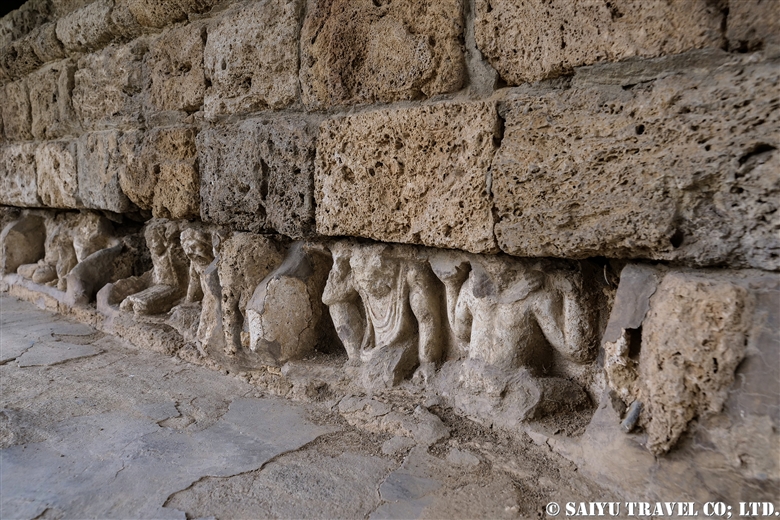 Decorations on the base of small stupas show elephants and figures supporting the platform. These are the figure of the Greek God Atlas.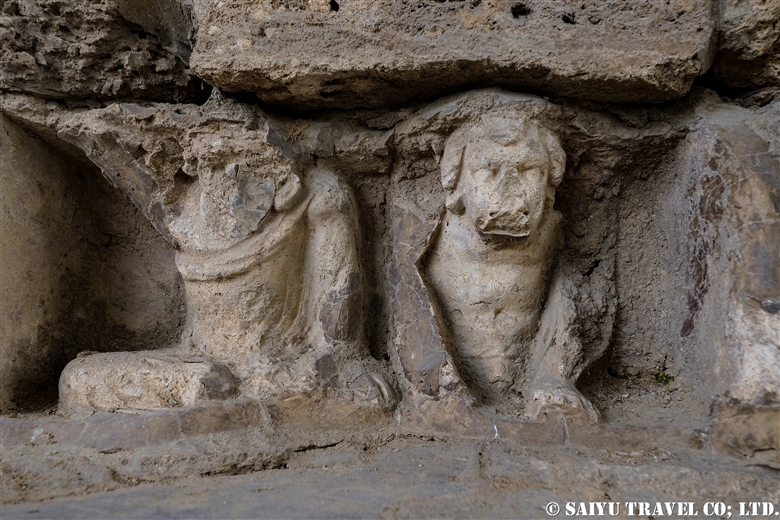 Atlas is a Greek myth that supports the sky at the western end of the world. In Gandhara, it appears to support the pedestal of the Buddha and the platform of the stupa. The Greek gods seem to be supporting the Buddhist world view, the beautiful expression of the fusion of Eastern and Western cultures … it's truly romantic.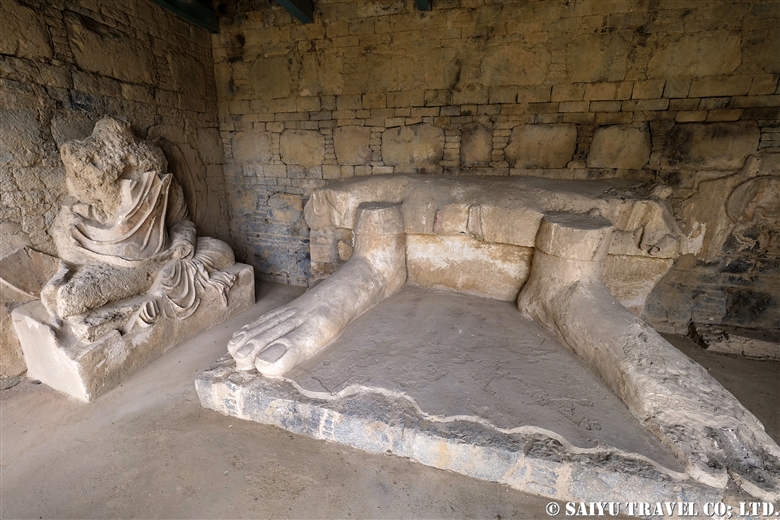 There are remnants of stucco Buddha status inside the shrine, but unfortunately, they were destroyed. The Stucco statue is a clay statue made in Ghandara that was popular from the 3rd to 4th century AD.
For sightseeing in Taxila, the three main attractions are the Taxila museum, city ruins of Sirkap and the Jaulian monastery, but I hope you can take time to visit the Dharmarajika, too!
Text & Photo : Mariko SAWADA
Visit : Feb 2020, Dharmarajika, Taxila, Punjab
Category :
- Monument / Heritage of Punjab
>
- Gandhara
>
- Taxila
>
◆ Punjab
>
◇ Heritage of Pakistan
Tag :
Pakistan Blog
,
Pakistan Travel Blog
,
Indus Caravan
,
Saiyu Travel
,
Saiyu Travel Pakistan
,
Unesco World Heritage Pakistan
,
Pakistan Travel company
,
Pakistan Photography Tour
,
Pakistan Heritage Tour
,
Gandhara tour
,
Taxila
,
pakistan buddhist ruins
,
pakistan buddhist tour
,
Gandhata
,
Dharmarajika
,
Dharmarajika Stupa