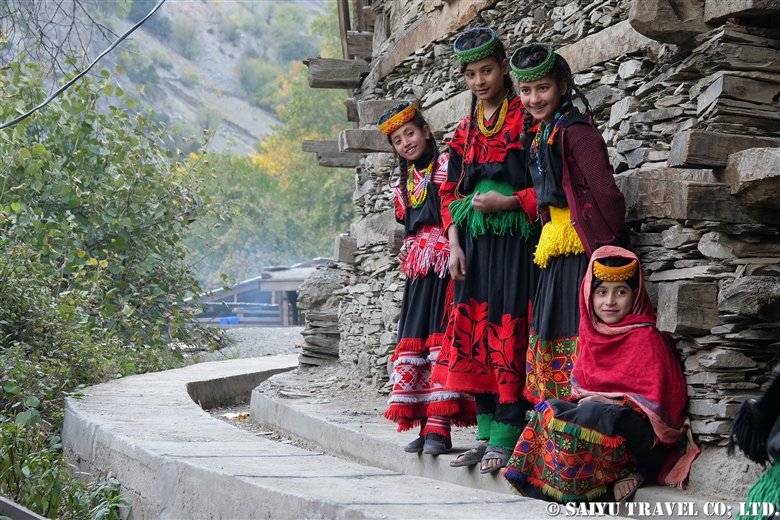 Visiting the Rambur Valley, where the Kalash live. It has been a long time since my last visit. I was thrilled to meet these beautiful young ladies.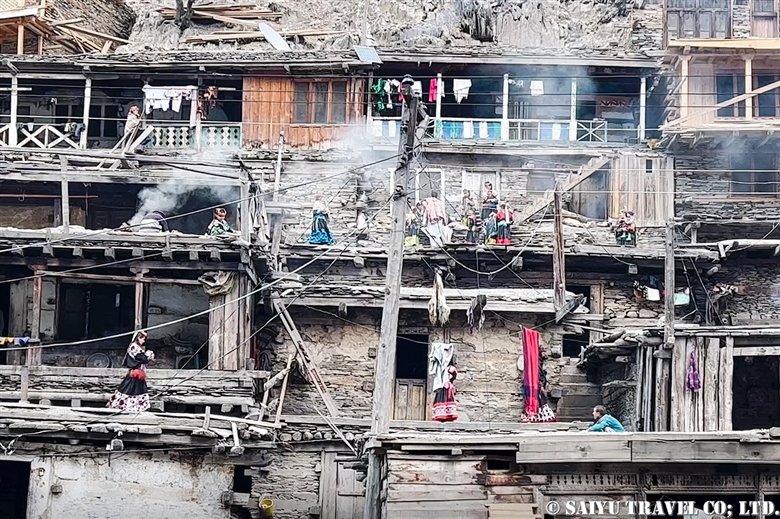 The village scene at dusk. The valley's steep slopes are used as a base for these lively dwellings.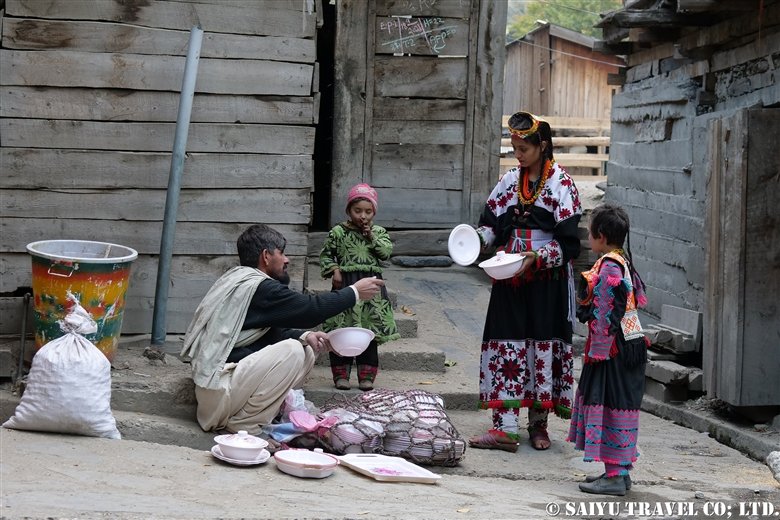 Here is a Pashtun street merchant who was selling plates on the corner. The young lady is negotiating with the man, but instead of money, she placed some walnuts in the bowl she wanted to buy and handed it to him. They are bartering! The white bag behind him, to the left of the photo, is full of walnuts.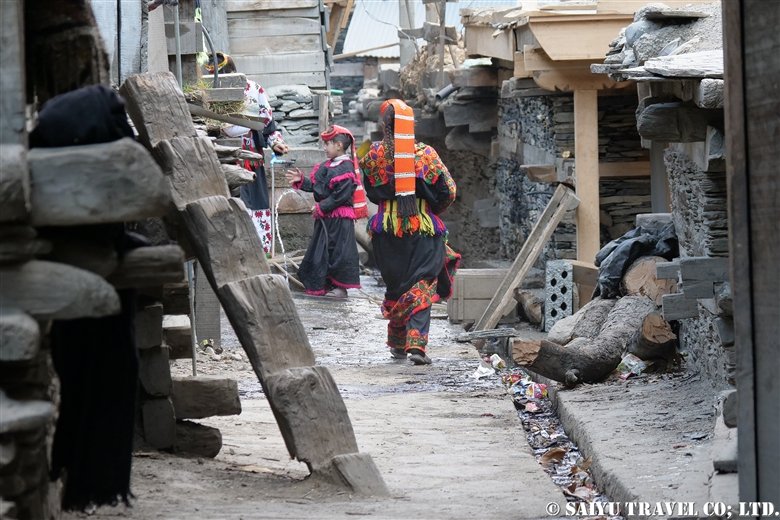 Going further into the village. The ditch full of trash caught my attention.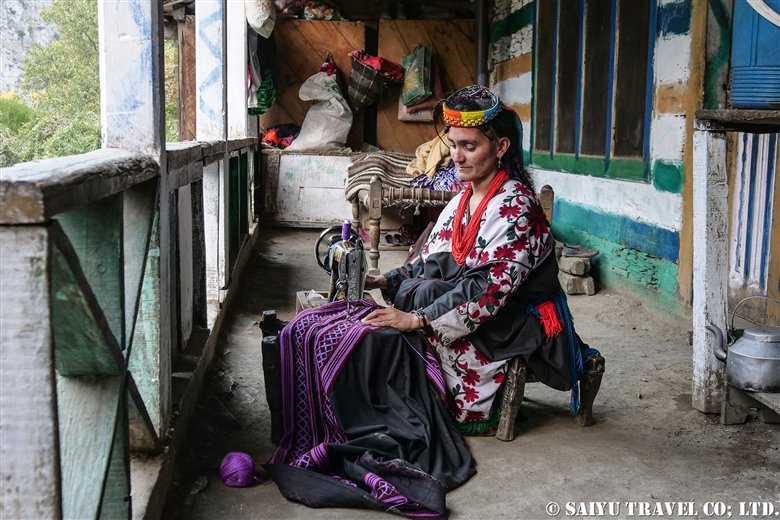 This lady was sewing on the terrace. She was using a sewing machine powered by her foot pedal. This is one of the beautiful sights of the Kalash Valley.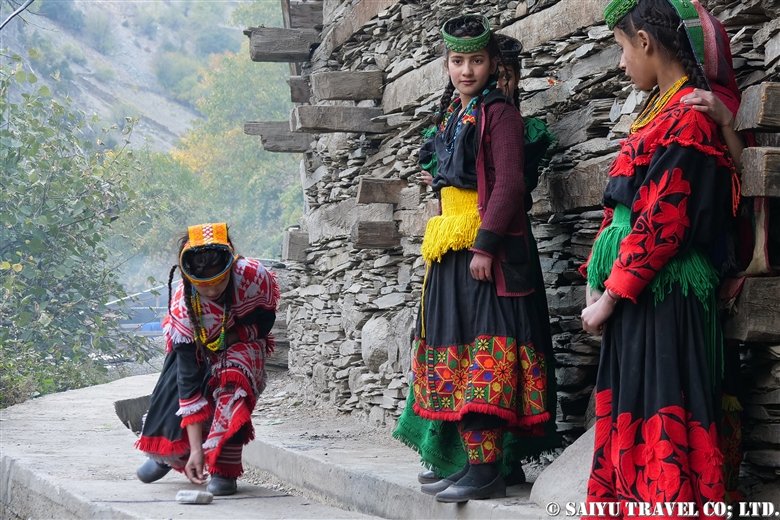 These young girls were playing a rock-kicking game. It is like an old Japanese children's game! It really surprised me how similar it is.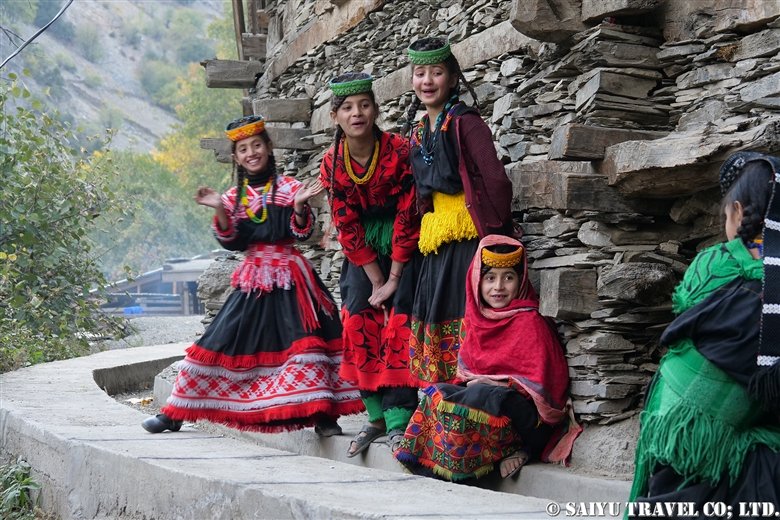 The girls didn't mind at all when the camera was pointed at them, and just continue to play their game. Some of the youngsters said proudly, "Foreigners take photos of us and publish them in books." I really enjoyed spending time with these fairy-like girls, but the time came, and I needed to leave the valley.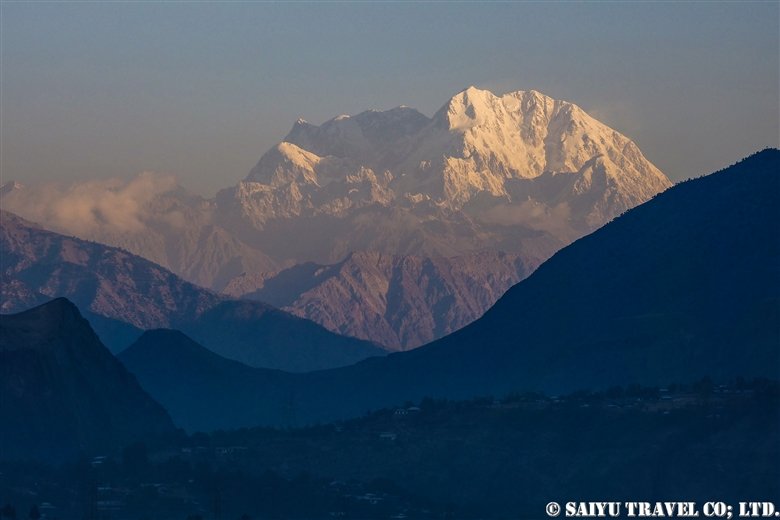 This is the view of Tirich Mir (7,708m/25,288 feet), the highest peak in the Hindu Kush region. The view on the way through Ayun and Kalash Valleys, of this high peak, is one of the bonus scenes of this trip.
Photo & text : Mariko SAWADA
Visit : Nov 2021, Rambur, Kalash Valley, Khyber-Pakhtunkhwa
Category :
◆Khyber Pakhtunkhwa
>
- Kalash Valley
Tag :
Bumburet Village
,
Khyber Pakhtunkhwa
,
Pakistan Travels
,
Pakistan Blog
,
Pakistan Travel company
,
Pakistan Travel Blog
,
Pakistan tour operator
,
Pakistan Photography Tour
,
Ayun
,
Indus Caravan
,
Rambur
,
Bomboret
,
Rambur valley
,
Chitral
,
Saiyu Travel Pakistan
,
Bumburet
,
Kafiristan
,
PakistanBlog
,
Kalash
,
Kalasha Valleys
,
Kalash valley
,
Bomboret village
,
Kalasha