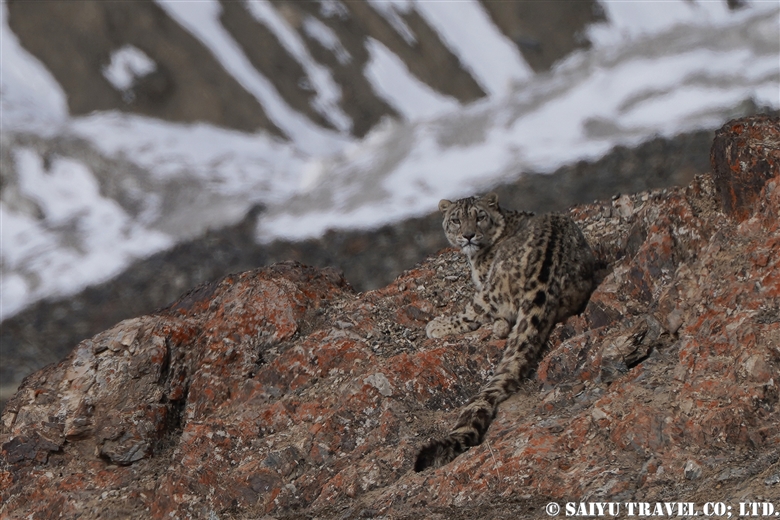 Snow Leopard at Khunjerab National Park at 4,300 meters above sea level.
The Karakoram Highway, which runs through Khunjerab National Park, exceeds 4,000 meters from Koksar and then makes a steep rise to about 4,700m around the Khunerab Pass. Just as we were climbing the extreme slope, we encountered this snow leopard as we turned the curve.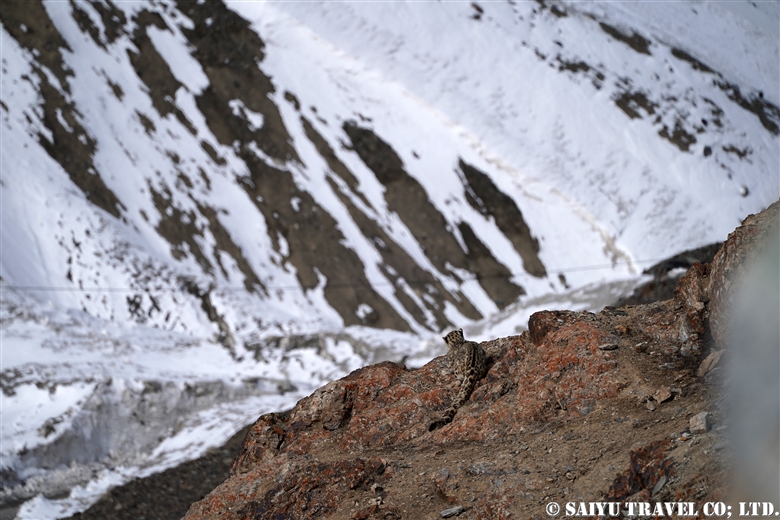 While we were driving, Mr. Hussain, who was looking for wildlife from the window suddenly directed the driver to "Back up a little" and he said "There is a snow leopard, very-very close, perhaps hunting its prey." I couldn't find it right away at all. Even though he said "Its close. Its right there" but to me I have no idea "how close" he was referring it might be…I was really resenting my bad eyesight.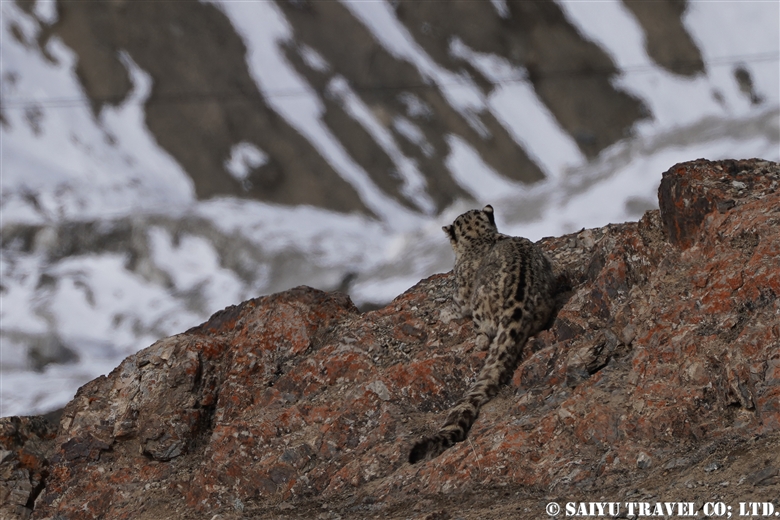 Finally, I could see it, the snow leopard! It was maybe 50m or more…? It was facing away from us, so it was well camouflaged. As I learned later, there was an injured yak below this rocky outlook, and it was investigating the yak. This was the first photo, before it even noticed us.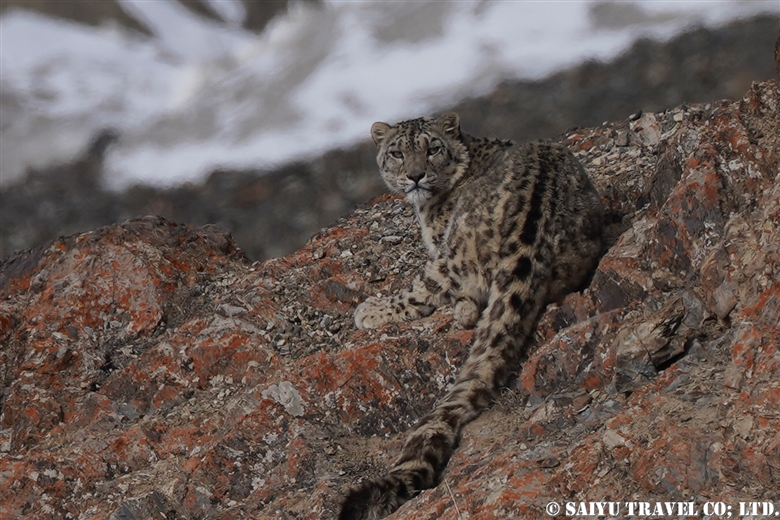 Noticing our vehicle, Mr. Hussain suggested quickly "It will be gone soon. Better get your photos now." It was such a fortunate encounter for us to see this rare snow leopard!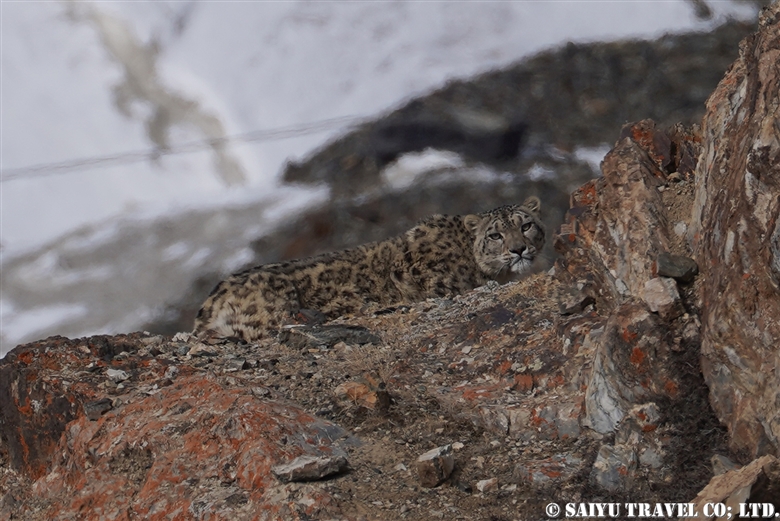 …and in less than 10 seconds, it disappeared from sight.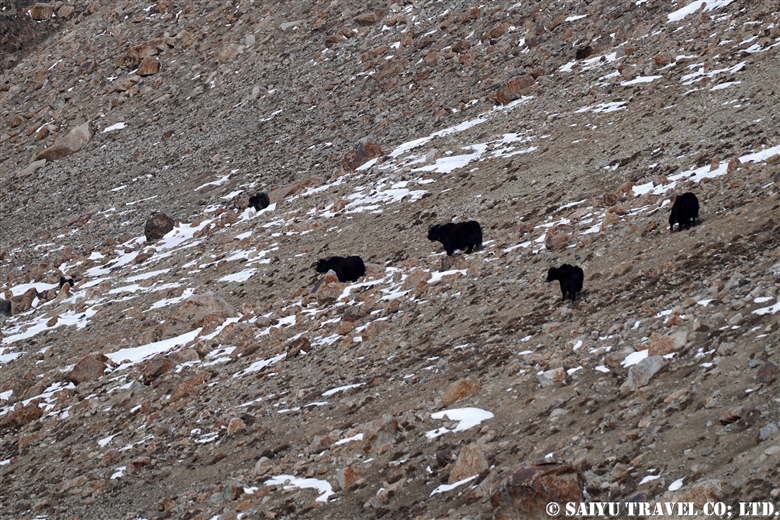 These prey animals of the snow leopards are so sensitive and alert. As soon as the snow leopard moved, the yaks, all at once, gazed in that direction.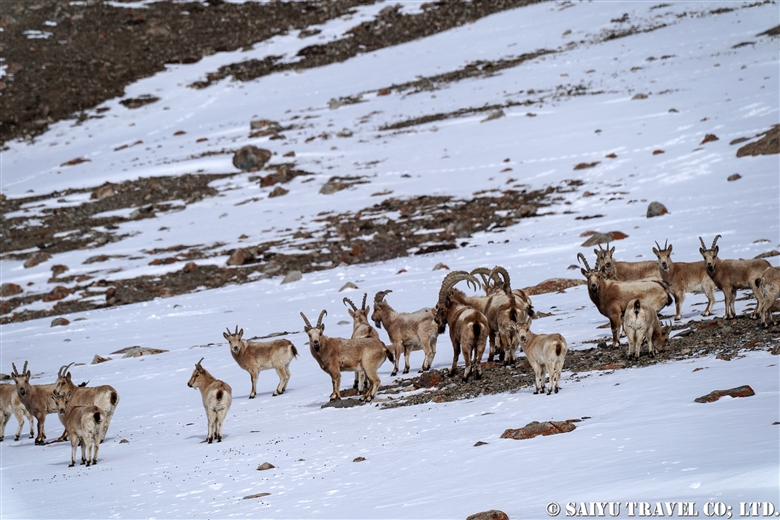 The ibex had already sensed the presence of the snow leopard and looking in that direction where it had moved to. The herd were all gathered together and already on high alert.
This herd of ibex were looking towards the snow leopard for a while, but eventually moved closer to our position and sat down, facing us. It felt as if they were asking "Please, if something happens, help us out?".
Photo & text :Mariko SAWADA
Observation : April 2021, Khunejrab National Park, Gilgit-Baltistan
Category :
- the Karakoram Highway
>
◆ Gilgit-Baltistan
>
- Snow Leopard
>
◇ Wildlife of Pakistan
>
- Khunjerab National Park
Tag :
Khunjerab National Park
,
Pakistan Blog
,
Snow Leopard Conservation
,
Pakistan Travel Blog
,
Snow Leopard
,
Pakistan Travel company
,
Snow Leopard Pakistan
,
Pakistan tour operator
,
Travel Pakistan Blog
,
Pakistan Photography Tour
,
Wildlife of Pakistan
,
Wildlife Photography Pakistan
,
Indus Caravan
,
Wildlife Tour Pakistan
,
Snow Leopard Expedition
,
Saiyu Travel Pakistan