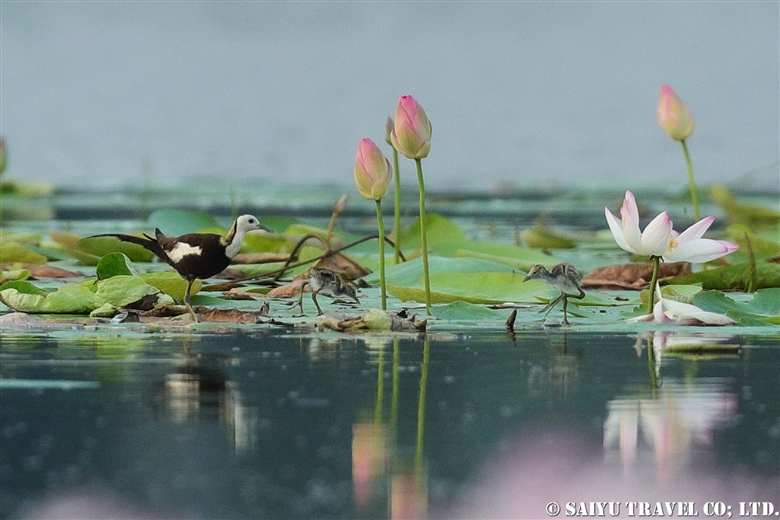 I had an invitation to visit where I could see "A Pheasant-tailed Jacana building a nest on the a lotus pond."
We went to Head Baloki, a village located along the Navi River, 75 km southwest of Lahore. This village had waterways and ponds drawn from the river, where the water birds had gathered.
The Punjab region has five rivers, and the Ravi is one of them. The word Punjab originates from Persian, "Panj -ab" meaning "Five rivers," and it is a rich land where the Indus River and its four tributaries emanate from. However, since the split between of India and Pakistan in 1947, the rivers have long been a source of conflict over water rights. This Ravi river as well, which originates in Himachal Pradesh, is no exception.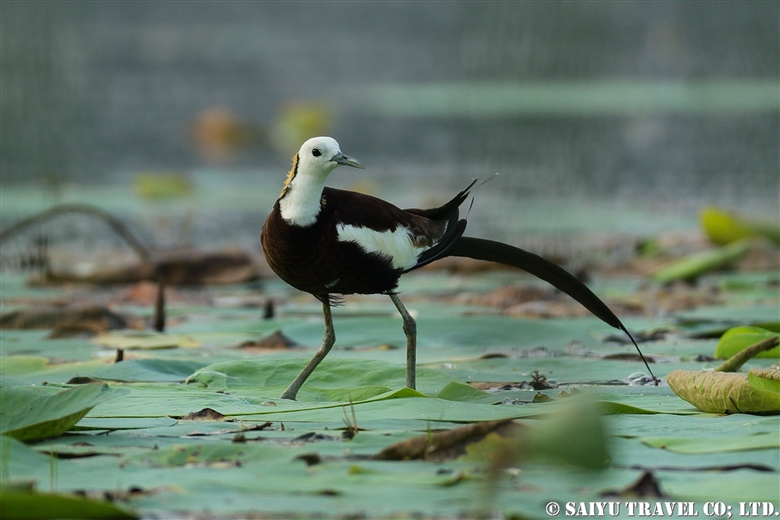 This is the striking Pheasant-tailed Jacana. The tail feathers are very long, with the head, throat and wings a white color but the body is a contrasting dark brown. The back of the neck is gold with black along the edge.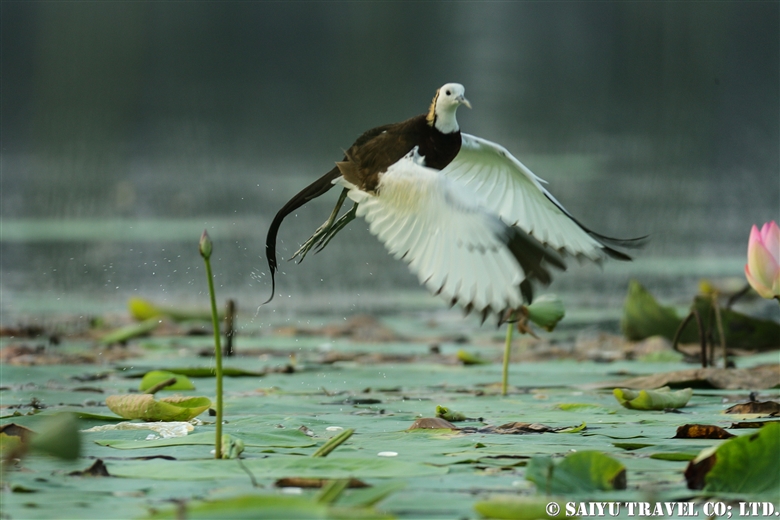 The long toes and claws on its feet allow it to walk on the lotus leaves, as they distribute the weight of the bird over a large area.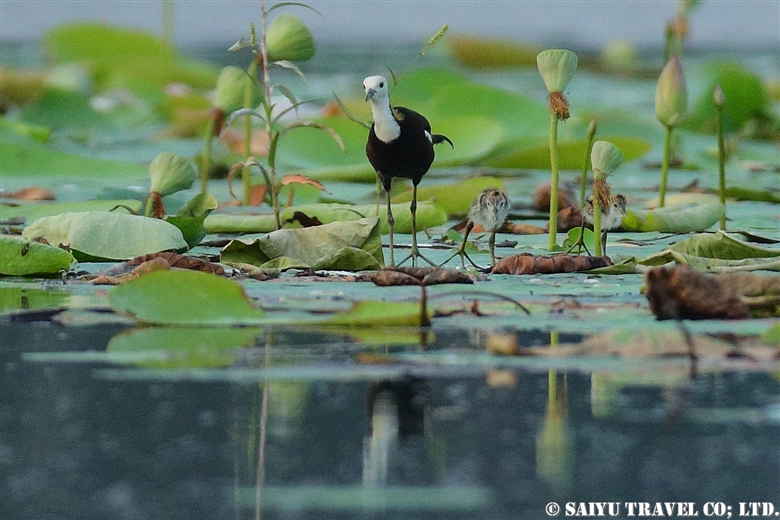 This is a Jacana with its chicks. The friend who invited me here, had told me the Jacana was still only nest-building, but it seems the eggs had already hatched. The chick looked so stable already. Pheasant-tailed Jacana chicks must grow up in a harsh watery environment, so they are able to be on the move as soon as they hatch.
Jacanas are a "paternal bird" where the fathers raise the chicks, so this is the father.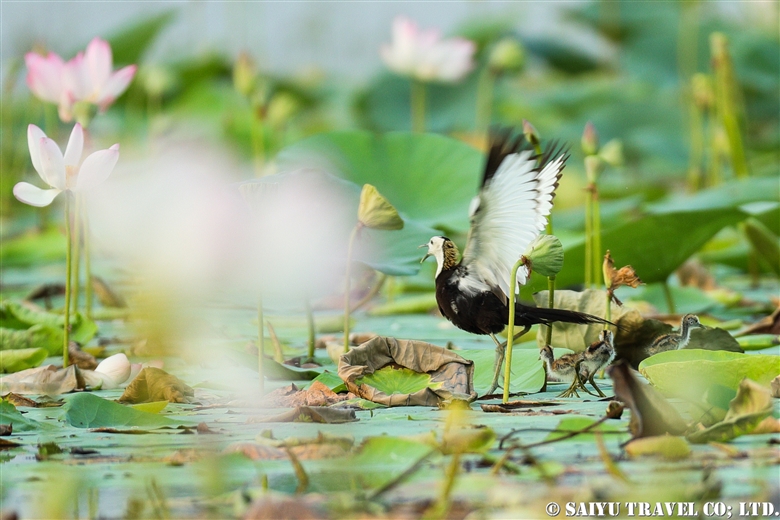 To protect the chicks, the brave father screeches loudly and drives away an approaching Indian pond heron.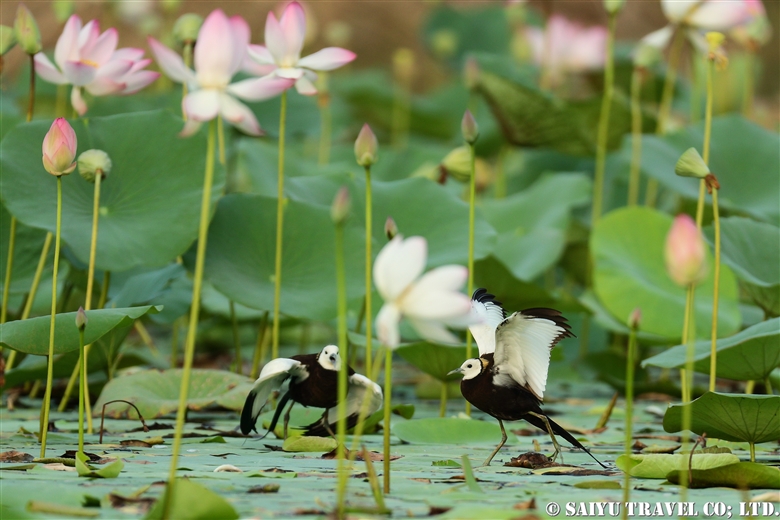 This is a pair of Jacana spreading their wings out in a display…but I wonder what they are trying to communicate?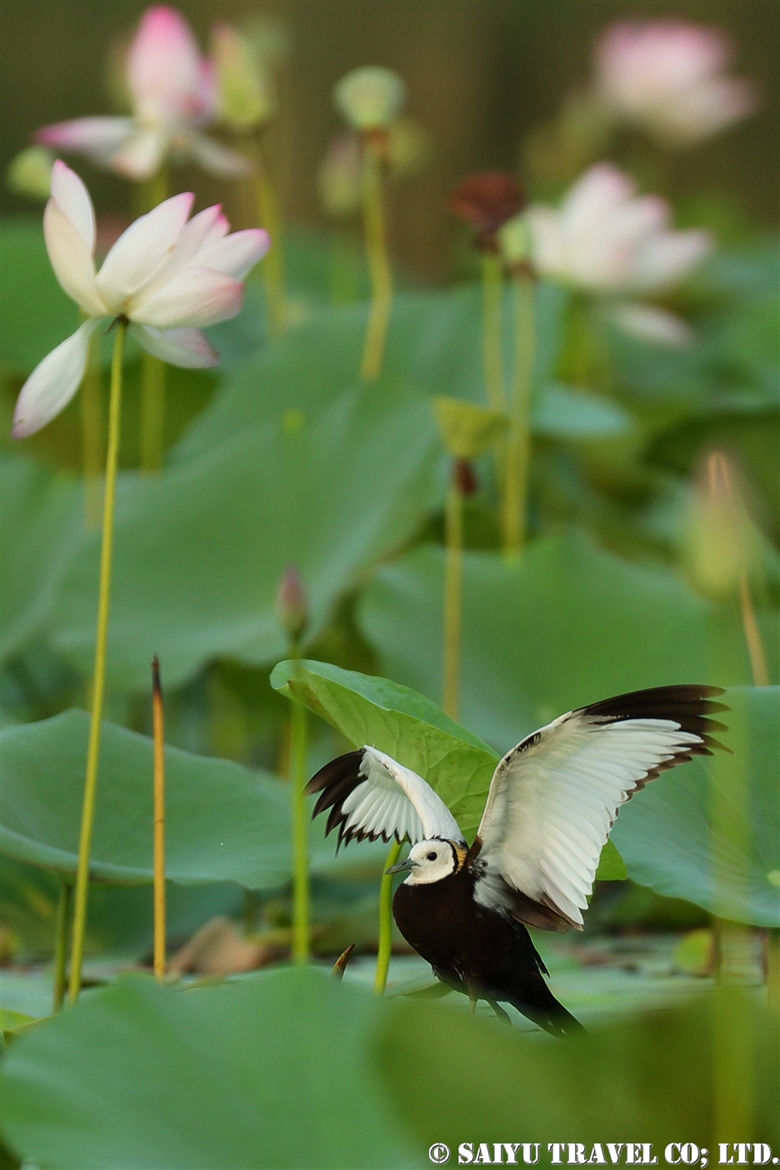 An early morning scene on a lotus pond in Punjab, with a beautiful Pheasant-tailed Jacana.
Photo & Text : Mariko SAWADA
Observation : Aug 2017, Head Baloki, Punjab, Pakistan
Special Thanks : The late Mr. Zahoor Salmi(Photographer)
Category :
◆ Punjab
>
◇ Birds of Pakistan
Tag :
Bird watching in Pakistan
,
Birds of Pakistan
,
Pakistan Blog
,
Pakistan Travel Blog
,
Travel Pakistan Blog
,
Wildlife of Pakistan
,
Indus Caravan
,
Saiyu Travel Pakistan
,
Pakistan Travel company
,
Pakistan tour operator
,
Pakistan Photography Tour
,
Birds Photography Pakistan
,
Bird watching tour in Pakistan
,
Wildlife tour in Pakistan
,
Pakistan Wildlife Tour
,
Pheasant-tailed Jacana
,
Head Baroki