The last of the rock art blogs, which I will introduce to you is on the banks of the Indus at Gonar Farm. From Chilas, drive east on the Karakorum Highway for about an hour, then we get off the car and walk for another 30 minutes. We arrived on the outskirts of the village, dotted with rock art. It is a rock art that everyone in the know is already aware of.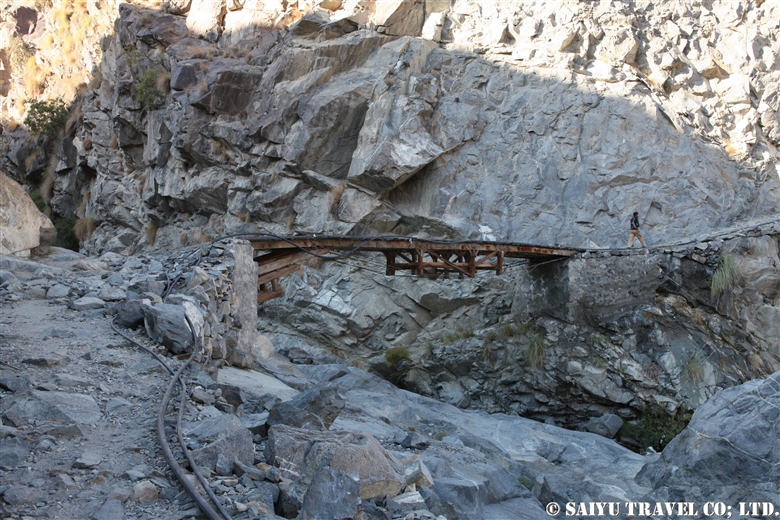 It's a light climb up, and after walking through the fields of the village, you arrive at the location.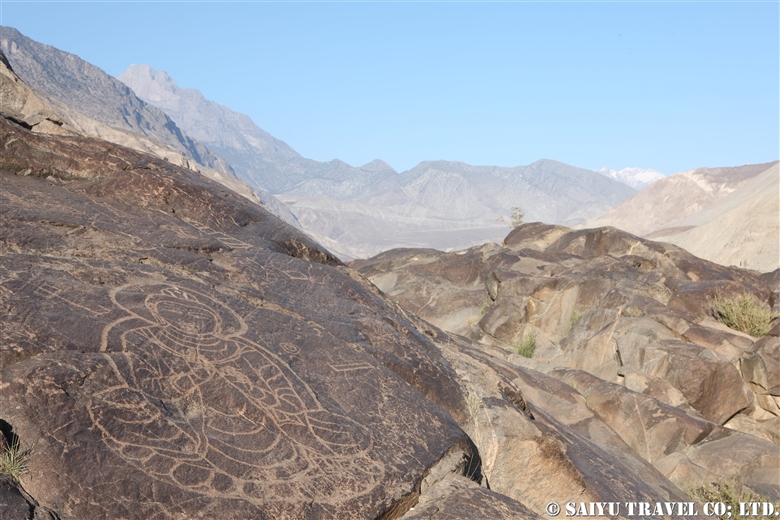 A lot of rock art remains on the big rock, on the outskirts of the village in an open area.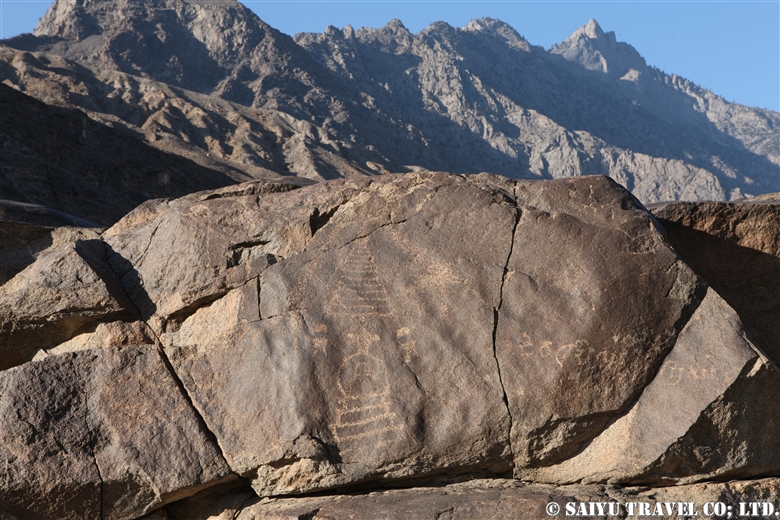 A steep mountain range makes the backdrop of the petroglyphs.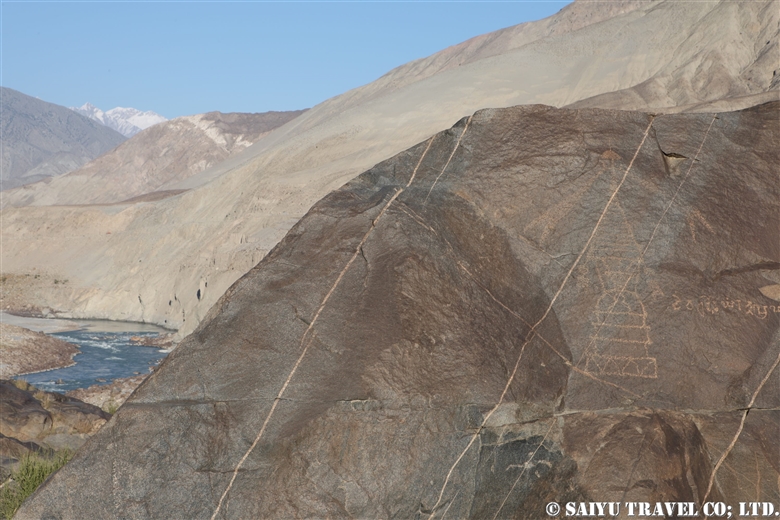 The strange thing about this location is that it is a little far from the Indus River. It is possible that the Indus River once flowed through here and has now changed its flow, or perhaps it was a place that people gathered away from the river. I will imagine many scenarios as I walk around here looking at the art left behind.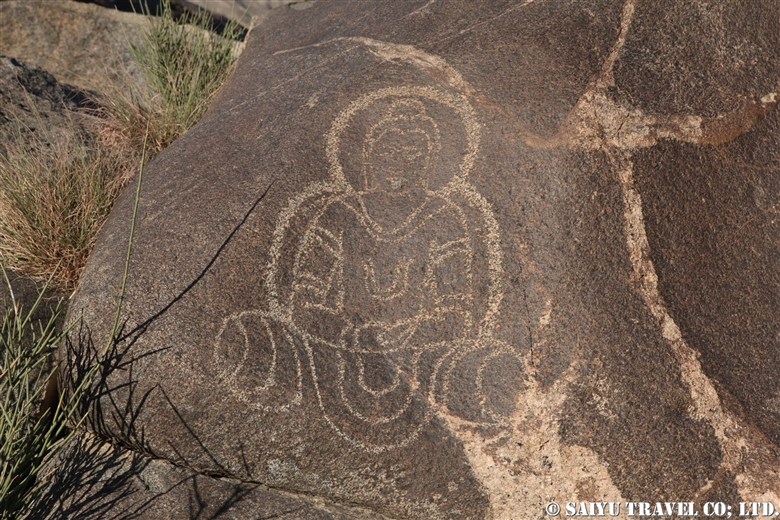 The rock art of Gonar Farm has been significantly well-preserved. Perhaps it is because there were fewer visitors, but all of the rock paintings were clear. This Buddha has a happy expression, with folded hands, and adorned in the preists'robes kesa.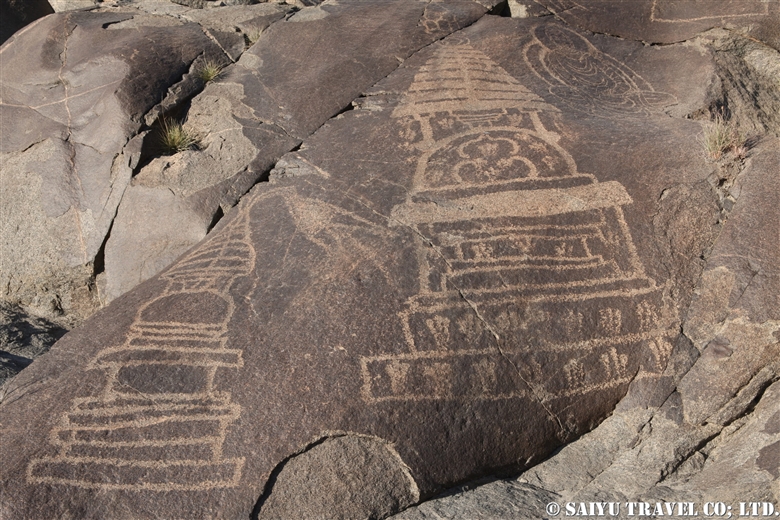 Most of the petroglyphs are related to Buddhism, and many that remain are images of pagodas.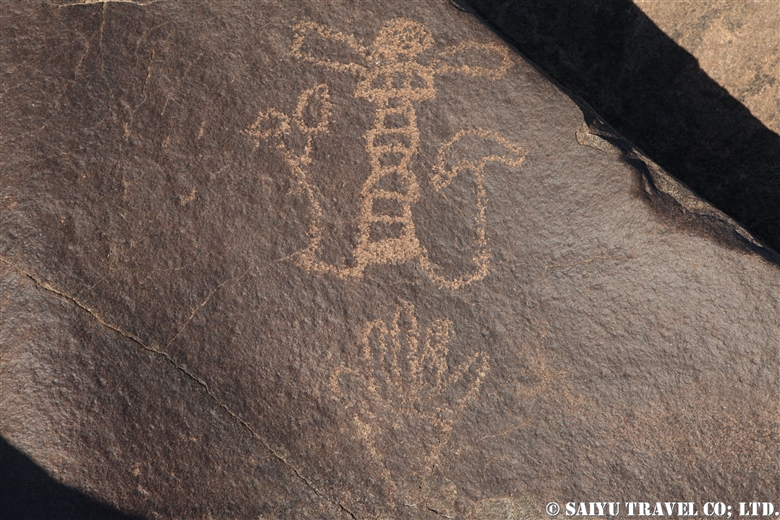 There are carvings that are right on the ground, but these pagodas and other engravings remain free of damage because there are fewer people who would trample on it.
Some of the non-Buddhist etchings, are like this image of a plant and a handprint.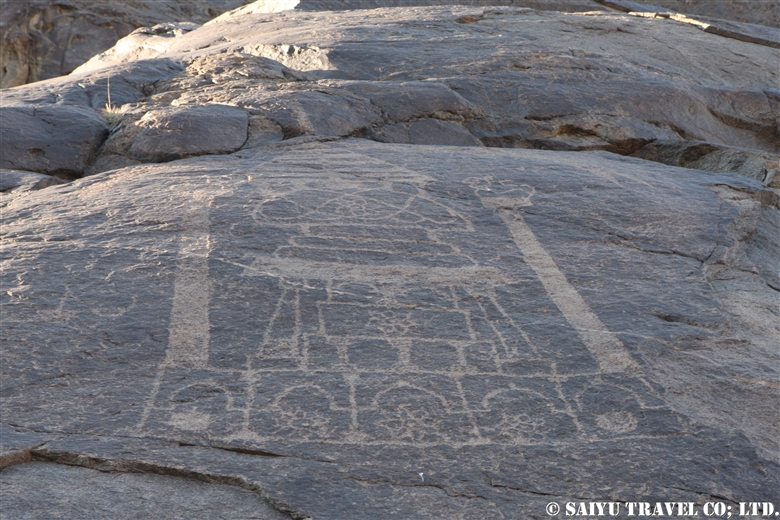 Regrettably, the rock art which I have introduced so far, are all destined to be flooded, upon the construction of the dam scheduled by 2027. Some of these rocks will be relocated and preserved by the government, but most of the more than 50,000 images will be submerged. I hope that these stones, which are engraved with the activities, thoughts and beliefs of the various people who traveled on the Silk Road, will have a chance to be seen by as many people as possible before they disappear underwater forever.
Photo & text : Koji YAMADA
Visit  : Nov 2021, Gonar Farm, Gilgit-Baltistan
Category :
- the Karakoram Highway
>
◆ Gilgit-Baltistan
>
- Indus river bank
>
◇ Rock carvings / Petroglyph
>
◇ Heritage of Pakistan
Tag :
Pakistan Blog
,
Indus river
,
Gonar farm
,
Pakistan Travel Blog
,
Travel Pakistan Blog
,
Wildlife of Pakistan
,
Chilas Petroglyph
,
Indus Caravan
,
Chilas Rock Carving
,
Petroglyphs
,
Saiyu Travel Pakistan
,
Diamer-Bhasha Dam
,
Pakistan Travel company
,
Rock art
,
Pakistan tour operator
,
buddhist art
,
Pakistan Photography Tour
,
Buddhist rock art