This blog is about the rock art from Shatial. It is known as a "Buddhist site" because a huge pagoda petroglyph, which is included in many of the tours to visit the Hunza region. This time, I was able to take a leisurely tour to look around more, and I found that there are many other rare works than just the famous pagoda.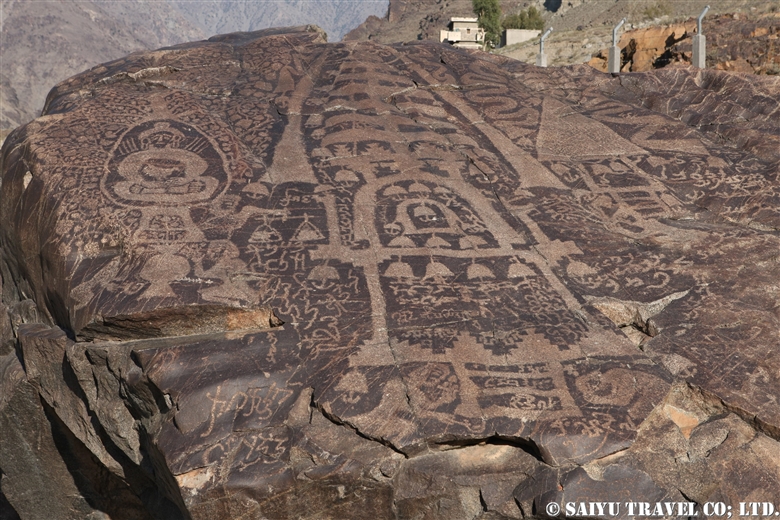 Since Shatial is such a well-used transit point to cross the Indus River, since ancient times, many merchants, pilgrims, travelers, as well as Buddhists, have passed through. Many distinct designs and images were carved by the travelers. I will introduce a number of these rarer rock engraving.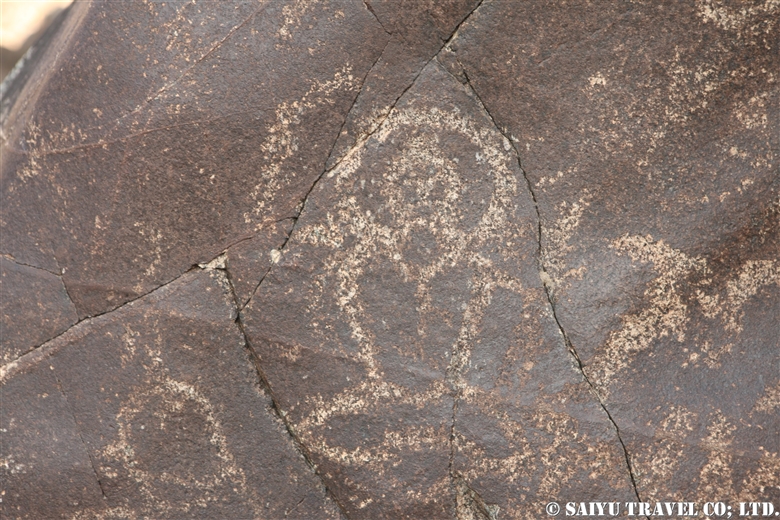 At first glance, it may seem that this person raising their right arm up, may be angry or upset, but the round halo behind his head indicates that this person was an Enlightened Buddha.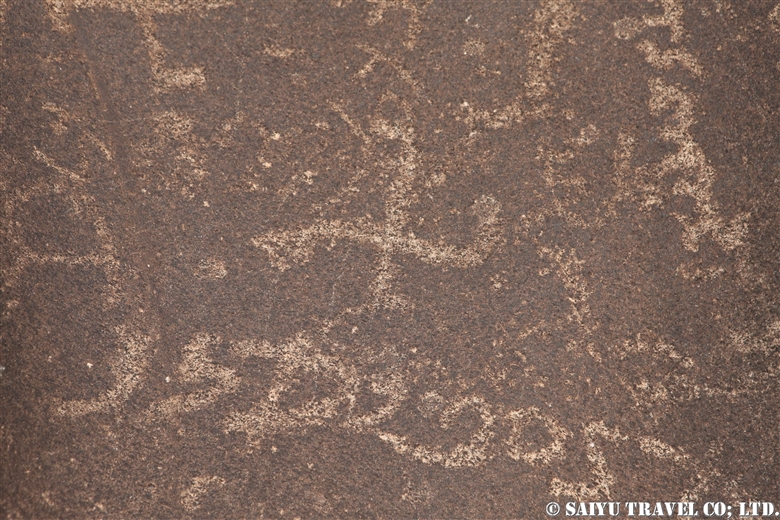 This 卍represents a swastika, which is a symbol of Buddhism along with the Dharmachakra wheel.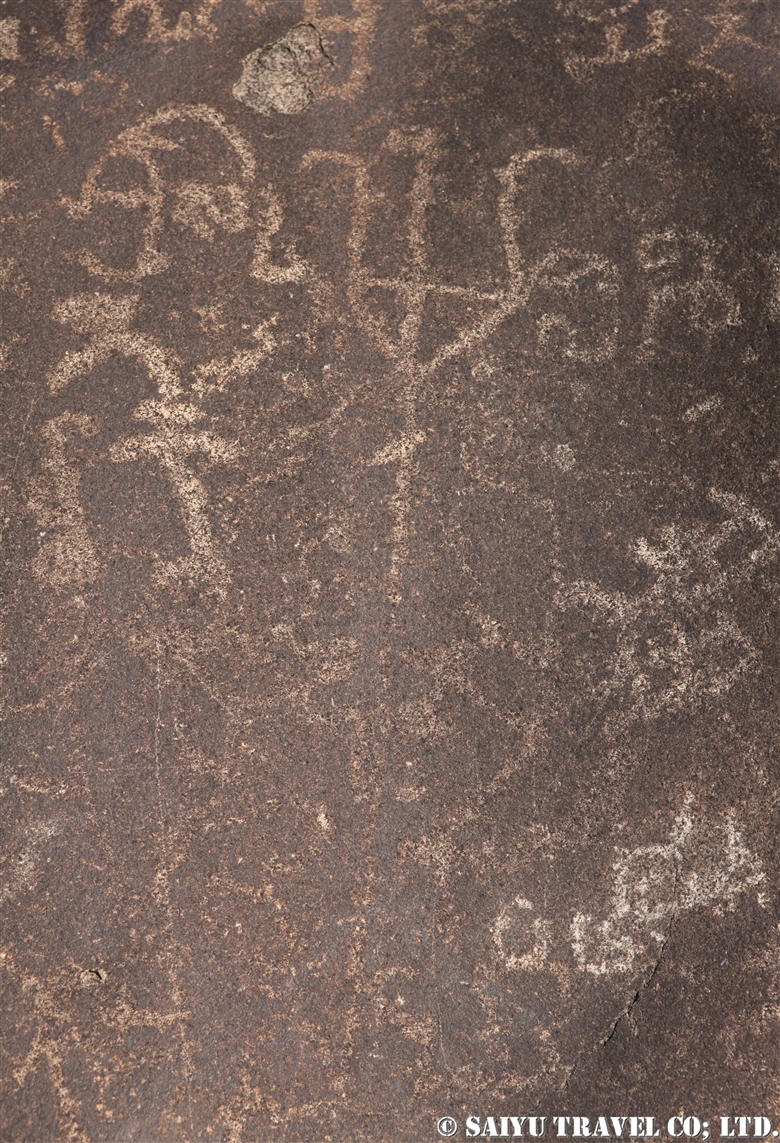 PitchforkThis is a three-pronged pitchfork. You can try to imagine whether it was used as a weapon, a religious symbol or for agriculture, but either way, it has been in use since ancient times.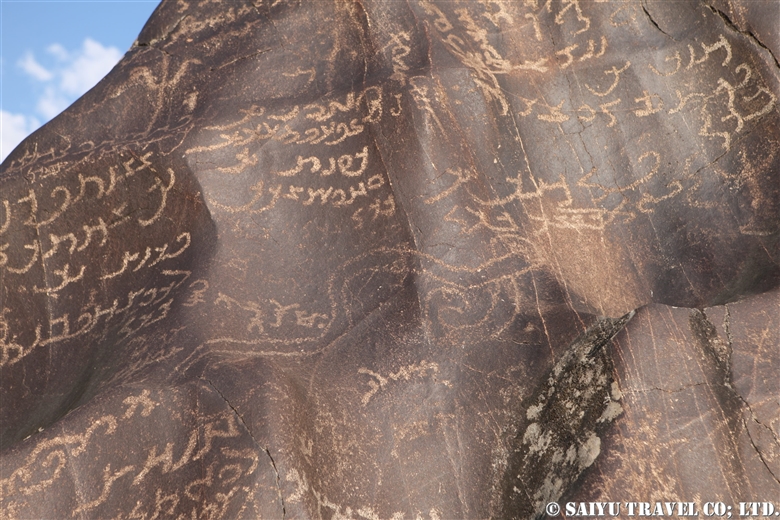 There are not only pictures but also various writing engraved on the stones. It is believed to be languages like Karosti, Sogdian, Aramaic, and more which have been found here.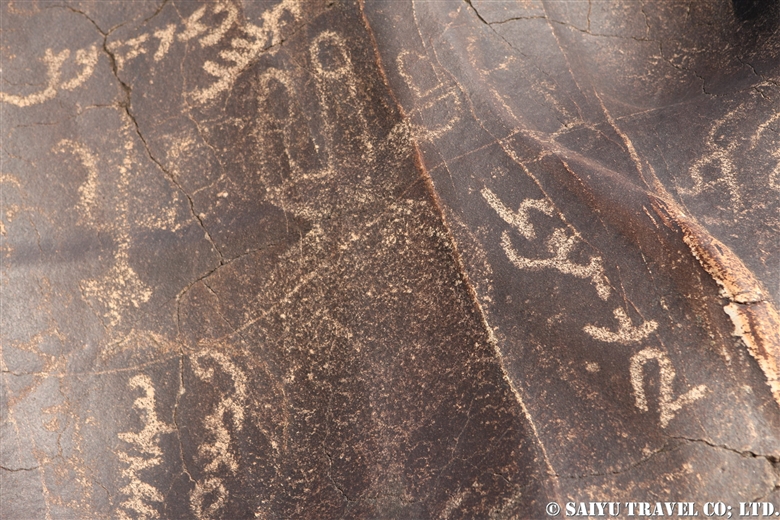 The center image to me, looked like three fingers with nails, but it may actually be depicting a plant.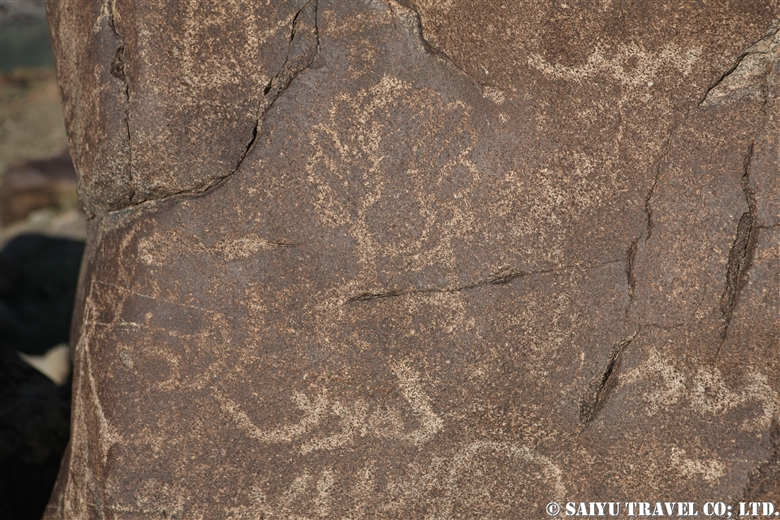 This looks like a Buddha statue with Naga in the background, but it also looks like a flame, so there is a theory that it is a fire worship platform.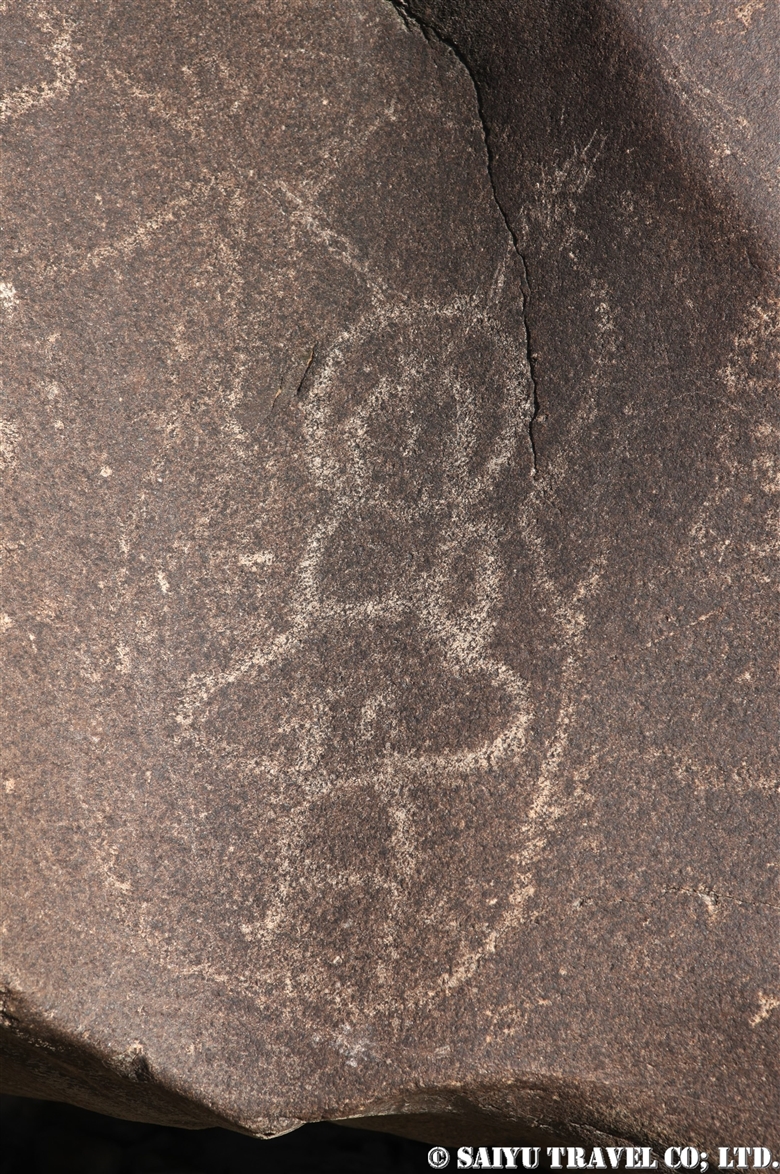 This is a person wearing a round mask with horns. The person is also wearing a skirt-like outfit which was very interesting.
Many animals were also depicted as well.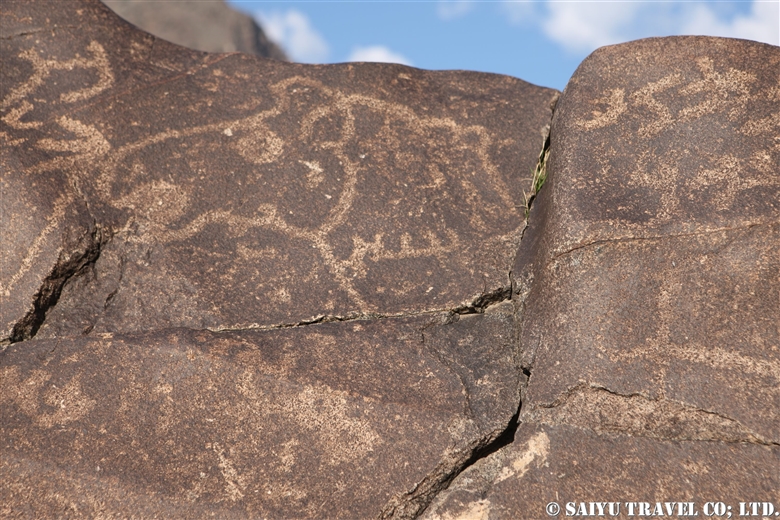 The camels were an essential animal for the travelers in their journey along the Silk Road.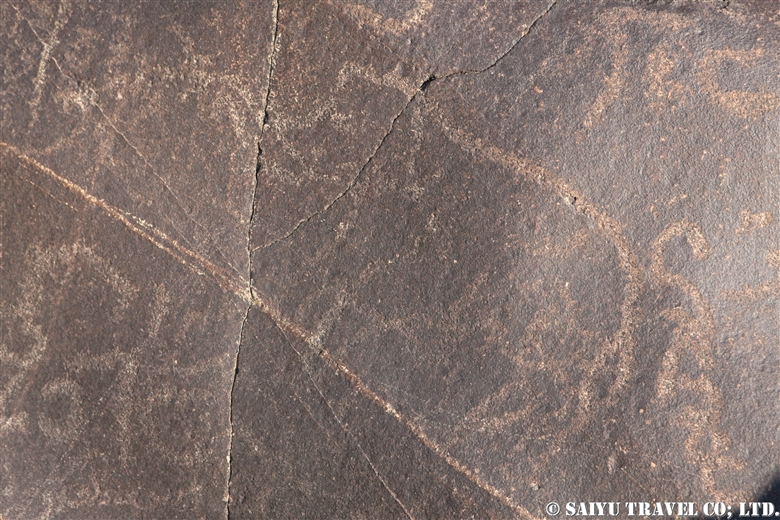 Did the Indian elephants come this far up?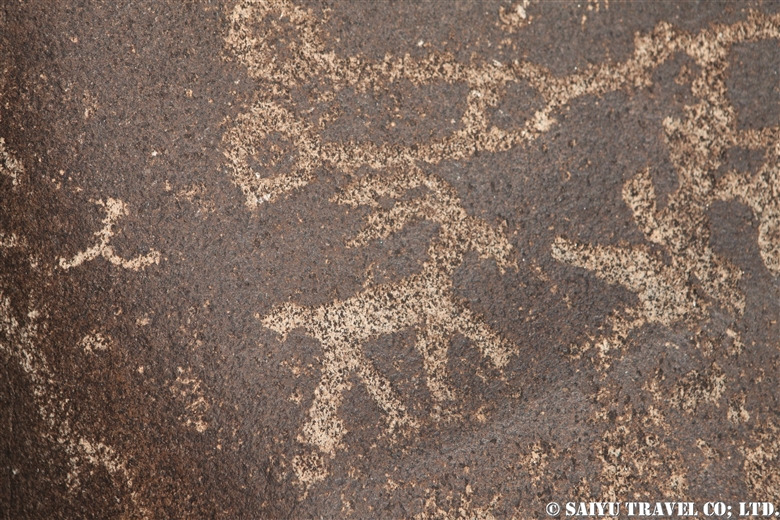 It was a small image, but animals like antelope were also engraved.
In Shatiar, various things were engraved in rock paintings; things used by ancient people of that time, the things they saw, and objects they worshiped. Just looking at this timeless rock art made me feel like I travelled back in time and experienced part of the hustle and bustle of daily life on the Silk Road.
Photo & text : Koji YAMADA
Visit : Nov 2021, Shatial, Khyber Pakhtunkhwa
Category :
- the Karakoram Highway
>
◆Khyber Pakhtunkhwa
>
- Rock art / Petroglyph
>
- Indus river bank
>
◇ Heritage of Pakistan
Tag :
Pakistan Blog
,
Indus river
,
buddhism
,
Pakistan Travel Blog
,
buddhist art
,
Travel Pakistan Blog
,
silkroad
,
Wildlife of Pakistan
,
Shatial Rock Carving
,
Buddhist rock art
,
Chilas Petroglyph
,
Indus Caravan
,
Chilas Rock Carving
,
Saiyu Travel Pakistan
,
Petroglyphs
,
Diamer-Bhasha Dam
,
Pakistan Travel company
,
Pakistan tour operator
,
Rock art
,
Pakistan Photography Tour
,
shatial buddhist rock art