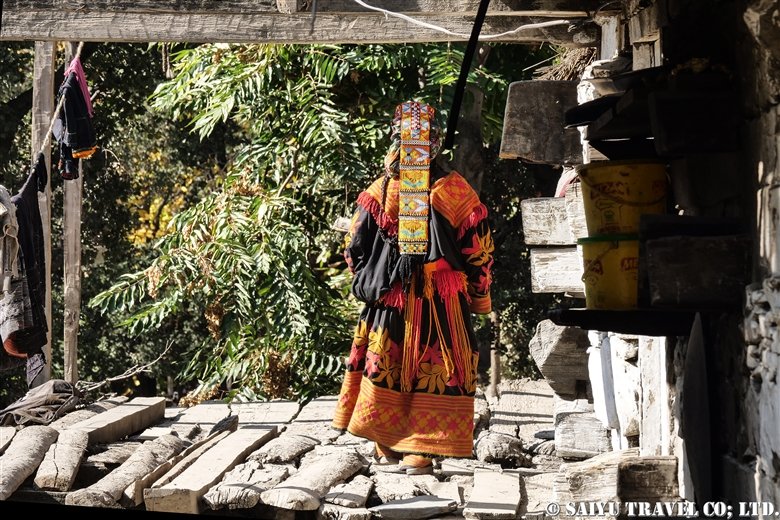 In early November, I visited the Bumburet Valley. If I had a chance to go a little earlier, I could have seen the Corn Harvest season, but instead I was there during the time of everyone preparing for the coming of winter.
In this time of the year, there are very few tourists and the village is pretty quiet.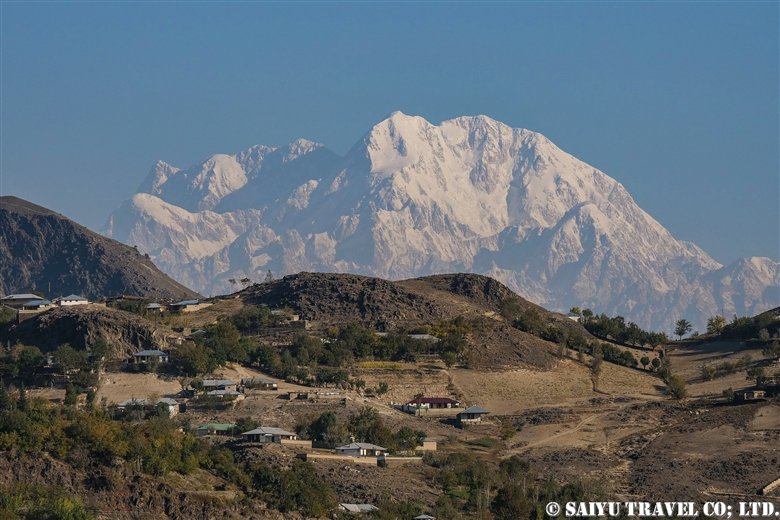 We traveled through the town of Ayun to get to the Kalash Valley. This is the amazing view along the way. The towering Tirich Mir (7,708m/25,288 feet), the highest peak in the Hindu Kush, appears over the hills of Ayun. The massive form shines in the morning sunlight.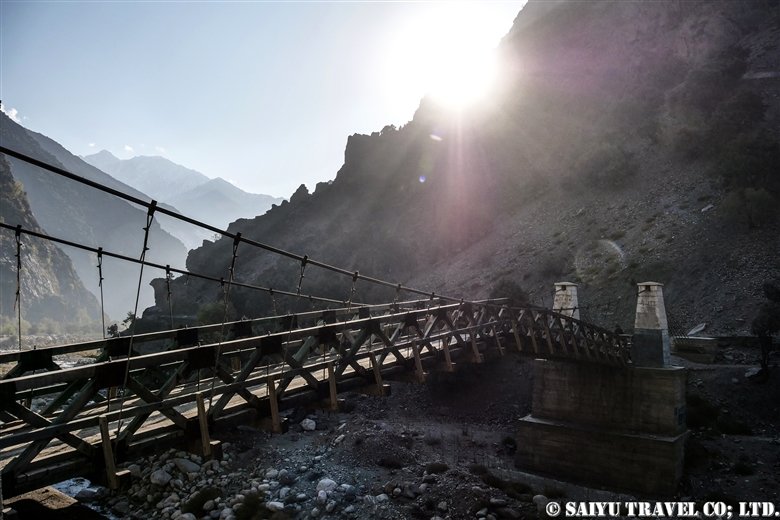 After crossing this suspension bridge, we come to the junction of the Bumburet and Rambur Valleys. We head west here and continue on to Bumburet.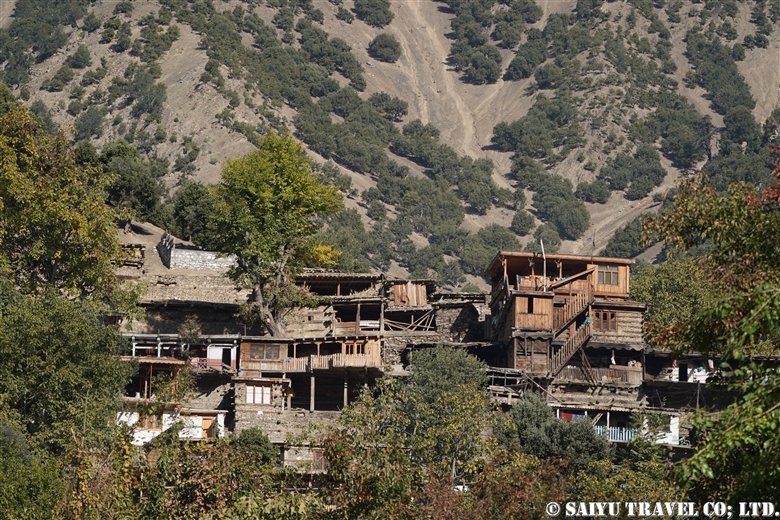 The Kalash homes started to come into view. The wooden houses are built into the slopes, making efficient use of the terrace and roofs.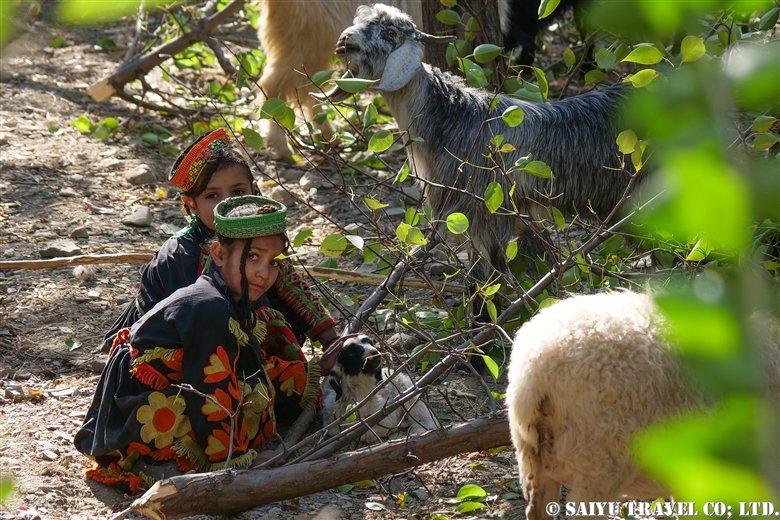 These young girls who were playing with a baby goat caught my attention. She has such a charming, fairy-like beauty.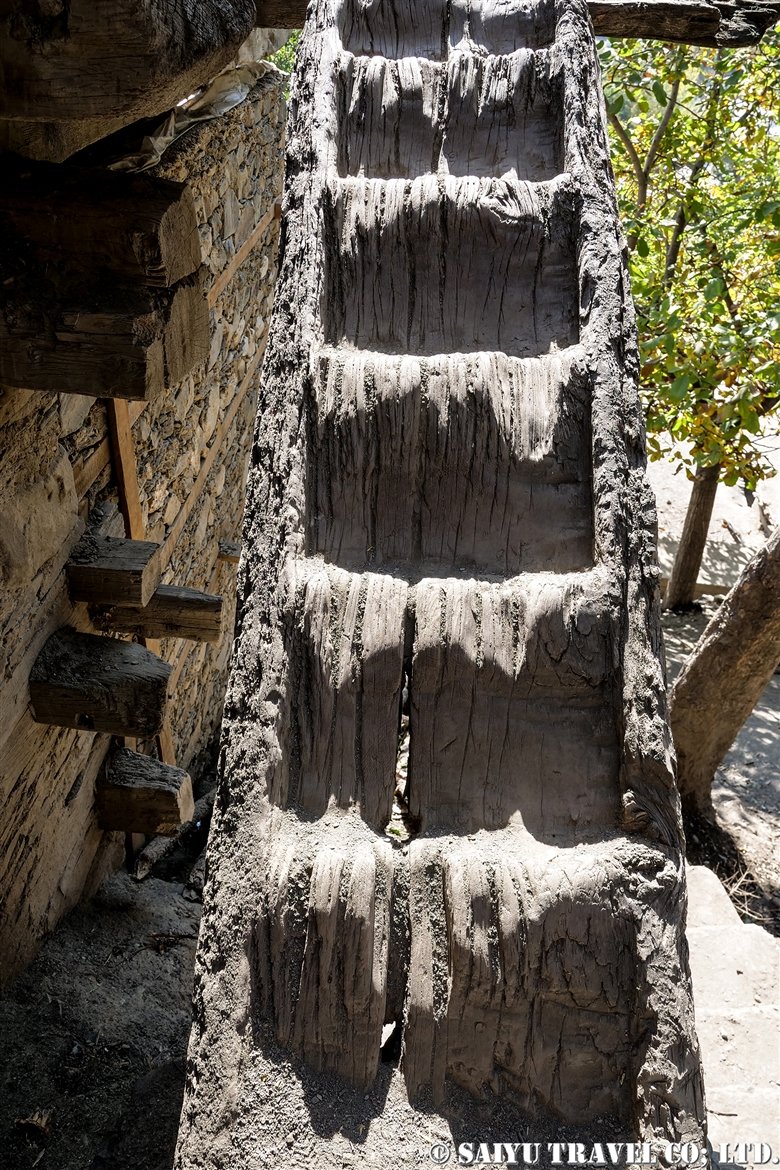 I went up these stairs, made from a hollowed-out tree, to the shaman lady's house.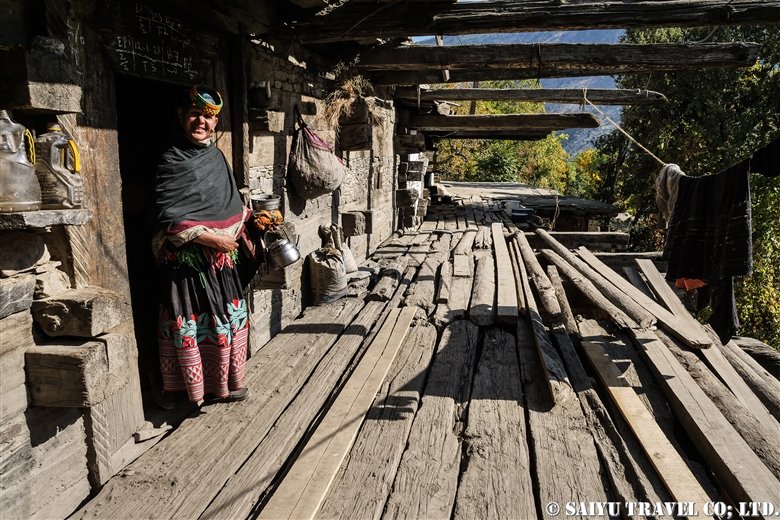 This is the terrace of the shaman's house. According to her, she has the power to foresee the future and find things people had lost, so the people asked her to become a shaman.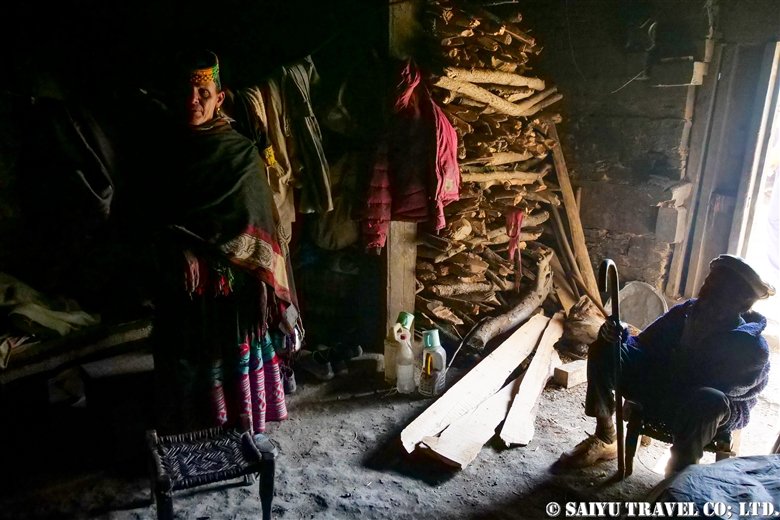 Inside the shaman's house. With the light only coming in from the doorway, the traditional lifestyle of the Kalash people is simple.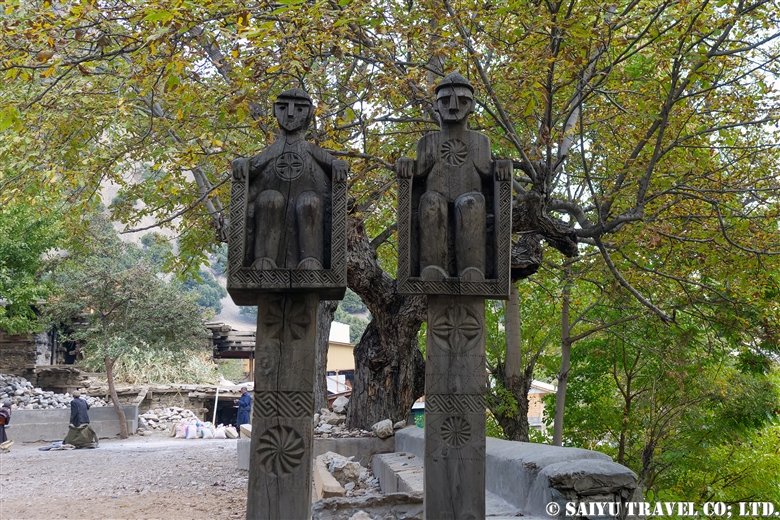 These wooden statues stood in the village funeral parlour.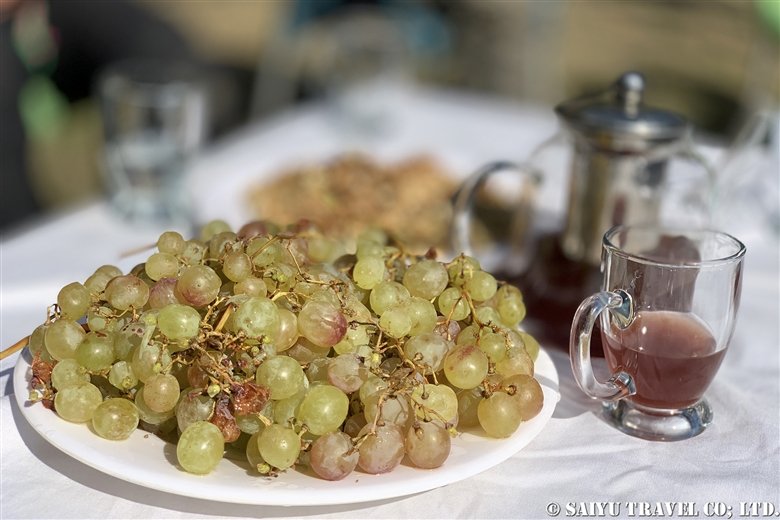 The handmade wine made by the Kalash people, I found it so good.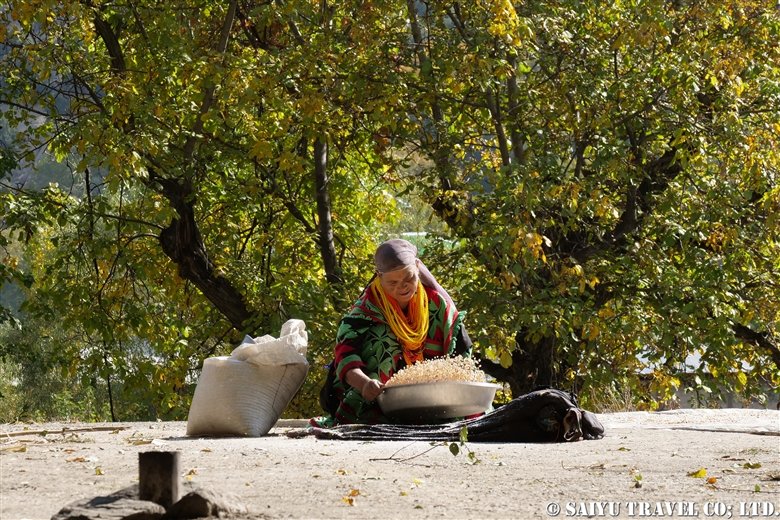 This woman is threshing crops on her roof. This is a scene that is unique to the harvest season.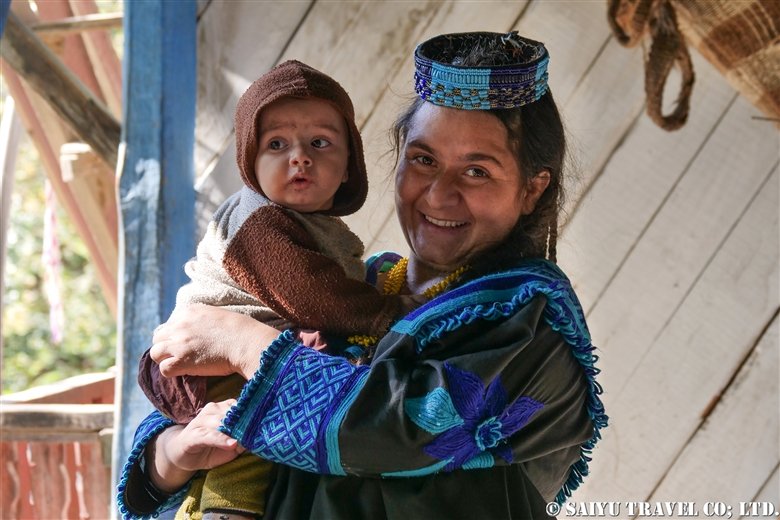 It filled me with so much happiness to revisit a school teacher home in Anish village, I found daughter has now become a mother! I used to visit them often, so this is the best memory.
The last time I could visit Bumburet Village was 2 years ago. The Muslim population is increasing and the number of Kalash girls wearing hijabs was higher than before. The color of the handmade embroidery on the traditional folk clothing was quite popular and flashy.
Over the past 30 years, as a tour guide for Saiyu Travel, I have seen the decline of the traditional ethnic lifestyles and clothing in various parts of the world. For the people, the more things become more modernized, their life also becomes easier, so it means these traditional ways are lost voluntarily. But still, it makes me sad to see the sudden shift away from ancient traditions and beliefs. I send strong prayers that these precious ethnic minorities like the Kalash can hold on their culture and rich traditions as part of the Islamic Republic of Pakistan.
Photos & text: Mariko SAWADA
Visit: Nov 2021, Bumburet, Kalash Valley, Khyber-Pakhtunkhwa
Category :
◆Khyber Pakhtunkhwa
>
- Kalash Valley
Tag :
Ayun
,
Indus Caravan
,
Rambur
,
Bomboret
,
Rambur valley
,
Chitral
,
Saiyu Travel Pakistan
,
Bumburet
,
Kafiristan
,
PakistanBlog
,
Kalash
,
Kalasha Valleys
,
Kalash valley
,
Bomboret village
,
Kalasha
,
Bumburet Village
,
Khyber Pakhtunkhwa
,
Pakistan Travels
,
Pakistan Blog
,
Pakistan Travel company
,
Pakistan Travel Blog
,
Pakistan tour operator
,
Pakistan Photography Tour