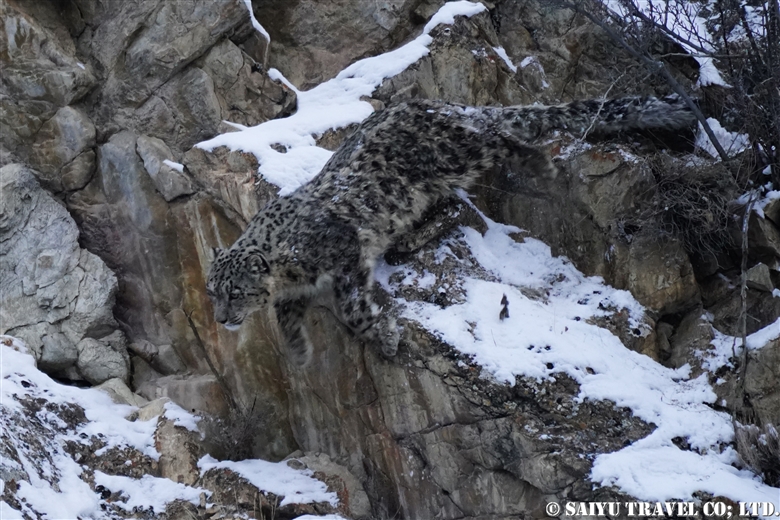 To begin with, when we were informed that the Snow Leopard hunted Ibex in the Morkhun village and sat on the other side of the river, we were near Gilgit. Thus, we changed the direction and headed towards Morkhun Village.
We had to drive slowly because it was dangerous and slippery on snowy roads, due to which, the chances of seeing the snow leopard decreased. It was a risky decision, as the snow leopard may not be there once we reach.
However, against all odds, we headed to the Morkhun village with a complex mind.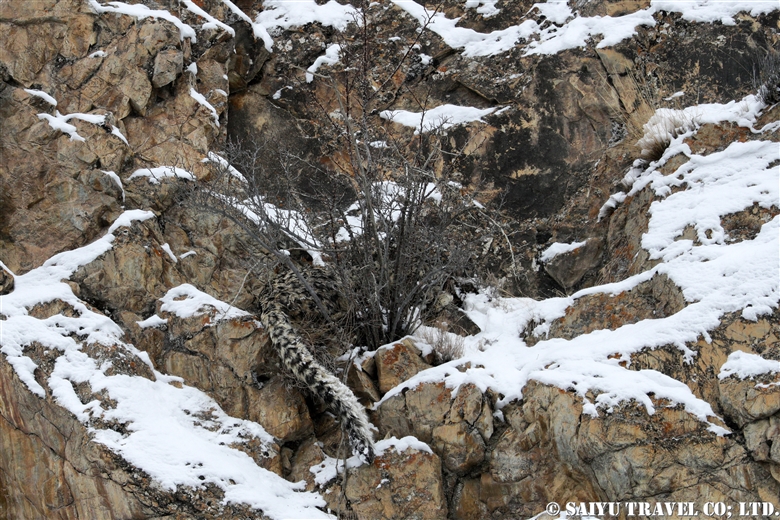 This is the Snow Leopard I saw when I just arrived. It was on the other side of the river and the distance was short. At first, I could not find it as it was camouflaged. But then I were able to see it, once it moved its tail.
It was already past 15 o'clock, and I was worried that the snow leopard would move before it became dark.
According to the villagers who have been observing it since morning, the Snow Leopard was hunting Ibex, eating it, hiding the rest of meat in the bush, entering the river, climbing up the rock, then it was sitting there for a while, and at last, went to sleep…till now. Villagers were showing us video clips of Snow Leopard they took through their mobile phone, while we were waiting for the movement of Snow Leopard.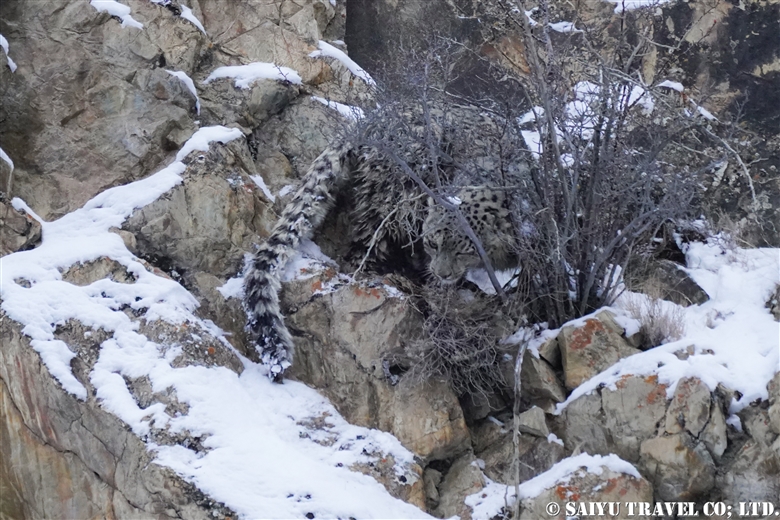 The snow leopard has begun to move!
Villager screams in Wakhi saying, "Shou-bashi!", meaning "Very good "/"Well Done".
At this time, about 30 people from the village of Morkhun and the surrounding villages were witnessing the snow leopard.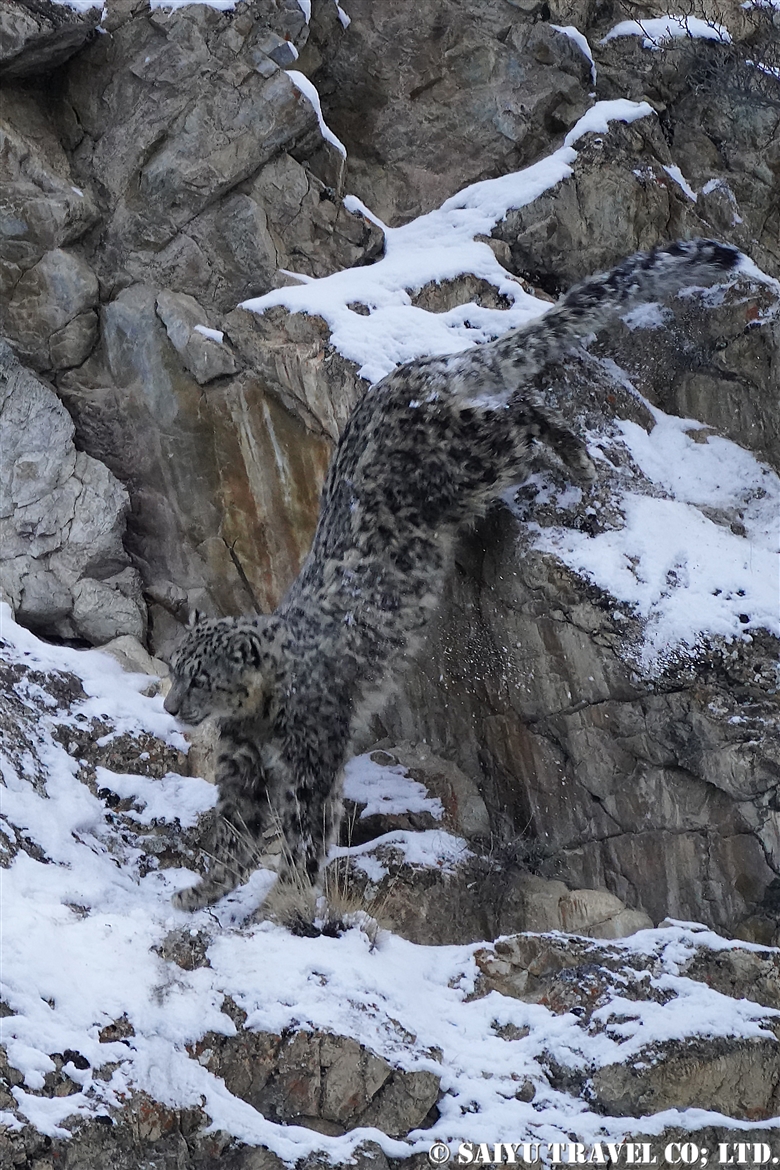 Snow Leopard has jumped out. The villagers are delighted to say, "Shau-bashi! Shau-Bashi!"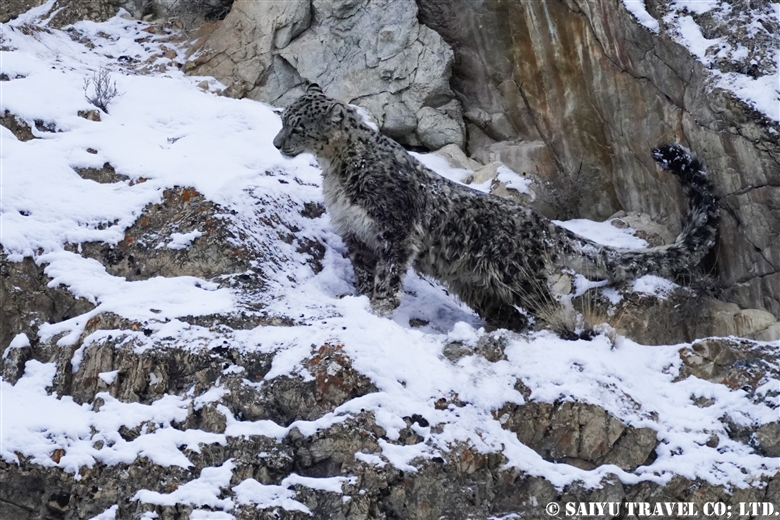 Wild Snow Leopard is in front of us! I was really waiting for this perfect moment for a long time in Pakistan.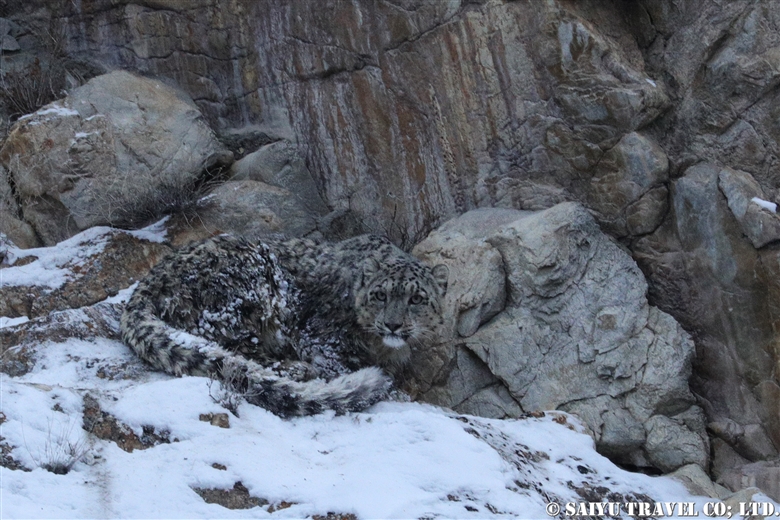 The villagers expected that Snow Leopard might go to the Ibex it hunted, but the Snow Leopard sat down again.
It was already dark, consequently limited chance to photograph the snow leopard. I followed the last figure of the snow leopard until I could not see it and left the place finally.
This is the place where we were observing in Morkhun village (drone shot)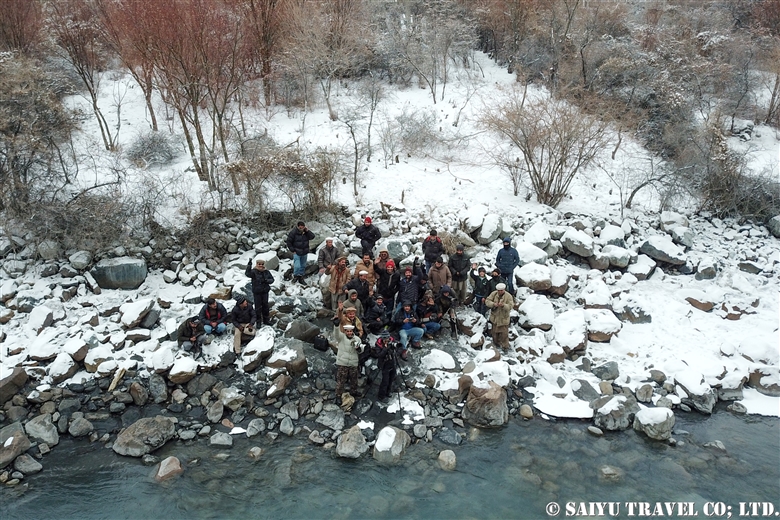 Lastly, thanks a lot to the local people of Morkhun village.
Photo & Text : Mariko SAWADA
Observation: Jan 2019, Morkhun Village, Gojal, Gilgit-Baltistan
Special Thanks to Mr. Sultan Gohar (Khunjerab National Park)
Category :
- Snow Leopard
>
◆ Gilgit-Baltistan
>
- Gojar
>
- Morkhun
>
◇ Wildlife of Pakistan
Tag :
Morkhun village
,
Pakistan Blog
,
Pakistan Travel Blog
,
Snow Leopard
,
Snow Leopard Pakistan
,
Travel Pakistan Blog
,
Wildlife of Pakistan
,
Indus Caravan
,
Saiyu Travel Pakistan
,
Snow Leopard Conservation
,
Pakistan Travel company
,
Pakistan tour operator
,
Pakistan Photography Tour